La Liga strike: Court to make ruling before weekend games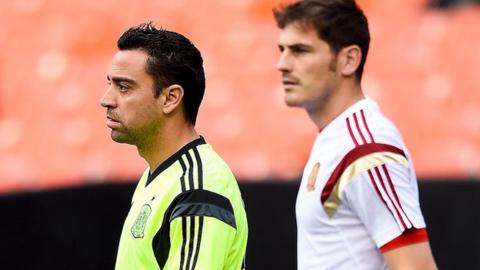 Spain's footballers will find out on Thursday if their planned strike to halt the final part of the La Liga season can legally go ahead.
The Spanish Football Federation (RFEF) has suspended the end of the season, with the players' union (AFE) agreeing to strike, in a row over TV rights.
The final two rounds of Liga games, and the Copa del Rey final, are in doubt.
Barcelona, who play Athletic Bilbao in the cup final, are only one game away from regaining the league title.
The Catalan club would become champions by beating current holders Atletico Madrid on Sunday, if the game is played.
Barcelona players Andres Iniesta and Xavi, plus Real Madrid rivals Iker Casillas and Sergio Ramos, are among the top-flight players backing the planned strike.
Key remaining fixtures
Sunday 17 May: Atletico Madrid v Barcelona; Espanyol v Real Madrid
Saturday 23 May: Barcelona v Deportivo; Real Madrid v Getafe
Saturday 30 May: Copa del Rey final - Athletic Bilbao v Barcelona
The RFEF and AFE are not satisfied with a new law - passed by the Spanish government and supported by the league (LFP) - introducing collective bargaining for domestic television rights. Currently Real Madrid and Barcelona receive most of the TV money.
Legal representatives for the AFE and LFP appeared at a court hearing on Wednesday, putting forward their arguments over the legality of the players's strike.
The league's lawyer Javier Suarez asked the court to revoke the planned action because the economic damage "would be impossible to repair". He claimed the strike could cost the league about £36m (50 million euros) per matchday in lost revenues.
However, the union disputed the claim and insisted it was groundless because potential losses were not irreversible.
Who is involved?
LFP (The National Professional Football League) - Responsible for running Spain's top-two professional divisions
RFEF (Spanish Football Federation) - Spain's football governing body, equivalent to the Football Association in England
Spanish government
AFE (Spanish players' association) - Represents the interests of Spanish footballers
Is the strike really going to happen? And will the season be left incomplete? Read Spanish football writer Andy West's analysis of the situation.