Champions League: Social media reacts to Suarez-Chiellini rematch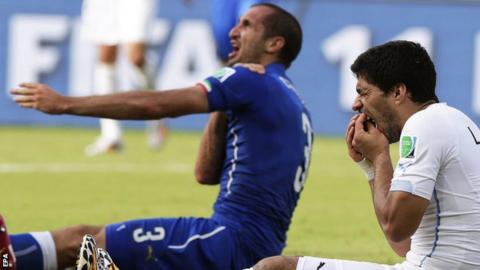 Barcelona's Luis Suarez will come face-to-face with Giorgio Chiellini in next month's Champions League final after Juventus' victory over Real Madrid.
Suarez, 28, was banned from football for four months after biting Italy's Chiellini at the World Cup last summer.
The game in Berlin will be their first meeting since that infamous encounter.
Chiellini's name was trending third worldwide on Twitter after the match, with social media users keen to poke fun at Suarez's expense.
The former Liverpool striker apologised to 30-year-old Chiellini following their clash in the World Cup group match in Natal. The Italian defender accepted and said the matter was "all forgotten".
The Champions League final on 6 June will also throw Suarez into action against Juve defender Patrice Evra. While at Liverpool, Suarez was found guilty by an FA panel of racially abusing Evra, then at Manchester United, during a match at Anfield in 2011
Social media reacts to Suarez v Chiellini