Leeds United: Neil Redfearn future remains unclear
Last updated on .From the section Football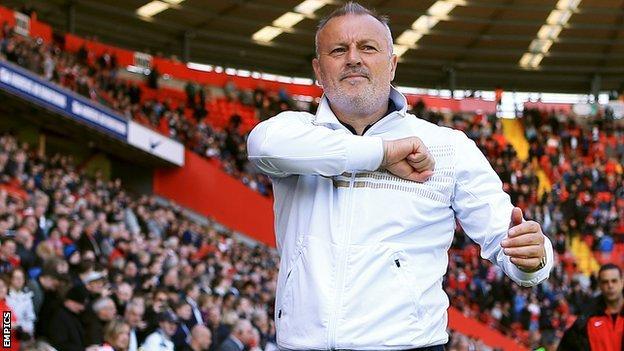 Newly returned Leeds United chairman Massimo Cellino says he will take his time before deciding whether to retain Neil Redfearn as head coach.
Ex-academy boss Redfearn was United's third manager in 2014-15 and his deal is understood to end this summer.
Cellino returned to the club last week after his Football League ban for being found guilty of tax evasion ended.
"Is Neil the best coach for the club next season? I am asking myself this everyday," he said.
"I put Redfearn in as head coach and I wanted him to be successful more than anybody else.
"I have to find the right coach for this club. We have an option for Neil to be here next season."
In a bizarre news conference that lasted over an hour, including Cellino going outside for almost 10 minutes to take a cigarette break, the Italian spoke on a number of issues:
Getting 'the giant' fit
Last summer Cellino said he aimed to get the club, who finished 15th in the Championship this season, to the Premier League in two years.
The former Cagliari owner has now set himself the target of getting the club back to the top flight by 2017 and says if he does not achieve that then he will sell the club.
Cellino said 2017 is a year he "does not like" as he considers the number 17 to be unlucky.
"People say to me that this is a sleeping giant. I think it is awake but it is not fit yet. Once it is fit it can go back to where it belongs," he added.
"The club is not for sale. If in two seasons the club is not promoted then I will sell it."
Steve Thompson's surprise suspension
Redfearn's future at the club came into question when his assistant Steve Thompson was suspended at the start of April, without a reason being given.
Thompson's exit prompted the team to go on a five-match losing run and Cellino questioned whether his departure changed Redfearn's approach to his job.
"Maybe Thompson was more important than people think," said Cellino.
"I was very surprised when I saw that had happened. I like Thompson as a man and when my ban ended I called him and said I was sorry.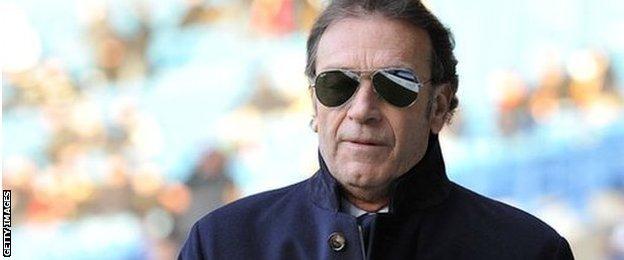 "I know why we lost those games. When someone thinks just for themselves they lose the point."
'Beautiful players'
Young Leeds midfielder Lewis Cook, 18, signed an extended deal with the club on Monday.
Cellino said he "dreamed of a day" when all of the team's players were from the local area.
"The Leeds people must be proud. Here we have good luck because Leeds grows beautiful players. It is in their DNA," he said.
"Cook and Alex Mowatt were 51% of our season and they did not do it for money, they did it because they loved Leeds.
"I protect the players. The young players are beautiful and my dream is to have a team of players from Leeds."