Truro City: Peter Masters ponders Torquay United groundshare
Last updated on .From the section Football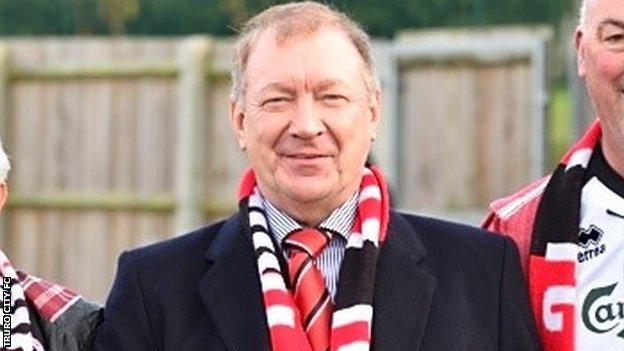 Peter Masters says Truro City have been in talks with Torquay United about sharing their Plainmoor ground.
The Truro chairman says his club will soon have to move out of their Treyew Road home whether they get planning permission for a new ground or not.
The Cornish club eventually want to move to the Silver Bow site in the city to allow their current ground to be turned into a retail park.
"We're interested in a groundshare with Torquay," Masters told BBC Cornwall.
"I have been in contact with them for the last 12-18 months and yesterday I went to Plainmoor just to put some detail into it."
Torquay are currently looking for a new owner after Thea Bristow stepped down as chairwoman, and Masters has been linked with a buy-out.
Truro beat St Neots Town in the Southern Premier League play-off final to win promotion to the Conference South, just one division below Torquay.
"I would be lying if I didn't say I had one eye on their situation, but to be frank about it I wouldn't buy anything at the expense of Truro City. Truro City is my passion, and that's really it," Masters said.
"They've got their own situation up there and there are some people there who are more than capable of taking it forward, so let them carry on. Of course, they look at what I've done at Truro and yes, it's fair to say I've been asked a few questions."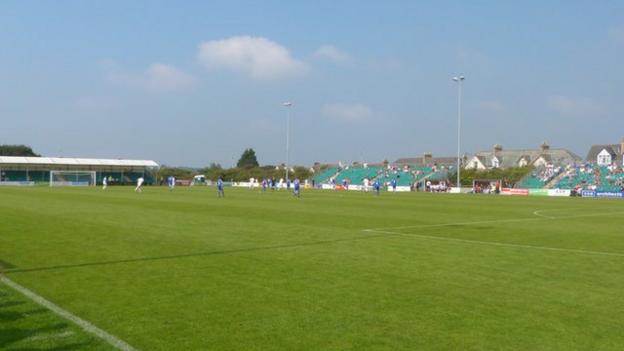 Cornwall Council are due to make a decision on planning permission for Truro's proposed new Silver Bow site next month.
Torquay is around 85 miles away from the Cornish city.
"We could possibly be playing half the season in Torquay, it could be playing all of the season in Torquay," Masters said.
"But as we know they've got their own situation up there. I don't want this throwing uncertainty again into Truro City. I've got to give the team and the manager absolute certainty.
"We've been talking to a number of clubs, not just Torquay, because if that situation is not right for us I'll have to review the situation."
"If they refuse the planning permission that will trigger an eviction notice from the American owners, which will tell us to get out (of Treyew Road).
"This might sound brutal but I imagine they'll bang a load of boulders up in front of the entrance and let it sit there as an eyesore until someone comes to develop it. There's no ifs or buts about it, they are hard people."
Masters repeated the offer that Truro's new ground could be shared with Cornish Pirates and Cornwall College, though Pirates have so far declined the offer as they have hopes of a new stadium of their own.
He said: "Helical (developers Helical Retail) are very keen to get possession of Treyew Road, but the bonus of getting out early and getting planning permission is that they will put a substantial investment into the playing budget.
"I'm not talking £50,000, I'm talking several hundred thousand, so we will have the budget to match everyone in that league, if not better.
"At the end of the day the ground's been sold, let's all accept it, and we've got to get out of it.
"Helical wants to get into it and they're going to give us a brand new stadium, which is absolutely fantastic, and we'll own the freehold of that."