Celtic teenager Liam Henderson on life on loan at Rosenborg

By Richard Wilson
BBC Scotland
Last updated on .From the section Football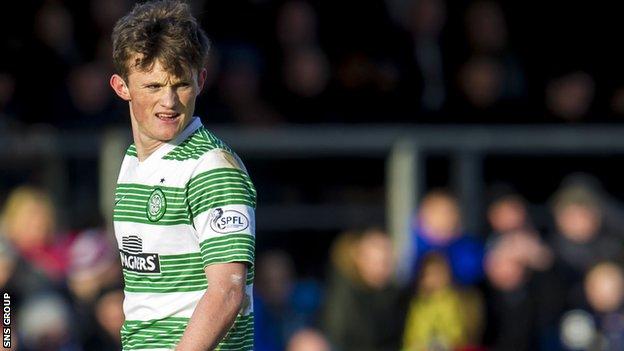 Mundane tasks can still feel significant. Liam Henderson is learning how to cook, clean and launder his clothes, but he has already developed the perspective to realise that he will benefit from every aspect of his loan move to Rosenborg.
Since leaving Celtic in March, he has worked his way into the Norwegian side's first-team, scored three goals and turned 19.
Adjusting to the football demands of the move have been prominent in his mind, but the entire experience has been insightful. He is still, nonetheless, reliant on his mother for advice, despite having left home for the first time in his life.
"Moving into an apartment is a big step," he said. "It's been good, I'm having to learn how to cook and do my cleaning and washing.
"So that's something I'm learning other than the football side.
"When I'm cooking meals, I have my mum on FaceTime, so she's telling me what to do.
"Over here, it's a very hard-working culture, very similar to back home and I'm learning new stuff every day. There are aspects of staying on my own that are making me more mature and the realisation is kicking in of what I need to do to become a top professional.
"I've not been lonely at all. One of the players stays right next door to me, so we've been going out for food, going to the cinema. I was pally with Ryan Gauld in the Scotland set-ups and he was all for going abroad. We spoke about it when we were away in camps and I was the same.
"He got the opportunity of a lifetime at Sporting Lisbon and, when the manager told me Rosenborg were interested, I was all for coming here.
"It's been really easy to settle in; the boys were all welcoming when I first came in. It's all coming into place and I'm looking forward to coming back home to start the new season with Celtic."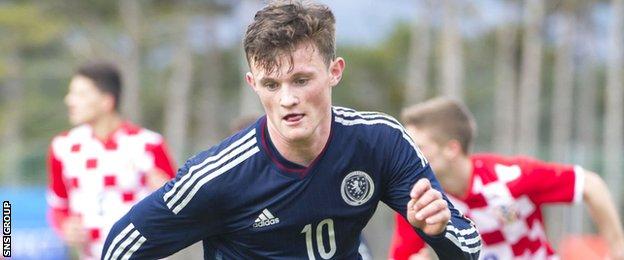 Henderson has started cup matches for Rosenborg and featured as a substitute in league games. The purpose of the move is to expose him to the rigours of first-team football, both mental and physical, and enhance his progress.
He is a conundrum for Celtic. Henderson is a talented attacking midfielder, a player who has shown flashes of technique and broad talent, but he is too raw yet to dislodge the likes of Kris Commons and Stefan Johansen.
It is a reflection of that difficulty that manager Ronny Deila signed Stuart Armstrong, who plays in a similar position to Henderson and had plenty of first-team experience at Dundee United, during the January transfer window.
Calum MacGregor is another talented youngster who has stalled on the fringes of the first-team and now sees Gary Mackay-Steven, another January signing from United, impressing in a wide, attacking role.
Deila is committed to finding a solution, though, and sought the loan move for Henderson after careful deliberation.
He also summed up the dilemma when he remarked that Henderson "may be the best under-19 player in Scotland" and that he could play regularly for other top-flight clubs but is not yet ready for Celtic.
"He always saw it as part of my development," Henderson said of Deila's wish to send him out on loan. "From the outset, he told me to come here, get experience, play games.
"Rosenborg play near enough the same way as us, so I'll be ready to come back for pre-season and be looking to play. He gave me a good message and that filled me with confidence. I've taken it in my stride and I've enjoyed it.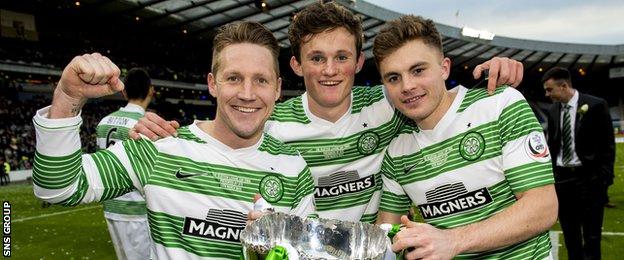 "The aim for me and the manager is that I come back fitter, faster, an all-round better player.
"It's great that Celtic sign these players. Stuart, especially, is a similar position to me and in training all I look to do is learn from him. I'm just a sponge looking to absorb it all and Celtic signing these players is good because it expands my learning."
Rosenborg are successful and well-run, but on a diminished scale compared to the Scottish champions. As well as the reminder of the potential of what a career at Celtic Park would bring, Henderson has also had to watch from afar as the team retained the Premiership title.
"I caught the Dundee game at home on the TV," he said. "The Aberdeen game I tried to watch on my iPad, but it kept sticking. I texted the boys as soon as I knew it was done.
"It's been a brilliant season. It's a great thing to win the title again, especially wrapping it up with a few games to go.
"I knew what I was doing when I came here - it's all for my development and the future. I was happy to play a part in the league and I'm looking to play for Celtic for many years to come. That's the plan, so hopefully I'll be involved in league-winning teams to come."
Henderson has not considered anything beyond returning to Celtic at the end of the three-month loan deal. That remains the plan, but if Deila decided he would be better served by extending his time at Rosenborg, he would accept the advice.
"I trust him 100%," he said. "I'm enjoying myself out here. It's been a great experience so far."