Steve Bruce: Hull City have not lived up to expectations
Last updated on .From the section Football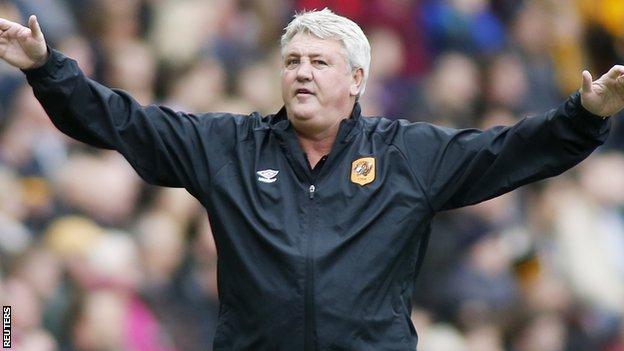 Relegation-threatened Hull City have not lived up to "expectations" this season, says manager Steve Bruce.
With two games left, the Tigers are 18th in the Premier League, the last relegation place - two points behind Newcastle and Sunderland and three points adrift of 15th-placed Leicester.
Bruce's side next travel to Tottenham on Saturday (15:00 BST).
"There are no more second chances. This is it. We need to take it to the last game of the season," said Bruce.
Why have Hull struggled?
Robbie Savage:
"Midfield seems to be their problem area. Tom Huddlestone was the team's driving force last season and people were talking about him getting an England call-up, but going forward he has not contributed anything like as much this time around."
Read more: Hull have to handle the pressure
The Hull boss said his side had experienced "second-season syndrome" after finishing 16th last year and reaching the FA Cup final.
"We were Burnley last season. No-one gave us a cat in hell's chance of surviving. This year there has been a bit of expectation and, if we're being perfectly honest, we haven't been able to live up to it so far," he added.
"Let's hope we can keep the thing alive, move forward and still be a Premier League team. I am quietly confident that we will produce the performance that, hopefully, will get us the result."
Hull finish the season at home to Manchester United on Sunday 24 May.