Exeter City: Scot Bennett refuses deal and two more released
Last updated on .From the section Exeter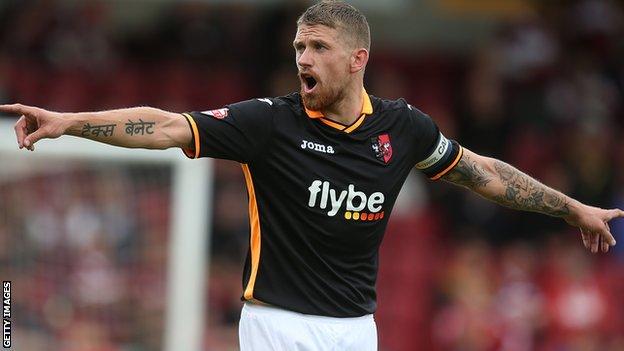 Exeter City defender Scot Bennett is one of three more players to leave the club after turning down a new deal.
Boss Paul Tisdale has also released Pat Baldwin and Graham Cummins while Jamie McAllister has signed a new contract.
The Devon side have offered deals to player of the year Christian Ribeiro, Matt Oakley and Jimmy Keohane.
On-loan winger Lee Holmes has returned to parent club Preston though Tisdale said he would like to sign him 'should the opportunity arise'.
"Scot Bennett has the opportunity to move on, he's turned a contract down with us," Tisdale told BBC Radio Devon.
"I've spoken to him and he hasn't come back to say he's altered his mind. He's over 24 so there's nothing we can do to keep him.
"We've offered a good contract to him back in the autumn, but he's a free transfer and I have no say in what he does."
Exeter announced earlier this week that former Republic of Ireland international Clinton Morrison would leave the club.
Baldwin had missed much of the season through injury.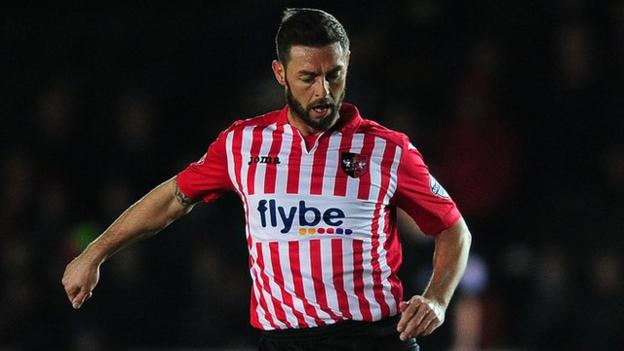 "I'm very sad that Pat's leaving us," Tisdale added.
"He'd be another one who I'd like to see involved with the club at some point in the future."
The club's longest-serving player Liam Sercombe has already departed, joining Oxford on a two-year contract.
Irish forward Cummins signed for Exeter last summer and scored six league goals.
"Graham's another one who's going to move on to find somewhere that he thinks will give him regular football."
Ribeiro joined City in August after the club's summer transfer embargo had been lifted.
"Christian has put himself on the map a bit this year and he's entitled to look at his options.
"We'd love to keep him but I can't wait forever. I'd like to think we'll have a decision made from him in the next couple days."
Holmes is out of contract at Preston this summer though the League One club have made the play-off final, meaning their season is not yet over.
"Lee's loan has ended and he's now a Preston player until they finish their season.
"I'd like to have the opportunity with Lee should it arise and I'd be lying if i said i hadn't discussed the possibility."