West Brom v Chelsea: Jose Mourinho impressed by Tony Pulis
Last updated on .From the section Football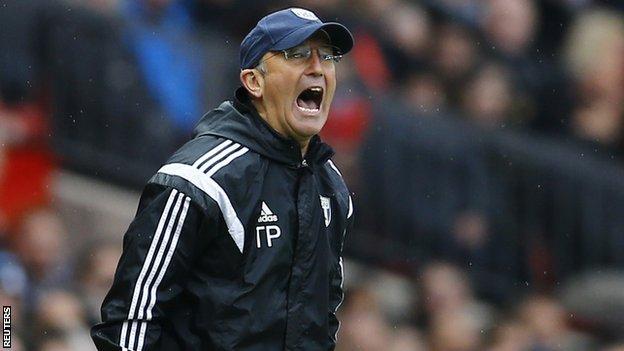 West Brom head coach Tony Pulis's record is "amazing" and he guarantees a club their Premier League status, says Chelsea manager Jose Mourinho.
The Welshman, 57, who has never been relegated as a manager, has also been in charge of Stoke City and Crystal Palace in the Premier League.
"If I own an English club, I sign Tony Pulis," Mourinho said.
"It's as simple as that - he's a guarantee to achieve what the club wants."
Tony Pulis' management history
1992-1994:
Bournemouth;
1995-1999:
Gillingham;
Jul 1999-Jan 2000:
Bristol City;
Jan 2000-Oct 2000:
Portsmouth
2002-2005:
Stoke;
2005-2006:
Plymouth;
2006-2013:
Stoke;
Nov 2013-Aug 2014:
Crystal Palace.
January 2015-present:
West Brom
West Brom sat one point above the relegation zone when Pulis was appointed head coach on New Year's Day, following a four-month break from the game after his resignation from Crystal Palace in August.
The West Midlands club secured their Premier League status for a sixth consecutive season last Saturday with a 1-1 draw against Newcastle at St James' Park.
"He has never managed a club that wants to be champion, never managed a club that wants top four, he is always managing clubs that want to survive and want stability," Mourinho said before the champions' Premier League match with West Brom at the Hawthorns on Monday.
"Tony is mathematics. His record is absolutely amazing."