Matt Bloomfield: Wycombe midfielder's play-off final diary
Last updated on .From the section Wycombe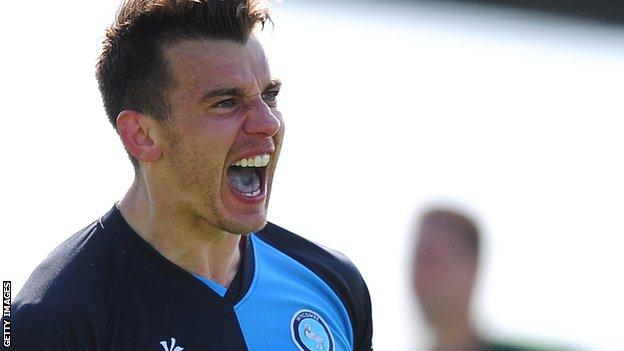 Playing in a big match at Wembley is what most professional footballers dream about, and six clubs are busy preparing for a play-off final - a match that will define their entire season.
The League Two showpiece is up first on Saturday, with Wycombe Wanderers and Southend United playing for a place in next season's third tier.
Wycombe midfielder Matt Bloomfield, 31, a regular BBC Sport columnist, will keep us up to date with his side's preparations in a special online diary, which will be updated daily until Saturday's final (17:30 BST kick-off).
Friday, 22 May - A walk around Wembley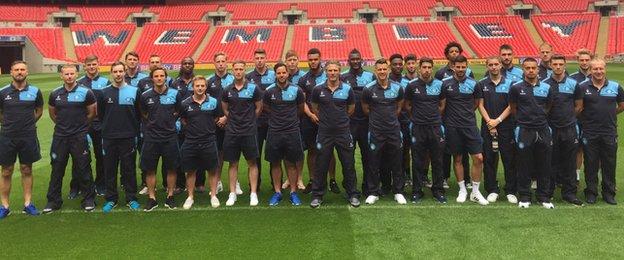 Training was short and sharp this morning as is normal for us on a Friday. We start off with the warm-up and some fun races before going into some team work with the gaffer.
It's an opportunity to go through some finer points and to keep things fresh in the mind.
From there we headed to Wembley to have a look around, have a walk on the pitch and to take some photos.
Some of the lads have played at Wembley before, others like myself have been as a spectator, and some have never been at all.
It was a really good idea to get the initial excitement out of the way so that when we arrive on Saturday our minds are firmly on the job.
I'm back in my hotel room now getting some rest and watching the cricket on the TV, relaxing and preparing in the best way that I can.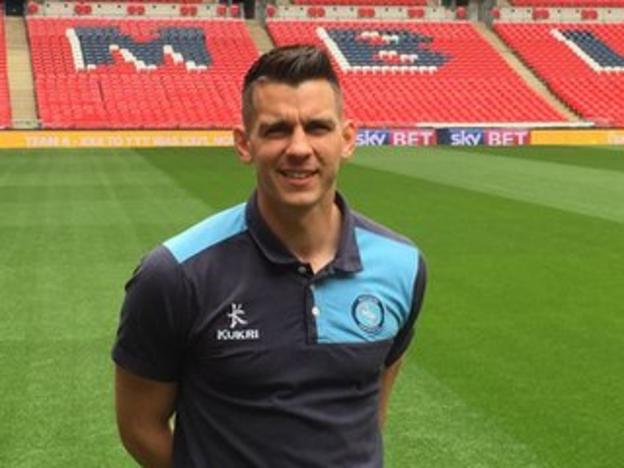 We'll have dinner together later on but apart from that the rest of the day will be low key and the lads will be left to their own thoughts to prepare themselves.
I have been receiving a lot of messages of support all day which is amazing to know that so many people are behind you and wanting you to do well.
I had a couple of good chats on the phone to close friends of mine who are also experiencing the Wembley play-off final atmosphere this weekend.
Gary Holt, first-team coach at Norwich, and Russell Martin, Norwich captain, are both former team-mates of mine at Wycombe who both rang to wish us luck.
We were able to talk through the weekend and what it means to everyone involved. They are proper football people and once they have spent tomorrow willing us on to victory I'll be doing exactly the same for them on Monday.
Tomorrow will be an exciting experience for supporters, friends and family. For us we need to focus on the job in hand and prepare and then perform in the best way possible.
I'm really looking forward to it now.
Thursday, 21 May - Suit fits, we're good to go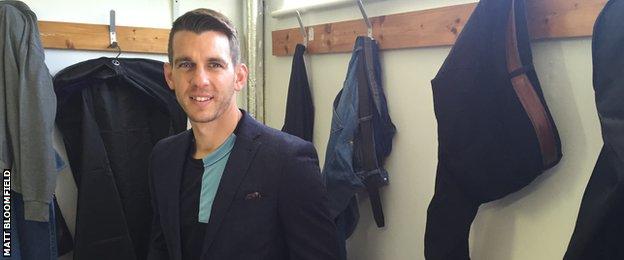 Two days to go and it's about now that it all starts to get real. Thursday is always the first build-up day for a game when we will do some team shape and start focusing in on both our and the opposition's strengths. It's the day in training when plans are laid out and you start thinking about your job. Today was no different.
Training today was bright and bubbly, everything that you would expect it to be two days before a final. The team work was followed by a finishing session, before it was time to do our second press day of the week.
There was obviously a much larger press attendance than our usual Thursday gatherings and, as one of the senior members of the squad, I had a few interviews to do.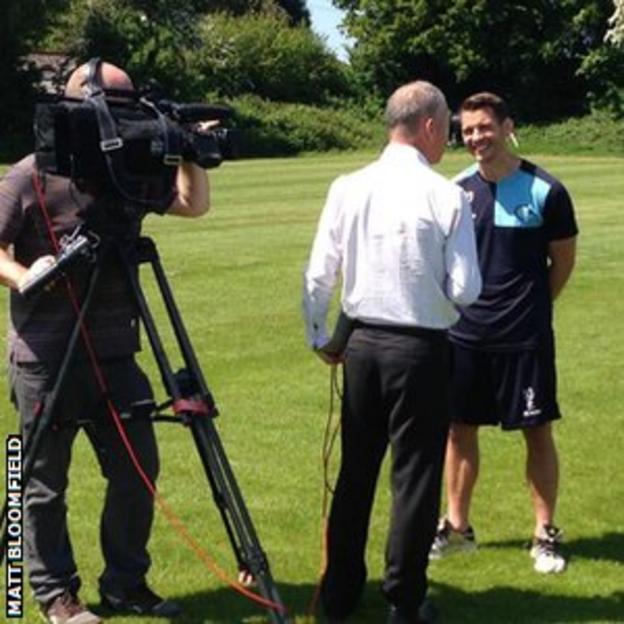 I spoke to BBC London, ITV News and Sky Sports News, and we had a press call for our chairman Andrew Howard's ice cream company.
I really enjoy this side of the game and would never moan or complain about the media side. It really interests me and I like seeing how these guys go about their job. I have met some great guys working in the media and built up some really good contacts.
A couple of the press guys commented on how welcoming and relaxed it was at the training ground. This isn't us relaxing or taking it easy, it's just trying to provide an environment where the lads can perform to their maximum potential.
We were given our blazers today and our club ties, so this afternoon it was time to try it all on and check that it all fitted. I didn't want any last-minute panicking that there is a problem with the suit. Everything is fine and we are good to go.
I waved my wife off with our daughter and the dogs to head home to Felixstowe, and I packed my bag for tomorrow's hotel stay before Saturday's game. Really looking forward to it now.
Wednesday, 20 May - Packing and planning
We had a day off from training today so I spent most of it packing up the house with my wife. She is off back home to Felixstowe tomorrow, so everything needed to be sorted ready for that.
She is going back so I can rest tomorrow evening and get fully focused on what lies ahead at the weekend. On Friday, we are in a hotel in preparation for the game anyway, so it made sense for her to head home.
She is also going back home to stay with her parents as I'm off to St George's Park on Tuesday to start my Uefa A coaching licence. I did the Uefa B last summer and it really whet my appetite to do my badges and start on the coaching ladder. We start this year with an eight-day residential and I'm really interested to see what advances we make from last year's course.
I'm dreading being away from my daughter for eight days. I'll miss her so much but I need to make these sacrifices in order to better myself for when the time comes for my next career.
Once I have finished the residential at St George's Park, I'm going to head back to Suffolk as well to spend a couple of weeks there before we return to pre-season training.
Being a professional footballer has so many advantages and I wouldn't ever change my job for the world - I love it and am so privileged. But one thing you do miss out on is seeing the family, especially not having them near with a newborn.
I'm looking forward to training tomorrow morning. It's usually around Wednesday evening that I start to think more about the game coming up at the weekend. Preparation is vital - what I eat, how much water I drink, stretching and foam rolling.
Time to get some sleep. An important few days coming up.
Tuesday, 19 May - Old dogs, new trousers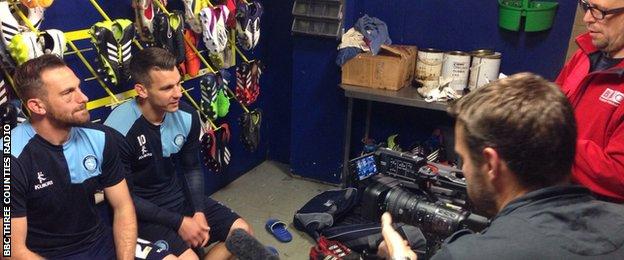 We were back in training today and I was really pleased by the whole feel around the training ground. Everyone was relaxed and going about their business as normal.
Training was sharp, with some introductions about how we want to go about our business on Saturday.
The drug testers turned up towards the end of our session so we were all waiting to see who had been pulled out of the hat to give a sample.
It's never too much hassle on training days as everyone is fairly hydrated, even after a session. It's the midweek away games when someone is dehydrated and everyone is sat on the bus waiting for them to be able to give a sample.
We also had our first press day of two this week. There is obviously the extra interest from the national press on top of the usual coverage from the local guys. As a small club it's important for us to be accessible and always present ourselves in the right way.
Myself and Paul Hayes were asked to do a team-mates video by BBC Three Counties Radio. A name was read out and we had to describe their character or tell tales or whatever came to mind. It was so much fun to do and the lads seem to have enjoyed what was said.
This afternoon and evening have been pretty busy. The dogs had a vets appointment and I had to get to the retail park to buy my trousers to go with our club blazer. I didn't have any shoes that went with the trousers so I have a new pair of shoes for the occasion as well.
Whilst feeding and winding my daughter I was on social media having some banter with the lads and some supporters about the team-mates video. I think that's called multi-tasking.
Monday, 18 May - Feeding, changing, washing...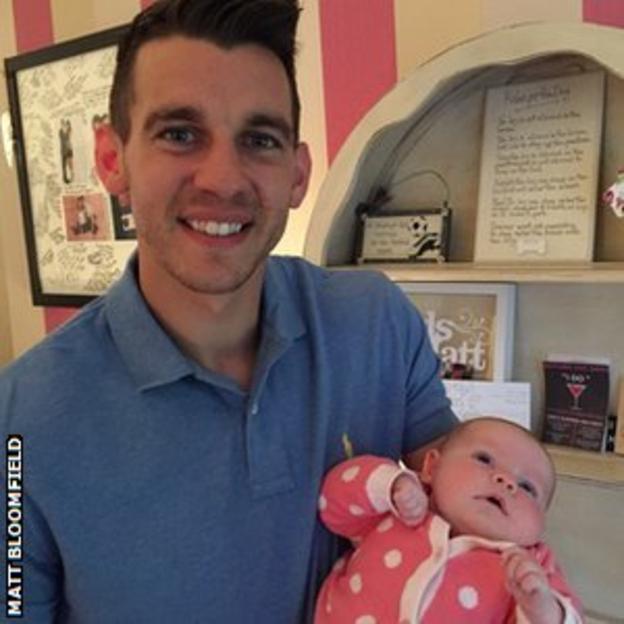 A day off today meant I was on the night shift last night, feeding my seven-week old daughter.
My wife has done so much since she was born that it's only fair I do my share of the night feeds. I'm not good without my sleep - so I was a bit bleary eyed this morning.
With the play-off final just five days away, I always think it's tough for partners to be involved in these important situations.
It's hard to leave work at the door so they live through the emotions with you while being unable to have a bearing on the outcome. I'm so lucky that my wife lets me get on with it and understands how important it is to me.
To be honest, with a newborn I haven't had too much time today to get nervous or worried about what the weekend might bring.
In between feeding, sterilising, changing and washing, the morning flew by.
We took the dogs out for a walk for an hour once the rain passed and then spent the evening playing with Mollie.
I find myself thinking about football a lot when I'm at home but my wife will always get me to snap out of it with some jobs around the house!
I've just about finished sorting out tickets. All the family in Suffolk are going to be there and some very close friends as well which I'm delighted about. The A12 will be busy with everyone driving to Wembley from Felixstowe!
Sunday, 17 May - One beer, no champagne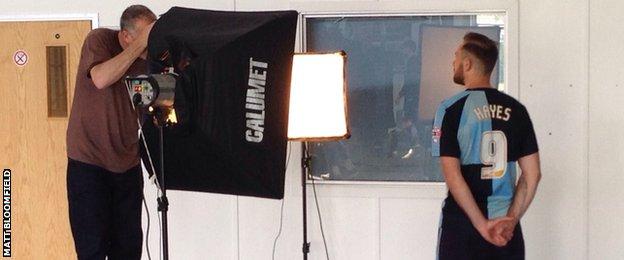 It's play-off final week. The late May Bank Holiday weekend is always packed full of Football League play-off finals, and this year we are one of the six teams taking part.
Thursday's semi-final win against Plymouth was such a big night for the club. The anticipation of the supporters at the opportunity to get to Wembley for the first time in over 20 years, the financial bonuses for a club like ours to reach the final, and the sheer determination and drive from a group of players to reach Wembley was so strong it all helped to pull us through.
The celebrations out on the pitch between fans and players were just brilliant. We did a lap of honour, as is customary for this kind of situation, and then shared a beer in the dressing room. No champagne, as that's for celebrating, and we haven't achieved anything yet.
The lads were discussing the game and the week that was about to come our way. We were also hearing about the extra-time being played at Roots Hall as Southend went on to beat Stevenage and also reach the play-off final.
We had Friday and Saturday off and were back in training today. We had ticket issues to deal with and we got measured up for our club blazer before getting out onto the training ground for a sharp session. The Football League were in to take some action shots of the lads in preparation for the pre-match build-up and the manager had an interview to do.
The session was good, just like the first session of any other week of the season. I finished off with my core work and single leg-strength work before heading home to watch Manchester United draw with Arsenal.