Scotland: Gordon Strachan not drawn on ethics of Qatar friendly

By Alasdair Lamont
BBC Scotland
Last updated on .From the section Scotland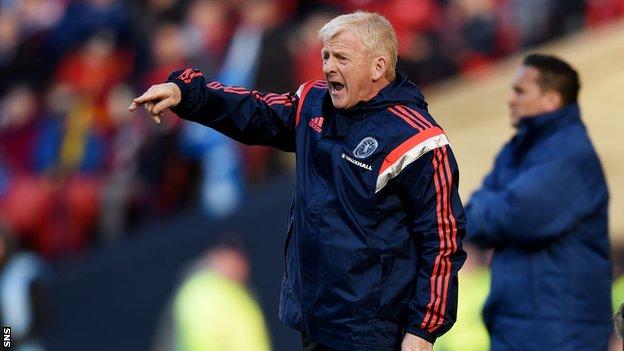 Scotland manager Gordon Strachan has declined to be drawn on the ethics of playing Qatar in a friendly.
Strachan said he was appreciative that Qatar will play the Scots ahead of the Euro 2016 qualifier against the Republic of Ireland eight days later.
"This is not the time for me to talk about politics," he added.
Journalists were arrested and held in Qatar recently while filming a documentary on conditions facing migrant workers ahead of the World Cup in 2022.
Qatari officials said the arrests in March were made because the TV crew did not have permission to film in the country - not because of the content.
Human rights groups have expressed concerns about conditions for workers.
"There are other people more qualified and with more information to talk about politics, but mine is football," Strachan said.
"I have times when I think about politics and this is definitely not one of them," he said.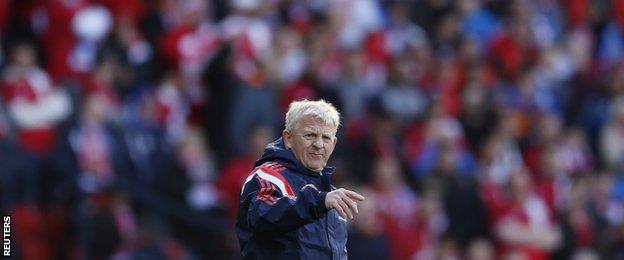 "There are times when I sit down and moan at the television on politics. I've had a month of moaning about politics; me and my wife sitting in front of the TV moaning and groaning at everybody.
"But this is a time to say: 'listen, we're going to have a good game of football here'."
Pauline Kelly, Amnesty International's Acting Programme Director in Scotland, said it welcomed news of the friendly against Qatar.
"Sporting links with other nations - especially those with endemic human rights abuses - are an opportunity to highlight the dire conditions in those countries," she added.
"The Qatari authorities have still not addressed the horrific living conditions and health hazards which can lead to death for the thousands of migrant workers building the infrastructure for the 2022 World Cup."
Sporting leaders "do have an obligation to at least acknowledge the serious human rights abuses and exploitative practices in Qatar," she added.
Strachan said the game against Qatar was ideal for Charlie Mulgrew, who has been named in the squad despite missing the past five months through injury, and others who will not play a lot in the month leading up to the qualifier in the Aviva Stadium in Dublin.
He said Charlie Adam, Leigh Griffiths and Scott Bain had all impressed him sufficiently in recent weeks to earn call-ups, with the former two having a chance to play against Martin O'Neill's side.