Andre Villas-Boas: Zenit's title-winning boss is 'anti-football'
Last updated on .From the section European Football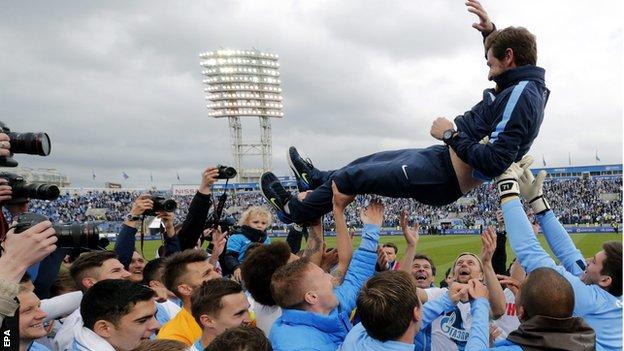 Zenit St Petersburg coach Andre Villas-Boas employs a "nauseating" style of play that is "anti-football", claims one of the club's former players.
Yet Boris Chukhlov, who won the Soviet title with Zenit in 1984, also claims Villas-Boas is not good enough to manage a top European club.
But Villas-Boas says he is focused on turning Zenit into a major force.
"We should be one of the top-10 clubs in Europe," the Zenit manager has said.
AVB's tactics are 'anti-football'
Zenit were crowned Russian champions on Sunday after earning a 1-1 draw at lowly FC Ufa. However, his team's style of play has not drawn an admirer in Chukhlov.
"Zenit play boring football," he said. "A team full of star names is going out onto the pitch, however, the tactics are too cautious. The side is showing anti-football, which basically boils down to giving the ball as quickly as possible to Hulk or Danny."
But Zenit top-scorer Hulk, who has netted 15 league goals including the strike at FC Ufa, says the title triumph was a team success.
"There was not a best player of the season. The most important goal of the season was the one today against Ufa, which brought us the title," said the Brazil striker.
Zenit should have won title 'months ago'
Villas-Boas helped Zenit finish second last season, a point behind CSKA Moscow, after taking over in March 2014. This season, the team from Russia's second city has secured the title with two games to spare.
However, they failed to advance from the Champions League group stage and were knocked out by holders Sevilla in the Europa League quarter-finals.
"They are such a strong squad and when faced with such weak opponents, they should have wrapped up the Russian title two months ago and should have performed much better in the European competitions," said Chukhlov.
And Villas-Boas agrees - about their European performance at least. "We need to try and grow in order to win and improve in European competitions. To achieve this, there will be some changes and there will be investment," he said.
'Boring Villas-Boas is no Mourinho'
Villas-Boas is widely known as Jose Mourinho's protege, having learnt his trade under his fellow Portuguese at Porto, Chelsea and Inter Milan.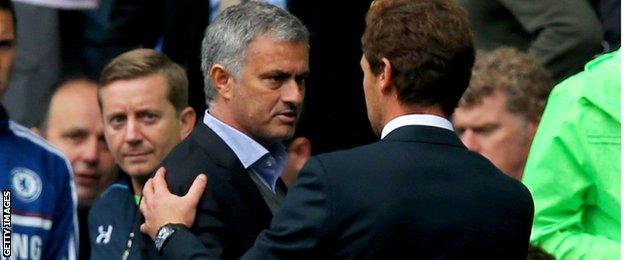 "Villas-Boas says he is an admirer of Jose Mourinho," said Chukhlov.
"However, teams under the latter play a more aggressive type of football. Zenit on the other hand score a goal and then the defenders start hoofing the ball. It is boring and nauseating."
But, despite the criticism, Villas-Boas is pleased that the Zenit players have bought into his title-winning formula.
"I want to thank the players for the work that they have done, the way they have welcomed me and accepted my methods, and my way of working," he said.
'He always whines to the media'
Chukhlov also claims Villas-Boas tries to deflect any criticism by criticising other people in his post-match news conferences.
"He is always whining," said Chukhlov. "The referees are aiding the opposition with their mistakes, the conditions for playing football are poor, and so on... However, we have a lot more questions towards this manager."
AVB for Real Madrid? 'No chance'
Villas-Boas has been linked in the Spanish media with a move to Real Madrid, whose current coach Carlo Ancelotti - another former Chelsea boss - faces an uncertain future.
Los Merengues will finish the season without a major trophy after Barcelona pipped them to La Liga and Juventus reached the Champions League final at their expense.
"Why would Real need him?" asked Chukhlov of Villas-Boas, whose Zenit contract runs until 2016.
"I don't think he is able to work with top clubs."
Andre Villas-Boas' managerial career

Club

Years

Honours

Win %

Academica

Oct 2009 - Jun 2010

None

36.67

Porto

Jun 2010 - Jun 2011

Primeira Liga, Portuguese Cup, Europa League (2010-11)

84.48

Chelsea

Jun 2011 - Mar 2012

None

47.5

Tottenham

Jul 2012 - Dec 2013

None

55

Zenit St-Petersburg

Mar 2014 - present

Russian Premier League (2014-15)

64.15