AFC Bournemouth will not expand stadium for Premier League yet
Last updated on .From the section Football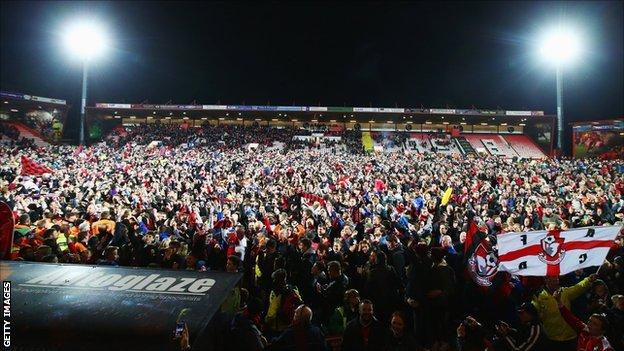 Premier League-bound Bournemouth have confirmed they will not be expanding their Goldsands Stadium home for their first season in the top flight.
The Cherries had looked into increasing their 11,700 capacity for next term.
However, with other requirements needed to improve the stadium, the club have decided against increasing capacity.
"When all of the factors were weighed up, it just wasn't feasible to push ahead with expansion of the stadium," said chief executive Neill Blake.
Speaking in November, chairman Jeff Mostyn told BBC Radio Solent the club were conducting feasibility studies on expanding the stadium, traditionally known as Dean Court.
The club will need to improve and increase media facilities as well as other updates to the stadium's infrastructure to meet Premier League requirements.
And the Cherries felt they did not have enough time to complete a stadium increase also.
"There are a vast number of demands for change behind the scenes placed on any club following promotion to the Premier League," added Blake. "We have to ensure we meet those demands in time for next season.
"It will take a great deal of planning, time and hard work to meet the guidelines within the space of the next few months, and factoring in the expansion of the South Stand as well was virtually impossible.
"There are also well known complications with the land behind the South Stand, due to it being a former waste tip. With intensive testing necessary before any building work can be done, something which can take months to complete. This was one of the major stumbling blocks in our proposed plans.

"In addition, our first priority is to invest in the squad and football staff infrastructure to support boss Eddie Howe and his coaching staff, which we believe is the best strategy to maintain our Premier League status."
At 11,700, Goldsands Stadium will be the smallest in the Premier League, however Blake says capacity will be addressed if they stay up.
"If we are able to retain our place in the Premier League, stadium capacity will be a priority for the following season," he said.