Tractor Sazi's Persian Gulf Pro League title celebrations cut short
Last updated on .From the section Football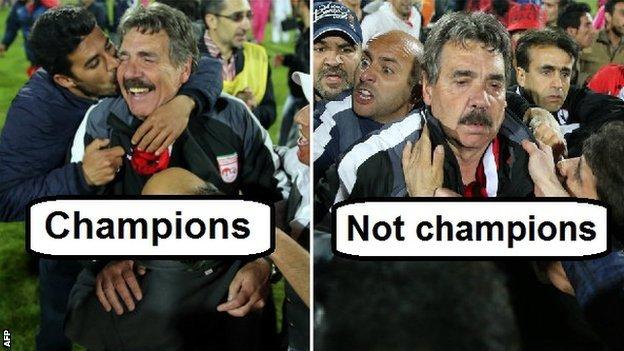 Title celebrations cut short, brawls in the stands and a call for calm from government - Iran's Persian Gulf Pro League had a thrilling final day.
Portuguese coach Toni Oliveira beamed as his Tractor Sazi side wildly celebrated their first Pro League title but within minutes discovered the honour belonged to Sepahan, a club located 560 miles further south.
How could this happen? Sazi had drawn 3-3, a result good enough to seal the title with their rivals being held 2-2 - or so Oliveira and his staff were told.
"We were tricked," said the 68-year-old former Benfica manager.
Sepahan had actually won their match 2-0, enough to take the title by a point and when the news filtered back to Sazi's stadium, brawls broke out, seats were launched and bins were thrown.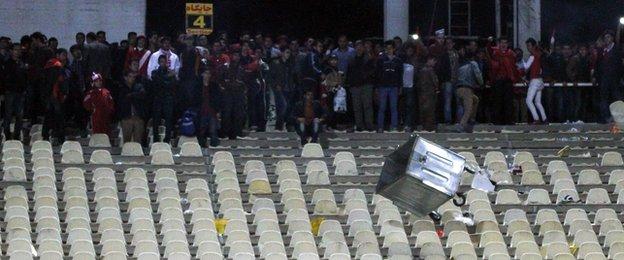 But if being misinformed was not a pill tough enough to swallow, Sazi - and their fans who had initially invaded the pitch in celebration - also had to stomach the fact they were reduced to 10 men when 3-1 up in Friday's match.
Former Bolton Wanderers midfielder Andranik Teymourian was the man sent off and his dismissal and the confusion which surrounded the outcome has led to calls of conspiracy.
Iran's president is the subject of an online campaign entitled 'Red card to Hassan Rouhani' as angry fans claim the country's hierarchy do not want to see the title won by a club from the north, close to neighbouring Azerbaijan.
Rouhani - who has asked his sports minister to investigate what went on - may not be too excited about a scheduled visit to East Azerbaijan - the province where Tractor are based - on Wednesday.
Intrigued? The Pro League starts again in July. It sounds like a competition with plenty of talking points.