South Africa's Portia Modise retires from all football
Last updated on .From the section Football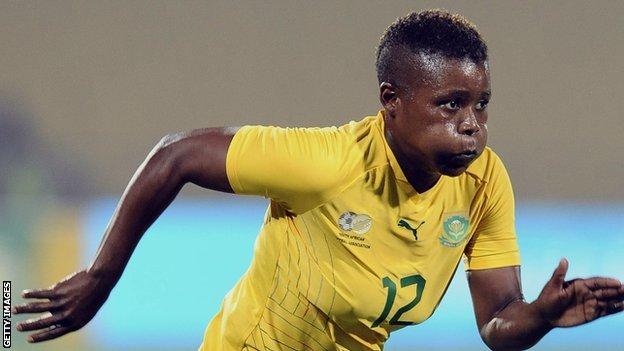 South Africa's most capped female player Portia Modise has retired from all football with immediate effect in order to pursue a coaching career.
She also won her 124th and final cap at the tournament as Banyana Banyana missed out on World Cup qualification when they lost to Ivory Coast in the third place play-off.
The South African Football Association president Danny Jordaan announced that "her new role will be to guide other players."
Portia Modise's career
International Caps:
124
International Goals:
101
International Debut:
2000
Final International Match:
25 October 2014 v Ivory Coast (lost 1-0)
Clubs:
Soweto Ladies, Fortuna Hjorring (Denmark), Palace Super Falcons and Croesus
Modise, who scored 101 goals for he country, is looking forward to her new challenge.
"I want to thank the media for giving greater exposure to women's football. I'm not lost to South African football," she said as she made her retirement public.
"My wish among other things is to create 10 more Portia Modise's within our national teams."
The Soweto-born player made her senior international debut as a 16-year-old in 2000 and went on to make a record number of appearances for Banyana Banyana.
Along the way the feisty striker has collected a number of awards which have embellished a stellar career.
In 2005 she was one of two African players to be nominated for the Fifa Player of the Year award alongside Nigeria's Perpetua Nkwocha, and she claimed the Player of the Tournament award at the 2006 AWC.
A few months later Modise was also voted in the top three for the 2006 Confederation of African Football Women's Footballer of the Year award.
Modise may well have scored a lot more goals and won many more caps had she not quit international football in 2008 after falling out with coach Augustine Makalakalane.
She returned to the national team in 2010 after being recalled by Joseph Mkhonza.
One of Modise's best goals was a sensational 45-yard strike she netted at the 2012 Olympics in their 4-1 defeat against Sweden in what was Banyana's maiden appearance at the event.
"I'll never forget that goal. I saw early in the game the goalkeeper's weakness was that she was always coming off her line, so I took a shot and it came off. It worked out, and I'm really proud," said Modise, describing what turned out to be Banyana's only goal at the tournament.
After seeing a dream move to Arsenal in 2003 scuppered because of financial issues, Modise had the chance of sampling the game in Europe four years later when she signed a two-year deal with Danish side Fortuna Hjorring.
"It was a life-changing experience and it helped me mature at a young age. It was not easy to be away from home but I worked hard, I learnt a lot from my teammates, that experience taught me a lot of life lessons," says Modise.