Garry Monk best Swansea boss, says chairman Huw Jenkins
Last updated on .From the section Football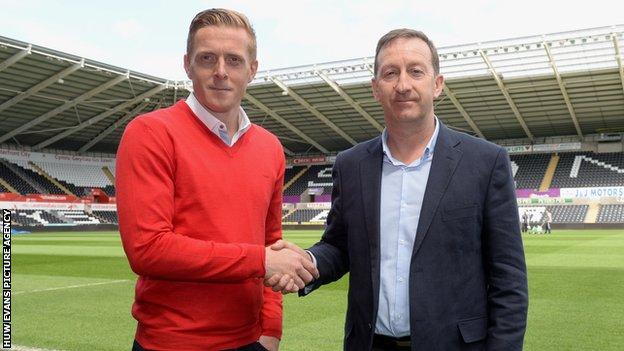 Garry Monk is the best manager Swansea City have had, according to chairman Huw Jenkins.
Swansea have sealed their highest Premier League finish of eighth place with a club record points total.
Jenkins says that success speaks for itself and he expects to agree a new contract with Monk "very quickly".
"He has to be [the best], he's finished with the top number of points and finished eighth in the Premier League," Jenkins said.
"You can't argue this year, I can't say anything different.
"Garry has grown and developed as a person, as a manager and learnt a lot in this period, and I feel he's finished the season in a real strong, positive way himself."
Monk has impressed in his first full season in charge, having been placed in charge in February 2014 following the sacking of Michael Laudrup.
The 36-year-old's position as manager was made permanent at the end of that season and he has two years left on his current deal at the Liberty Stadium.
Monk has been linked to West Ham United but Jenkins says a new deal is more about giving Swansea's former captain what he deserves, rather than fending off interest from other clubs.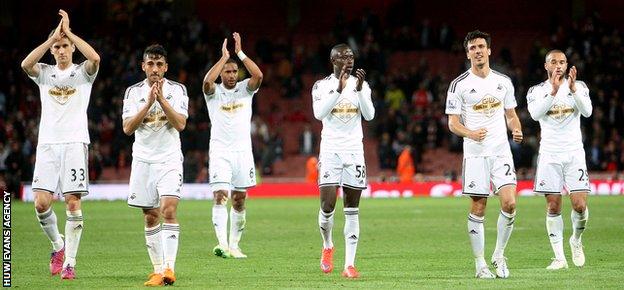 "First and foremost it's about reward to show Garry what we think of him, and he's there leading us to make sure we remain in the Premier League year on year," Jenkins said.
"I think we'll find a solution very quickly, we've got a good relationship with Garry and we'll find some way of working things out that he is rewarded in the right way.
"While we like protection, I think the ultimate thing with us is whoever the manager is has to want to stay and work with our football club.
"If they don't they'll move on... whether it's the manager or players, once I see they don't want to be at our football club they won't be here long.
"That will always be in our nature."
Swansea complete their league campaign at Crystal Palace on Sunday, 24 May having already claimed 56 points, nine more than their previous best.
"We've had a fantastic season... many targets were broken," Jenkins added.
"Many things have been a first for us but that just highlights what a great season Garry Monk, his staff and the players have had with his first full season in charge as manager.
"It's always a difficult period for somebody else to change things over and Garry to do that mid-season was a big challenge for him.
"This season things have settled down, recruitment was excellent in the summer and... it helped in making sure we had a really strong squad this season.
"Garry and his staff have led them really well and have finished off the season in a great and a lot stronger shape than we finished last year."