Paris St-Germain topple Manchester City in wage list
Last updated on .From the section Football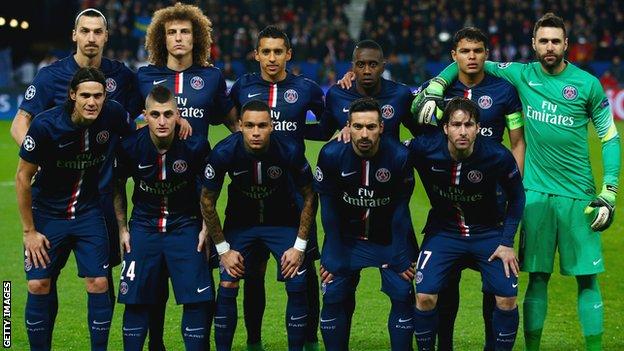 Paris St-Germain have replaced Manchester City as the best paid sports team in the world.
City topped the poll last year but their average of £96,445 has seen them fall to third place behind Real Madrid.
Manchester United are sixth in the list, Chelsea are eighth, Arsenal are at 10 and Liverpool come in at 14.
The survey focuses on 333 teams in 17 leagues across 13 countries, and includes football, baseball, basketball, American football, cricket, ice hockey and Australian Rules football.
The only non-footballing teams in the top 10 are baseball's Los Angeles Dodgers (fifth) and the New York Yankees (ninth).
The NBA remains the top paying league as a whole, with players averaging £2.67m per year, while the average for the Premier League is £2.23m.
World sport salary top 10 (average per week)
1: Paris St Germain

(£101,898)

2: Real Madrid

(£96,933)

3: Manchester City

(£96,445)

4: Barcelona

(£90,675)

5: Los Angeles Dodgers

(£89,999)

6: Manchester United

(£89,988)

7: Bayern Munich

(£85,935)

8: Chelsea

(£83,713)

9: New York Yankees

(£81,992)

10: Arsenal

(£77,963)