Match of the Day: Ryan Giggs wins best goal of the last 50 years
Last updated on .From the section Football452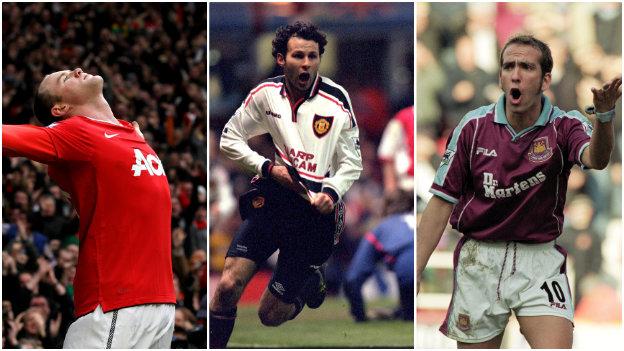 Ryan Giggs's individual effort in the 1999 FA Cup semi-final against Arsenal has been voted by you as the best Match of the Day goal of the last 50 years.
The Manchester United midfielder's winning strike was chosen by BBC pundit Alan Shearer as the goal of the 1990s and has now been chosen by you as the best of the past five decades.
A BBC panel looked at every Match of the Day goal of the season since it started back in 1970 and chose five goals - one for each decade - for you to vote on.
The vote opened during Football Focus on Saturday and ran until full-time in the FA Cup final. You will be able to vote on the BBC website.
Here are the goals chosen, listed in the order they were voted in.
1: 1990s: Appetite, attitude and ability - 32%
Alan Shearer's goal of the 1990s: Ryan Giggs for Manchester United against Arsenal in 1999.
With 11 minutes remaining in extra time of the 1999 FA Cup semi-final replay, Ryan Giggs took on the entire Arsenal defence. He jinked past four defenders and smashed the ball past a helpless David Seaman to set up a final with Newcastle United.
Shearer said: "The great players deliver at the vital moments in the really big matches and this is one of them. It stands out not just because of the quality of the run, past four players, and Giggs's outstanding finish, but because of what it meant in that match and what it led to in Manchester United's treble-winning season in 1998-99.
"This goal is not just a brilliant individual one, it was massively important for that team. It won the FA Cup semi-final replay in extra time against United's main rivals at the time. Giggs's celebration is also a memorable one and the whole moment sums up his appetite, attitude and ability."
2: 2000s: An iconic Premier League moment - 27%
Phil Neville's goal of the 2000s: Paolo Di Canio for West Ham against Wimbledon in 2000.
Wimbledon lose the ball cheaply and Marc-Vivien Foe recycles possession out to Trevor Sinclair on the right wing. Sinclair has time to look up and measure a deep cross to the back post. Driven hard and flat, the ball arcs over the head of Wimbledon centre-back Kenny Cunningham and Paolo Di Canio attacks. The Italian meets the ball on the full, both feet off the ground, connecting with the outside of his right boot and blasting the ball past Neil Sullivan and into the corner. Simple really.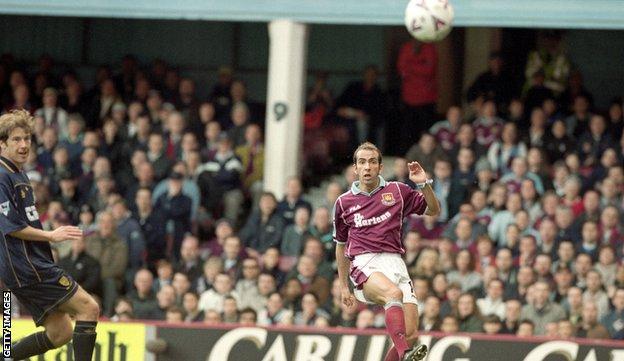 Neville said: "It's one of the best goals of all time. It was a unique strike, the technique to hit the ball across his body with both feet off the floor was special. There have been great volleyers of the ball like Mark Hughes or Marco van Basten but that was a brilliant strike from a wonderful crossfield ball.
"Di Canio had to watch the ball come 40 yards through the air, time it right and then get a sensational connection.
"The defenders and goalkeeper could do nothing about that goal. I blame keepers for a lot of goals but that was just a perfect goal. If it was scored against me I would have been tempted to applaud it.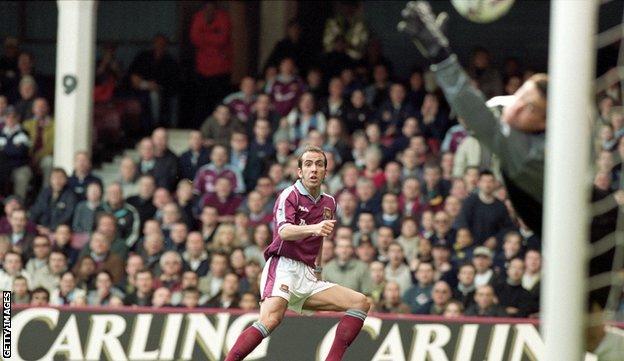 "Didier Drogba scored against Everton with a superb goal once, he took it on his chest and smashed it in from 30 yards and I just had to stand there and admire it. Sometimes you are on the pitch for a moment like that and even if you lose the game you think 'at least I can tell my grandchildren that I played in that game'. That must be how the Wimbledon and West Ham players think about that Di Canio goal.
"It summed him up as a player. He was a man who could produce moments of brilliance with great individual technique. There are great goals every season in the Premier League but the really great goals are the ones which will be played for years and years to come.
"That goal will be on the credits for Match of the Day in 30 years' time. They do not come around very often! It was a special goal, an iconic moment."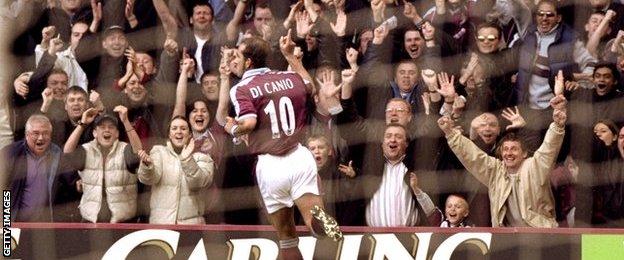 3: 2010s: Spectacular acrobatics - 22%
Guy Mowbray's goal of the 2010s: Wayne Rooney for Manchester United v Manchester City in 2011.
Wayne Rooney's spectacular late overhead kick in 2011 earned Manchester United a 2-1 win over rivals Manchester City.
Mowbray said: "I love the 30-yard blasters. I stand and applaud the 30-pass team efforts. The goals that I can watch over and over again though, are the ones that you very rarely see - the different ones. That's why I've got to go for Wayne Rooney's spectacular acrobatics that won the Manchester derby in February 2011.
"It's not only the speed of thought and the incredible technique that makes the goal extra special - it's the timing of it, the context, the importance, the lot. 1) Rooney's winner at Old Trafford put Manchester United back on track for a title they'd eventually win, one week after a shock defeat at Wolves. 2) It was a key moment in the player getting fully back onside with United fans, after rumblings of wanting to leave earlier in the season. 3) It secured a derby win that left City struggling in the title race, and beaten in a game they'd had much the better of.
"Above all though, it's just one of those once in a career goals that only a few experience. Rooney said immediately after the game that it was "definitely the best goal" he'd scored. I'd be amazed if he ever gets a better one. I'd be less surprised if anyone was injured trying to copy it!"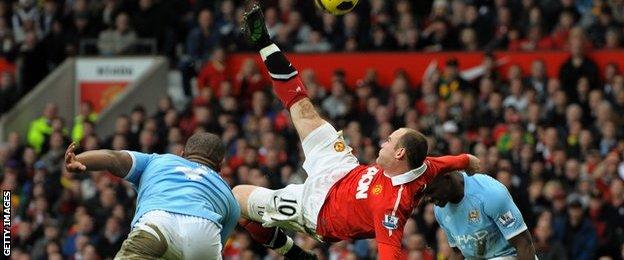 4: 1970s: 'The crowd are invading the pitch' - 10%
John Motson's goal of the 1970s: Ronnie Radford for Hereford v Newcastle in 1972.
Ronnie Radford wrote his name into FA Cup folklore. Non-league Hereford were the archetypal underdogs as they took on the might of top-flight Newcastle United in the third-round replay.
A tidy one-two with Brian Owen set up Radford to unleash a 35-yard strike past Newcastle goalkeeper Willie McFaul to take the tie into extra time. Cue an excitable 26-year-old John Motson on commentary: "Oh, what a goal! What a goal! Radford the scorer... and the crowd are invading the pitch." Ricky George's extra-time winner ensured Hereford pulled off a famous win and Newcastle went out.
Motson said: "It is an iconic goal and led to what is probably the greatest all-time shock in the FA Cup. It was my first commentary match for Match of the Day as well. The match was meant to be a formality, which is why I was given it, but it changed into an unforgettable national occasion.
"Not only was it a great day for Hereford, it was also a great day for me. That win against Newcastle helped make my name as a commentator and helped me get where I am today. I feel like I owe a lot to Hereford for that giant killing. I have dined out on them often over the last 30 years. It was a strike from about 40 yards in the mud."
5: 1980s: Sharp's derby drive - 8%
Mark Lawrenson's goal of the 1980s: Graeme Sharp for Everton against Liverpool in 1984.
Everton, without a league title since 1970, were a resurgent force under Howard Kendall. When Graeme Sharp skipped away from Mark Lawrenson and smashed a 30-yard drive beyond Bruce Grobbelaar, Everton had a first win at Anfield in 14 years and sent a clear warning that they were genuine title contenders. They went on to win the First Division by 13 points from their city rivals.
Lawrenson said: "It came from a long ball forward from Gary Stevens which came over my head. I always swear that Graeme was offside but, even though he had got the wrong side of me, I remember thinking 'well if he goes to run with it I will catch him easily' - in those days I was supposedly quick.
"When he went to hit it, I thought 'that's alright, Brucie will deal with that' but it was an absolute wonder-strike. Sharpie was a great player, who never got as much praise as he should have done, but he never scored another goal like that either.
"It was a big goal in a big game because of how much it propelled Everton forwards. Before then, they had not won at Anfield since they won the title in 1970. That goal gave them massive belief that they could go on and win it again - which they did. We already knew they were the new team challenging us, but we realised then that they meant business, and just how good they were."