Raheem Sterling to Man United? Football's controversial moves
By Shamoon Hafez
BBC Sport
Last updated on .From the section Football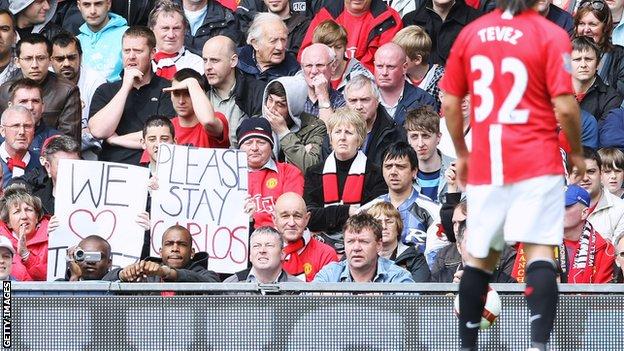 Could Liverpool forward Raheem Sterling do the unthinkable and break a footballing taboo?
The 20-year-old is set to ask for a move away from the Reds after they finished out of the Premier League's top four and failed to qualify for next season's Champions League.
There will not be a shortage of takers should the Anfield side be willing to sell, and a shock candidate has emerged for his signature with rivals Manchester United interested - and a conversation between the two clubs has taken place.
The last player to move between the clubs was Phil Chisnall more than 50 years ago, but is Sterling set for a controversial north-west switch? BBC Sport takes a look at other surprise moves between fierce rivals.
Luis Figo: Barcelona to Real Madrid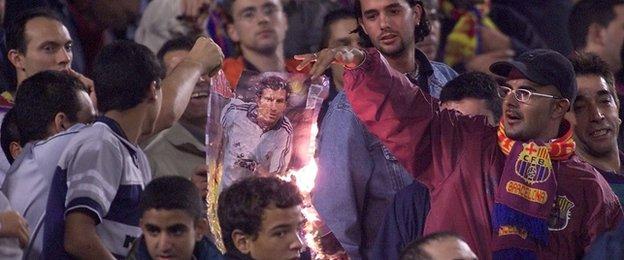 Probably the most high profile move between rivals? In 2000, Luis Figo became the world's most expensive footballer after swapping one Spanish giant for another.
The £37m transfer of a player adored at the Nou Camp to the Bernabeu was seen as treachery by the fans, and they made their anger known when he returned to play against his old side for the first time.
Supporters of the Catalan side went as far as throwing a pig's head onto the pitch, as well as burning an effigy of the Portugal winger during the game.
Verdict: Success. Figo won the Champions League and two La Liga titles in his five seasons at the Bernabeu.
Sol Campbell: Tottenham to Arsenal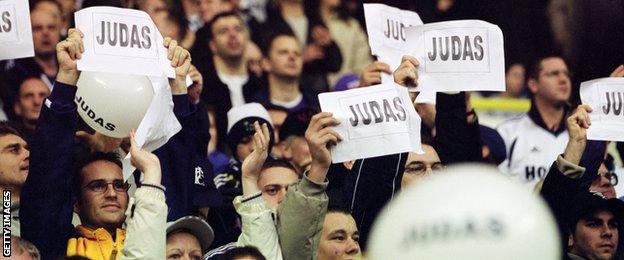 Not only did England centre-back Sol Campbell move across north London, he rubbed salt into the Tottenham wound by doing it on a free transfer.
Campbell turned down offers from leading clubs in Europe such as Barcelona, Inter Milan and Bayern Munich to stay in the Premier League after signing for Arsenal in 2001.
He received a vitriolic reception on his return to White Hart Lane in November of that year, with supporters labelling the defender as "Judas".
Verdict: Success. Two Premier League titles, three FA Cups and a goal in the 2006 Champions League final vindicated his move.
Carlos Tevez: Manchester United to Manchester City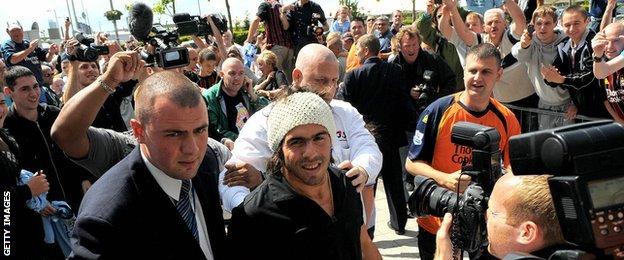 Hard work, goals and his partnership with Manchester United team-mates Cristiano Ronaldo and Wayne Rooney saw Carlos Tevez become a fans' favourite at Old Trafford, with the Stretford End faithful singing: "Who's that man from Argentina, who's that man we all adore..."
That chant was quickly changed to a more abusive version after he penned a contract with rivals Manchester City in 2009.
The City fans mobbed the striker when he arrived at the Etihad, and even unveiled an advertising board in the city which read "Welcome to Manchester", picturing Tevez holding his arms outstretched.
Sir Alex Ferguson's decision not to make Tevez's two-year loan deal a permanent one still rankles with some United fans, especially with the lavish spending they are now embarking on.
Verdict: Success. One Premier League title and one FA Cup in four seasons justified his decision, despite it being an unpopular one in the red half of Manchester.
Mo Johnston: Celtic to Rangers - via Nantes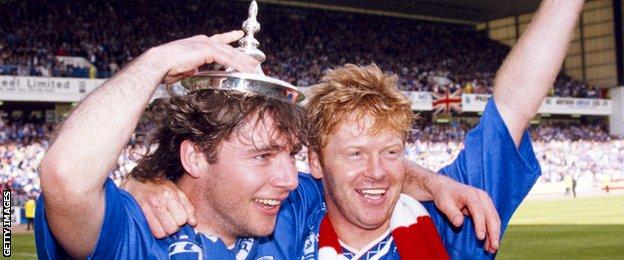 "There is no other British club I could play for apart from Celtic." Mo Johnston uttered these words just days before signing for Glasgow rivals Rangers in 1989.
Two years earlier, Johnston had been sold to French side Nantes and looked set for a return to Celtic Park, but Rangers boss Graeme Souness's intervention saw him ending up at Ibrox.
Getting hit in the face with a pie did not stop Johnston from scoring three goals against his old club, including a last minute winner in injury-time, which he celebrated wildly with the fans.
Verdict: Two league titles and a League Cup. Johnston had the last laugh.