David Beckham v Paolo Maldini - who wins the Miami match-up?
By Saj Chowdhury
BBC Sport
Last updated on .From the section Football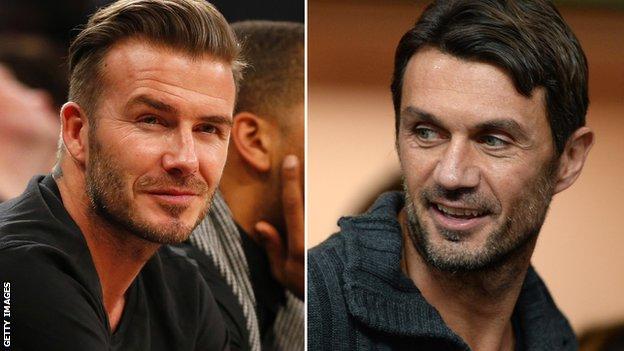 They were two of the glamour boys of world football on the pitch, and now they look set to go head to head as club owners in glitzy Miami.
Having briefly been team-mates at AC Milan, are they set to mix it in the boardroom? Are the Miami billboards big enough for the both of them? And just who has the most star quality?
Football trophies & achievements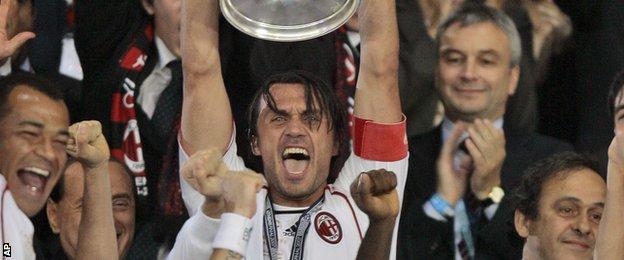 Both players own trophy cabinets which would be the envy of many of the world's top clubs. But who's got the biggest cabinet? (Major domestic and international trophies only)
Maldini: Serie A (7), Coppa Italia (1), European Cup/Champions League (5). Total: 13
Beckham: Premier League (6), FA Cup (2), Champions League (1), La Liga (1), MLS Cup (2), MLS Supporters' Shield (1), Ligue 1 (1). Total: 14
On the international stage, Maldini was a World Cup runner-up with Italy in 1994 and captained the side when they were on the end of a 2-1 loss to France at Euro 2000. He won 126 caps in total.
Becks? Well, the midfielder, capped 115 times, almost single-handedly helped England qualify for World Cup 2002 with that epic performance against Greece. He also played in two World Cup quarter-finals, but can't match his Italian rival on that front.
So, that a draw? No. Maldini never won a gold Blue Peter badge.
Winner: Beckham
Commercial endorsements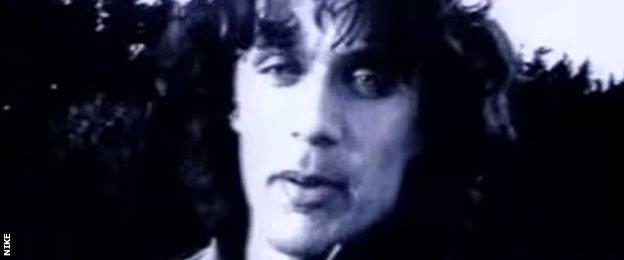 They are both a marketing dream. Sporting greats, rich, handsome and groomed to the standard of a Crufts best of breed.
But this section is owned, unsurprisingly, by Beckham. Maldini has been sponsored by Nike and H&M and has modelled fine tailored suits, but the Milan great said no to Italian high-end clothing powerhouse Giorgio Armani, who wanted him to model their clothes.
But Beckham, where do we start? His underwear, fragrance and H&M range? What about his deals with Breitling, Sky Sports, Belstaff, Adidas, Jaguar? He even has his own whisky.
Beckham is the sort of hungry businessman that would be available for the opening of a supermarket - if that supermarket was run by Harrods.
Winner: Beckham
Wealth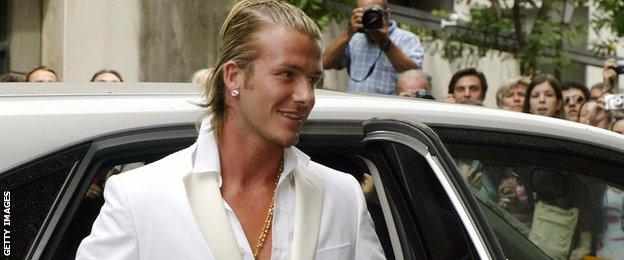 All of that leads nicely to the category nobody likes to talk about, but would like to know about - personal wealth.
It doesn't need the brain of Stephen Hawking to work out who comes out top here.
Maldini was one of AC Milan's top earners, earned sponsorship money from Nike but shunned extravagance. He even made the rather noble gesture of taking a 50% wage cut in 2003 - with his wage dropping from 5m euros to 2.5m euros.
Beckham also made a generous gesture when he donated £3.4m of his Paris St-Germain salary to French children's charities. But let's rewind - he earned at least £3.4m for his one season at PSG. That was in the twilight of his career!
He was one of football's big earners when he played, but, according to Forbes, achieved his biggest ever year in earnings in his first year of retirement.
The Brit was said to have made $75m - £47.8m - in 2014. Putting him second behind basketball legend Michael Jordan in the list of highest-paid retired athletes.
Winner: Beckham
Awards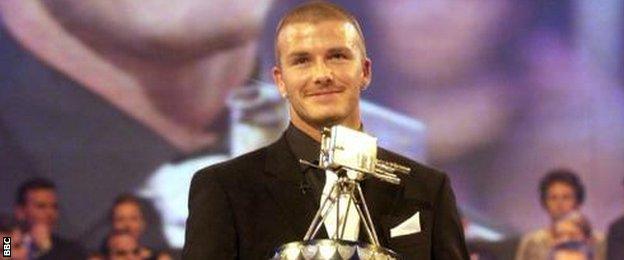 Maldini has appeared on several 'sexiest', 'coolest' etc lists in magazines and websites, but in it's media darling Beckham, the opposite of 'publicity shy', who dominates this category.
He was one of the 100 greatest Britons in a BBC poll, was named BBC Sports Personality of the Year, he beat singer Robbie Williams to Company magazine's 'sexiest man' award and has an OBE.
However, last year both he and wife Victoria were beaten to the 'hottest couple in football' title by Cristiano Ronaldo and Irina Shayk (not that the latter are together any more).
Winner: Beckham
Personal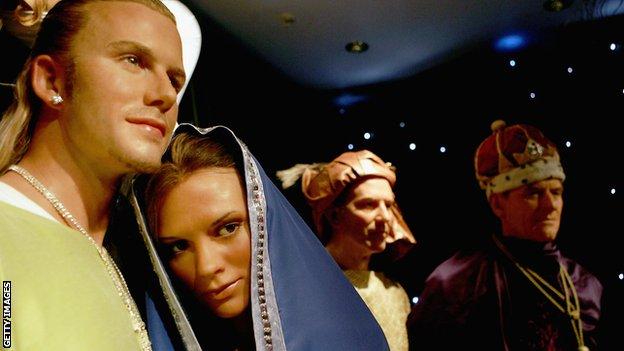 Beckham started dating ex-Spice Girl Victoria, aka Posh Spice, during his Manchester United days. They soon became 'Posh and Becks'. And ever since, glamorous couples in the spotlight have been referred to as the 'Posh and Becks of the xxxxx world'. The pair have four children, including Brooklyn, whose godfather is Elton John, and Romeo, whose godmother is Elizabeth Hurley.
However, Maldini edges this category. He married his Venezuelan model wife Adriana Fossa in 1994 and the pair have two children who both play in Milan's youth teams. His father Cesare also won the European Cup with Milan and four league titles.
Posh and Becks are Britain's celebrity royal family, but the Maldinis are Italian royalty.
Winner: Maldini
Lifestyle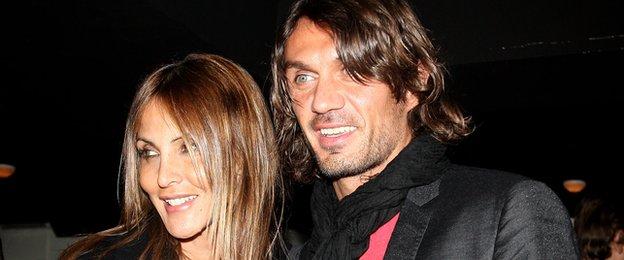 He started with a property in Worsley, but now owns a £30m house in central London. Beckham has risen up the property ladder since those early days as a player at United.
The Beckhams also bought lavish homes in Madrid and Beverley Hills, and they were reported to have bought designer Gianni Versace's mansion in Miami for £36m. Imagine the stamp duty on that?
The family holidays all over the world, and enjoyed a tropical New Year's break in 2015. And when they are not sunning themselves, they hang around with some of the world's most well-known celebrities.
Beckham became friends with Hollywood megastar Tom Cruise during his time at LA Galaxy. They have remained close since, with Becks posting a photo of himself, Cruise and Madonna's ex Guy Ritchie at his London whisky haunt in March.
Beckham also celebrated his 40th birthday recently not just with two other Spice Girls in addition to Posh, but ex-Desperate Housewife Eva Longoria as well.
Maldini also loves his luxurious holidays, with Miami a recent destination. Although he appears not to have as many celebrity friends as Becks, he is mates with none other than... Oasis frontman Liam Gallagher.
The fashion-conscious Italian has invested in Gallagher's Pretty Green clothing brand.
And the overall winner: Beckham, the ultimate celebrity footballer