World Cup: Jason Collins says Fifa wrong to let Russia & Qatar host
Last updated on .From the section Football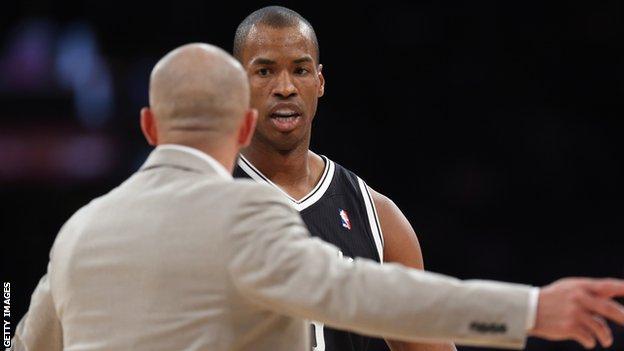 Russia and Qatar are not suitable World Cup hosts because of their laws on homosexuality, says Jason Collins, the first openly-gay NBA basketball player.
Russia, hosting the football tournament in 2018, has a ban on 'gay propaganda', while homosexuality is illegal in Qatar, picked for the 2022 edition.
"I'm extremely disappointed in Fifa," Collins, who retired in November, told Sportsworld on BBC World Service.
He told players attending the events to "speak out" over the laws and culture.
"If you're a governing body like Fifa you cannot have sporting events in countries... where they have laws on the books that say that homosexuality is illegal, you just cannot give them that power," Collins, 36, said.
"So whether it's Russia, whether it's Qatar, you cannot give them the games, period, until they change their laws or the culture so that people feel comfortable again to live their authentic life."
While he said any decision to boycott the World Cup was up to each athlete, he hoped those who do attend - as he would be prepared to do - might try to raise awareness of lesbian, gay, bisexual and transgender (LGBT) issues.
"If you do go, know that as an athlete you have a unique platform and I hope that you're able to use that platform, that voice, to raise awareness of the LGBT community in whatever country that you're in," he said.
You can hear the full interview with Jason Collins on Sportsworld on Saturday from 15:00 BST.