Ghanaian Andre Ayew wanted by clubs across Europe
By John Bennett
BBC World Service Sport
Last updated on .From the section Football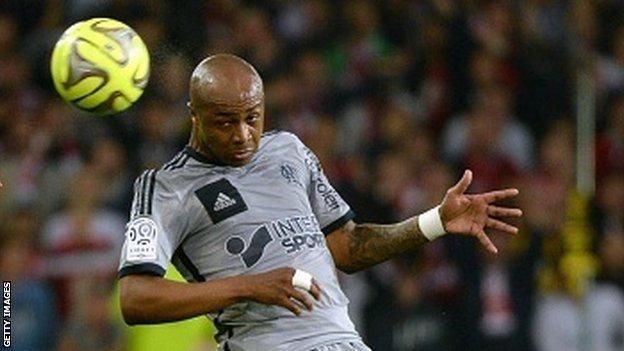 Ghana midfielder Andre Ayew has revealed he is weighing up offers to join clubs in "England, Italy and Germany".
The 25 year-old is leaving Marseille at the end of this season after turning down a new contract.
"I need to see something new - a new country, culture, league," Ayew told World Football on BBC World Service.
"I want to prove my worth somewhere where people don't know me as well as they do in France."
Recent reports have suggested Italian side Roma are the favourites to sign Ayew because they could offer Champions League football.
But the Ghanian says playing in the competition next season is not his top priority.
"It doesn't have to be a Champions league club. I've played in the competition before, it's the best competition in the world but it's not the first criteria," he said.
"I think the first criteria is the team project, what the team wants to do in the future because I want to play for a long time and try to win trophies because that's what football is all about."
"It's important for me to choose, not the club playing in the Champions League now, but the club that has a great project for the future."
Ayew's departure from Marseille will bring to an end a 28-year association that his family have with the club.
His father Abedi Pele signed for Marseille in 1987 and went on to be part of their Champions League-winning team in 1993.
Younger brother Jordan also started his career at the State Velodrome but has since joined Lorient, making the switch in July last year.
Ayew, a former BBC African Footballer of the Year, had talks with Queens Park Rangers in January but they came to nothing.
He admits that the Premier League is a huge attraction for him.
"There are a lot of great clubs in England, of course the top four but down to the top 10. It's a great league, for me the best in the world at the moment," he said.
"Every player would like to test themselves with the best in the world. it's something I'm looking at. What's important is going somewhere where they can showcase themselves.
"When I was a kid I supported two clubs, Marseille and Liverpool, I won't lie."
Asked if there was a chance he could sign for the Anfield club, Ayew gave nothing away, saying only: "We'll see."