Jay Rodriguez: Southampton striker on comeback trail
Last updated on .From the section Football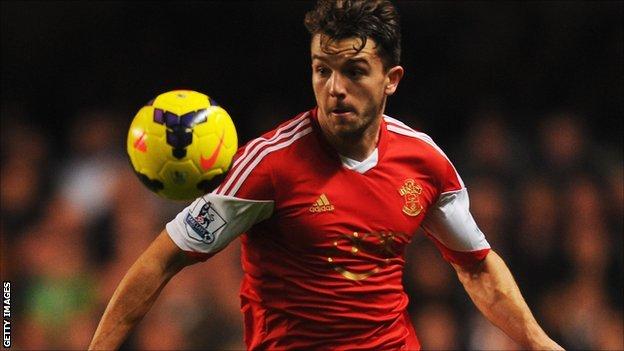 Southampton forward Jay Rodriguez says he is fitter, faster and stronger after spending a year out of football.
He signed a new contract earlier this month having scored 21 goals for Saints in 2013-14 before his injury.
"I've got stronger mentally, because it's been a tough time," Rodriguez told BBC Radio Solent.
"Physically I've improved my stats. That's what I wanted to get out of this. I've improved my speed and strength."
Signed from Burnley in 2012, Rodriguez made his England debut in November 2013 against Chile. However, his injury ended any hopes of making the 2014 World Cup squad.
But Rodriguez says he does not look back in anger over his misfortune and believes he can return a better player.
"It's not been the best but it could have been a lot worse," he said. "I've got great friends and family that have stuck by me and made it a lot easier. It's a testing one but it's made me stronger mentally and physically.
"I built it up to be a tough journey and I thought if I can maximise each day and work as hard as I can then that's the least I can do. I took it week by week."
Rodriguez could make his return against Manchester City this weekend - at the same stadium where he suffered his injury 13 months ago.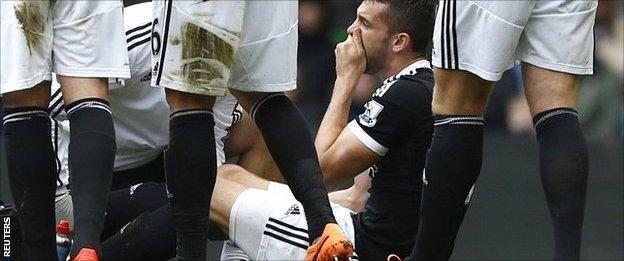 "For me it's just another pitch, it's a great stadium and it doesn't matter to me where it happened," he said. "It doesn't bother me."
Meanwhile, Southampton captain Jose Fonte says the club are desperate to qualify for the "special" Europa League.
Saints are seventh in the Premier League and need a top-six finish to qualify for the competition. However, if Arsenal beat Aston Villa in the FA Cup final, seventh place will also gain entry.
"I've played in it before and I know how special it is," Fonte, who played in Europe with Vitória de Setúbal, told BBC Radio Solent.
Southampton's player of the year added: "It's not the Champions League but it is still special if you go into the last stages, it becomes really special.
"If you get the chance to play in a semi-final or final, it is something our fans would be very proud of and for us it would be a great experience.
"It is the next step and hopefully we can do that next year and qualify for the Europa League, go far and then the following season hopefully play in a better competition."