West Ham: Sam Allardyce to discover fate on Monday
Last updated on .From the section West Ham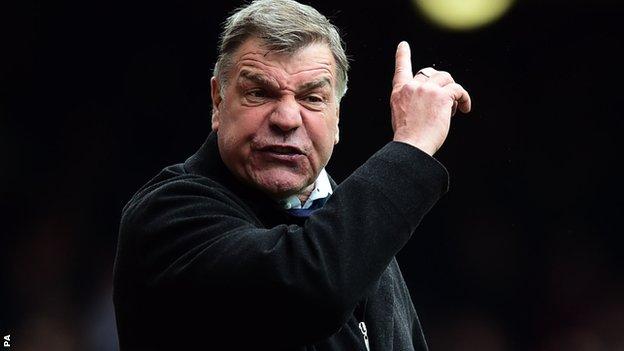 Sam Allardyce's fate as West Ham manager will be decided on Monday after talks between the club and his agent.
The Hammers are currently 11th in the Premier League with one game left to play but Allardyce's contract is set to expire at the end of the season.
Allardyce, who has been in charge for four years, has faced criticism from some supporters who want him replaced.
The 60-year-old said: "One way or another, my future will be sorted out on Monday. We'll all know more then."
West Ham could finish in the top 10 if they win at Newcastle on Sunday.
"I'm not personally having a meeting but my agent will be available to speak to the owners," Allardyce added.
"Because the season is finishing so late, the only opportunity I have to go away with my grandchildren is half term. So I'll be shooting off to Spain to see them and whatever will be, will be.
Big Sam's West Ham reign
Allardyce has been at the club since June 2011, earning promotion from the Championship in his first season in charge and securing no lower than a 13th-place finish in the past three top-flight campaigns
"There was speculation like this after the season when we came up, but this time around it's more about all the other managers who seem to be taking my position. Probably the next one will be Carlo Ancelotti. He'll be the next in line."
Allardyce is to move out of his Canary Wharf flat after this weekend's final round of Premier League fixtures, which has led to reports that his West Ham reign is almost over.
"It's bound to bring up speculation but the apartment was sold about two months ago," Allardyce said.
"The apartment has been bought and I had to move out one way or the other. I can only say what the truth is, if you want to ring up the estate agents and ask if the apartment has been sold, give them a ring."