Corinne Yorston: The biochemist trying to lead Yeovil to promotion
Last updated on .From the section Women's Football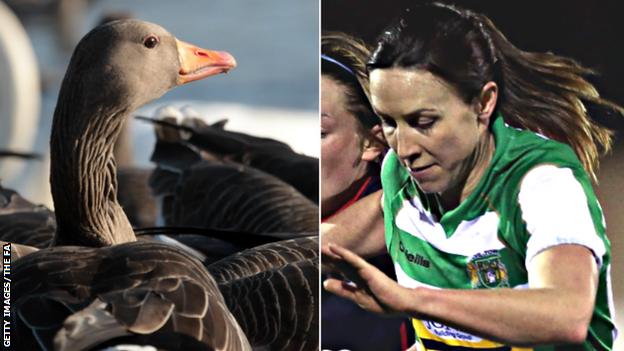 It was on a goose poo-covered field near an electric fence and a water hazard where Corinne Yorston started her football journey 21 years ago.
And even that was hard to find.
From there she climbed to the heights of international football with England, won the Women's Premier League with Arsenal, played in - and lost - three Women's FA Cup finals and even helped Bristol Academy beat Barcelona in the Champions League.
"You don't realise how much you change, because you just develop and grow," the 32-year-old Yeovil Town defender told BBC Sport. "The game is easier to look at and it has changed a massive amount.
"When my dad first tried to find me a club, he rang so many people and spent weeks looking.
"If you did that now, it's easy to find a club. The game has come on leaps and bounds.
"I remember my first girls club, Beaulieu Belles in Yateley. We played in the middle of a field with goose poo all over it, a big electric wire and lake near it. The ball kept going in the lake.
"It's a little different now."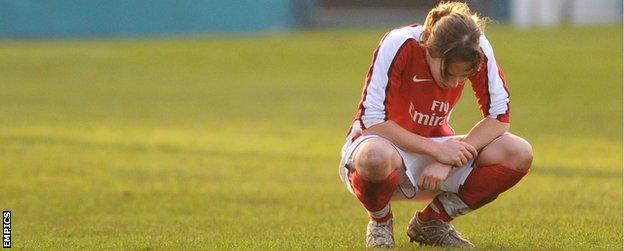 Yorston rose to the heights of the international game when part-time football was very much the norm in women's football. She has the biochemistry degree and established day job as strength and condition coach with Team Bath to prove it.
So when, as a Bristol Academy player, she received phone calls at the end of the 2014 season with offers to move to pastures new - both in WSL 1 and second division - it was the part-time option of trying to lift a little-fancied Somerset club to the top flight for the first time that ultimately appealed most.
Yorston admits it was the "toughest decision of her football career" to leave Bristol - at a time when they were preparing for a Champions League quarter-final - and to turn down another top-flight club building towards those same lofty European aims.
But Yeovil Towns's ambitions for promotion to WSL 1 proved enough of a lure - offering a fresh challenge for a player who made her top-flight debut at 15 with Southampton and went on to earn her first senior England cap by age of 20.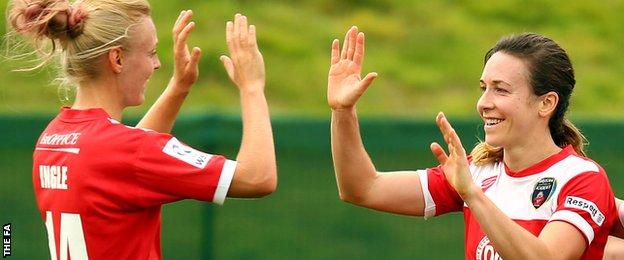 "If we do get promoted, it would be up there with best things I've done," said Yorston, who made the last of her six England appearances in 2009.
"I wouldn't have taken the drop down if they were not ambitious or capable of promotion.
"The desire, the philosophy behind the club, behind the first team, the way that [manager] Jamie Sherwood wants the team to play and the philosophy all the way down to the development squad - it all fits in with how I enjoy my football and what I like about teams that I'm involved with.
"It kind of felt like how Bristol did a few years ago, when we first started.
"Relatively speaking it's a small club with big desire and burning ambition to prove itself and to do the best it can. It is how I play football and how I am as a person - I work really hard and want to push myself and push others."
When Yorston says that, she means it literally - pushing her team-mates as their strength and conditioning coach, while as a biochemist she continues to expand her own horizons as she studies for her PhD in growth and maturation at the University of Bath.
Swapping Gaelic football for soccer
Corinne Yorston spent part of her childhood in Ireland, growing up in County Meath where she took a shine to Gaelic football. While she played "soccer" with her brothers and friends after school, she proved to be a prolific goalscorer on the Gaelic football pitch.
When she moved back to England aged 11, there was no Gaelic football to pursue so soccer won out.
Already this season, Yeovil have surpassed their points total from last season.
They sit third in the table, just one place adrift of the promotion spots. However, six points separate the Lady Glovers and second-placed Reading with six games remaining.
While her work off the pitch means she has an eye firmly fixed on life after hanging up her boots, Yorston is certainly in no hurry as she enjoys the juggling act that includes football, thesis writing and fine-tuning other athletes.
"At the moment my life is football, strength and conditioning and my PhD and it all does fit in really well together," she said.
"I'd love to keep pushing my career on that side of things. I'm really ambitious and work really hard in football, but also in my career. I want to keep that growing and developing as well."