Rangers' coronation of Dave King should wait

By Tom English
BBC Scotland
Last updated on .From the section Football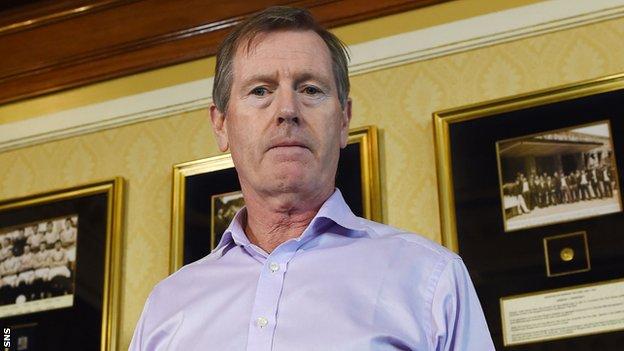 Dave King and the new board at Rangers need time; time to rebuild the team into a competitive force in the Premiership, time to create the infrastructure that has been shamefully neglected, time to breathe and time to grow.
What King and the new board at Rangers also need is scrutiny and accountability, the very commodities they called for when others were running the show at Ibrox and when he and Paul Murray and John Gilligan and the rest were in opposition.
Given what has happened at Rangers these past years, scrutiny is surely a good thing. Many among the Ibrox crowd would argue that there wasn't nearly enough of it when David Murray did the deal with Craig Whyte. And when Whyte was allowed to run the thing on to the rocks from where Charles Green refloated it and took it to Planet Charles, the other worldly place where the Champions League music plays on a loop and where Rangers have 500 million fans and a tie-up with the Dallas Cowboys.
There was scrutiny of the previous board and it was a good thing, for those characters were an affront to transparency and good governance.
Just because King is a fans' favourite does not mean the scrutiny has to stop. Just because he invested £20m in the past does not mean that he should be afforded a critical bye in the future. In this club, of all clubs, a dose of scepticism is healthy so long as it's not lazy cynicism.
King and his team might be a revelation for the club. This regime could be the answer. Nobody knows one way or another right now. It's far too soon.
Rangers have a right to be optimistic - not to mention thoroughly relieved to be rid of some of the individuals that have darkened their club's door in recent times - but to adopt an unquestioning position from the outset is to take on the attitude of the one-eyed cheerleader. Maybe that's a fan's role, but everybody has a role in this.
King warrants time to get this dysfunctional organisation up and running, but what he is doing and saying also demands analysis even if the by-product of judging him by his own words draws vitriol from sections of the Rangers support in cyberland. Such stick comes with the territory. It's the same when you question all big clubs, no matter where they are.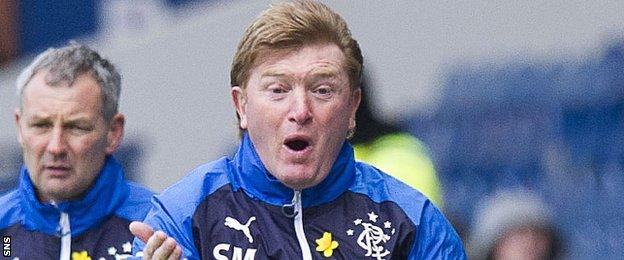 The new chairman offers hope to the fans, but his inconsistencies and contradictions need highlighting. In March last year, when he was pushing for transparency and a vision of the future from the old Rangers board, King did a Q&A with the Daily Record. "There are two income streams available to Rangers," he said. "One is from the fans, the other is access to the European pot. Right now, Celtic own that pot.
"The only way we can access that revenue is to compete with Celtic. To do that, in our first year back (in the Premiership), we are going to have to treble our wage bill as a minimum. Depending on how Dermot Desmond responds, we may need to make it four times bigger."
In his press conference on Wednesday, King denied ever saying those words. "Treble or quadruple the current wage bill? For next season? I would expect to be fired from the board if I was so financially irresponsible. I'd be taken straight to the local sanatorium."
It's odd, then, that at the time, the Q&A was the lead story on the back page of the Record and a further two pages inside and has been sitting on the website for 14 months and yet, if the comments were untrue, they have gone unchallenged by King.
There is also the business of King saying previously that him being accepted as a fit and proper person to sit on the Rangers board was not a pre-condition of heavy investment. The other day, he suggested that it was.
King and Paul Murray spoke about the on-going payments to their former manager, Ally McCoist, and how they have asked him to do the club a financial favour and write-off what he is owed. Airing this stuff in public and, as a consequence, pressurising McCoist is a pretty unfair way of going about things, especially when King, in a moment of chutzpah, lauded Rangers as, financially-speaking, one of the strongest clubs in the world.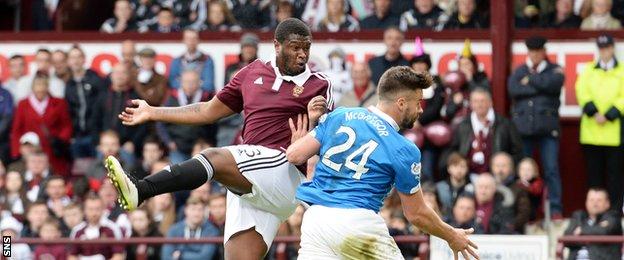 Whatever you think about McCoist and the money he made as Rangers manager, he's entitled to the same confidentiality in his contractual dealings with his old club as everybody else.
There was another curious one during an interview King gave to Rangers TV. He said repeatedly that he hasn't really seen Rangers play this season. "There are no games shown in South Africa at all."
That's a puzzler. Rangers TV offer a service to their fans overseas. For $299, they can watch pretty much every kick of the ball during the season. Is it not a little bizarre that King, a Rangers man who says he intends to invest around £15m-£20m in the next two years, has not found a way of watching his team play?
In fairness to King, he has already won a couple of notable victories when ousting the hated old board and then proving to the Scottish FA that he is fit and proper to sit in the chairman's seat at Ibrox. On both counts, he showed a fierce determination and it's that mentality that has Rangers people feeling good about their future again.
Throughout the struggle, King regularly called for transparency and accountability and rigour at Rangers. That statement was right then and it's still right now.
Any fair-minded observer would wish for stability and development at Rangers, but scrutiny is important, too. He might be King, but the coronation should wait a while yet.