Rangers: Team boss should choose signings - Stuart McCall
Last updated on .From the section Football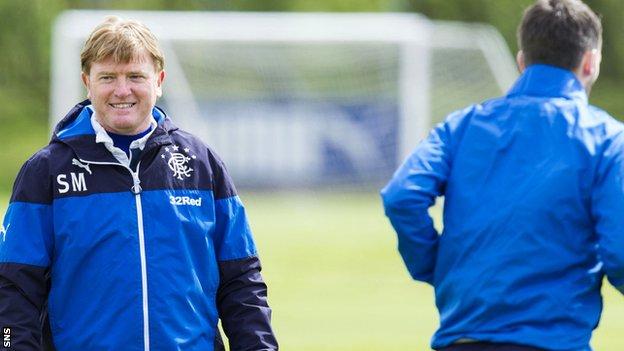 Stuart McCall thinks a director of football could work at Rangers - as long as the manager retains the final say on player signings.
Rangers director Paul Murray has revealed the club's new board is considering a director of football or technical director appointment.
Manager McCall was asked if he would be comfortable with such a system.
"I think most managers, if they had the opportunity, would want to bring their own players to the club," he said.
"And I think you can still do that with a director of football.
"As long as the manager has the final say about who comes to the football club."
McCall was appointed by Rangers until the end of the season after a consortium led by South Africa-based businessman Dave King took control at Ibrox in March.
The 50-year-old's position beyond the summer is still unclear despite him leading his side to third in the Championship and the Premiership play-offs.

McCall has spoken to Hearts' Craig Levein about the system at Tynecastle, where the former Scotland defender became director of football and Robbie Neilson head coach at the start of a season in which the Edinburgh side won the Championship title.
"People used to say that the most important relationship in the football club was the manager and the chairman," said the Rangers boss.
"But certainly, if you bring a director of football in, it would usually be someone who knows the manager because they want them to succeed.
"There's all different models and that's one that's been mooted, but there's other ones as well - head of recruitment, scouting systems.
"It is a bit different when you hear stories of a couple of instances down south or abroad where a manager turns up and the next minute there's three players there and he didn't really know a lot about them."
McCall's side travel to Edinburgh for Saturday's second leg of their play-off semi-final 2-0 ahead of Hibernian.
However, the Rangers manager dismissed suggestions that Alan Stubbs' side were not capable of handling the big occasions.
"It is rubbish about Hibs being bottlers - that's nonsense," he said.
"I think they were unlucky in the Cup semi-final and the other night they performed well and there wasn't a lot in it."
McCall's side are playing their fourth game in 11 days, while Hibs had a rest before Wednesday's first leg, but he rejects the suggestion that fatigue could play a part.
"You've got all June to rest," he added. "You've got all summer to be tired.
"This is not a time for tired minds or bodies. We'll be fine mentally and physically."