Rangers: Dave King loans £1.5m to Ibrox club
Last updated on .From the section Football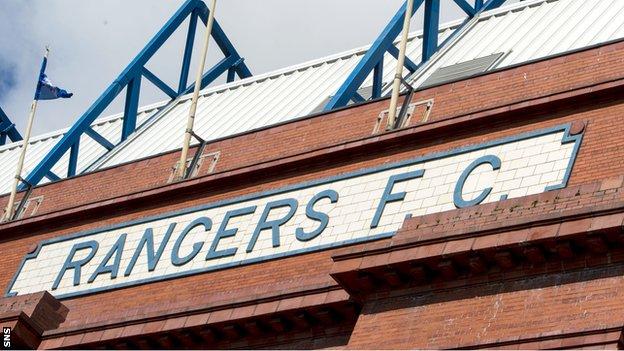 Rangers have confirmed they have agreed a £1.5m loan from Dave King as he was officially installed as chairman.
The unsecured loan is with his company, New Oasis Asset Limited.
Rangers said on the official website: "These loans will provide the company with time to deliver a longer-term funding strategy.
"The parties providing these loans have advised that they intend to convert them to equity when the opportunity arises."
King passed the Scottish FA's "fit and proper" test on Tuesday, allowing him to take his place on the Rangers board.
And he promised to make a quick cash input into the club now that he had become a director.
The South Africa-based businessman, who owns 14.5% of Rangers' shares, led a successful bid to oust the previous board at Ibrox in March.
However, the governing body needed time to assess King's suitability given his tax convictions in South Africa.
"As is the case in the arrangements agreed in March with Douglas Park, George Letham and George Taylor for a similar amount, no interest or fees are to be charged in respect of the facilities," said the Rangers statement.
"This loan, with New Oasis Asset Limited, the vehicle through which Dave King holds his interest in the company, is being provided on an unsecured basis."