Good organisation key to achieving success with Seychelles
By Mark Gleeson
BBC Sport, Rustenburg
Last updated on .From the section Football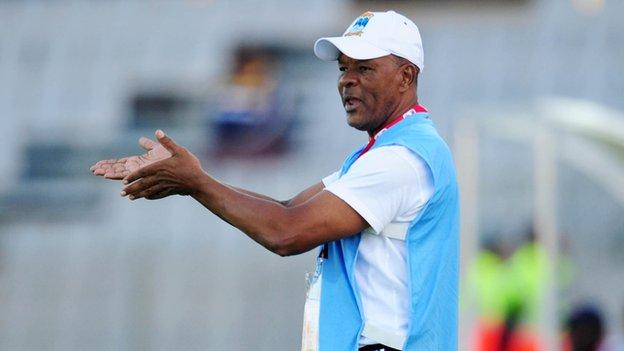 Seychelles finished bottom of their group at the Cosafa Cup in South Africa this week but conceding just two goals in three matches at the tournament can be considered a positive outcome.
Ranked at 189 in the latest Fifa world rankings they were lowest ranked side at that southern African championships.
Next up for the islanders is a trip to Africa's top ranked side Algeria on 13 June as they begin their Africa Cup of Nations qualifiers.
In South Africa over the last week Seychelles have proved they are capable of setting up an efficient defensive wall to frustrate most opponents.
They head home having held Namibia to a goalless draw, losing narrowly to Zimbabwe and being beaten 1-0 by Mauritius on Thursday after going down to 10 men for the last half hour of the game.
Seychelles 2017 qualifiers

13 June 2015:

v Algeria (a)

26-29 March 2016:

v Lesotho (a)

04-06 Sept 2015

: v Ethiopia (h)

03-05 June 2016:

v Algeria (h)

23-26 March 2016:

v Lesotho (h)

02-04 Sept 2016:

v Ethiopia (a)
"The only way we can cope with experience or bigger teams is to have a very well organised play and this is what our intention was in the Cosafa Cup against Namibia and Zimbabwe," said coach Ulric Mathiot.
"Algeria are one of the best teams in Africa and it is going to be a serious matter. We will add all the pluses (from the Cosafa Cup) but it depends on a good defensive approach."
Africa's smallest nation - with a population of just 90,000 - gained new found respect with stout defending at the tournament to show that with good organisation even the smallest can compete at international level.
Mathiot says the Seychelles' approach against Algeria will be also be mixture of damage limitation and keeping an eye open for a chance on the counter attack.
"How long can you defend against a good team and good individual players?" added the coach, who also serves as the technical director of his country's football federation and is a highly regarded Fifa instructor in the region.
"But this (defending) is our strong point because we don't have a high level of individual players so we have to rely on the team effort. We'll try to mix it and see what can be done.
"We are working on the phases of our (playing) philosophy. We only select our team from 3000 registered players so we have limited resources and, above all, our players compete at home in a very low intensity league championship.
"This is a problem as far as the level is concerned - but at the same time we see at the World Cup also how bigger teams have had problems with well organised opponents. This will be our approach.
"We now have to work on our transition. We might be very organised at the back but once we get the ball how do we transit? This is a phase in modern football too and the next facet in our game is how to do we move forward when we get the ball."
As well as Algeria in the Nations Cup qualifiers Seychelles will also play Ethiopia and Lesotho, with only the group winners guaranteed to qualify for the finals in Gabon.