Hamilton 1-0 St Mirren: 'Surreal' feeling for departing Gary Teale
Last updated on .From the section Football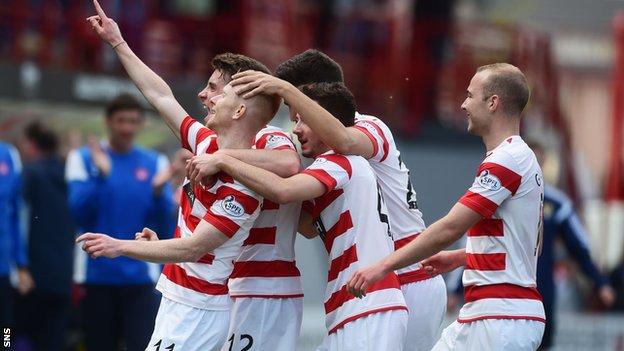 Gary Teale admitted it was a "surreal" feeling having taken charge of St Mirren for the last time.
"I would have loved to have continued on in the job," said Teale.
"I don't really know where I am at this moment in time. It's hard to put a word on how I'm feeling just now."
Teale's own future at the club is in doubt, with a meeting with Murray set to determine whether he will stay on as a player or even as part of the coaching staff.
And the former Scotland international thinks he still has something to offer in management.
"I think the performances over the last couple of weeks, there was a good nucleus of players coming through," he said. "We need to add, we needed to add in January, for one reason or another we weren't able to do that.
"I certainly believe I could have pushed the club on, certainly try and get a promotion place anyway. You've got four places to play for to get in one of those, I certainly feel I could have done that.
"I'll take stock, I'll probably meet with Ian either tomorrow or Monday, we'll just see from there."
Hamilton player-manager Martin Canning saw the season finish on a high for his side with Ali Crawford scoring a late goal to seal victory.
"We deserved to win the match," he told BBC Scotland. "First half we created a lot of opportunities and didn't take them, second half was more of the same. It was a dominant performance.
"Today in the squad there were 10 guys that came through our academy. It's credit to what the club have been doing the past couple of years, they continue to bring through quality young players who are capable of winning games in the Premier League."
The win was just Canning's third since taking over from Alex Neil, with the 33-year-old suffering a tough introduction to management, going 13 games without a win.
He said: "The first half of it [the season] as a player, we were excellent. We were flying and doing really well.
"Obviously with the change and me managing, it was a big step for me to take. Results didn't go as well as I would have liked but we stuck at it, the boys continued to work, and there were a lot of games during that period where we probably didn't get what we deserved to get.
"We'll need to bring a couple of bodies in, we've lost quite a few and haven't really replaced players we could have."