Carlo Ancelotti will take sabbatical if sacked by Real Madrid
Last updated on .From the section European Football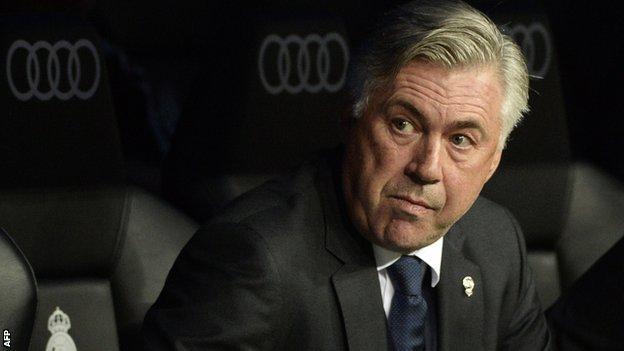 Real Madrid boss Carlo Ancelotti says he will take a year off from management if he is sacked by the Spanish club.
The Italian, 55, has one year left on his three-year contract at the Bernabeu but faces an uncertain future.
Ancelotti will have talks with Real next week amid speculation that Napoli coach Rafael Benitez is poised to replace him at the club.
"My future is clear in my head. I will continue here at Real Madrid or I will stop for a year," Ancelotti said.
"I think we are going to meet next week to clarify the future of the club."
Ancelotti, who has been linked with the Manchester City job in the past, was speaking after Real's 7-3 victory over Getafe.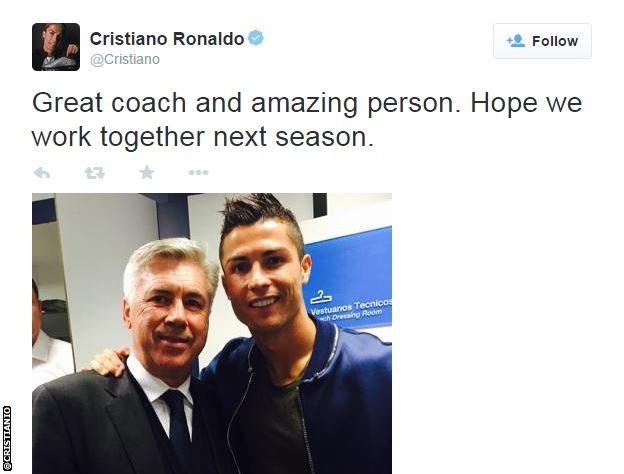 He guided Real to a 10th European Cup last season and ensured they will be in the Champions League next term with a second-placed finish in La Liga.
Playmaker Cristiano Ronaldo is among those who have backed Ancelotti and posted on Twitter to show his support.
The former Chelsea manager is keen to remain with Real, but is pragmatic about his future.
"I want to stay. If the club says I can't continue I won't be happy but these things have happened many times in football." Ancelotti added.
"This is football, especially at a club like Real Madrid it is normal to be questioned after part of the season didn't go well."
Meanwhile, Real midfielder Sami Khedira posted on his Instagram account that he is "moving on" from the club having said his goodbyes to team-mates.
He said: "Valdedebas for the last time. I am moving on but I will surely miss my club Real, all of its staff and my unbelievable teammates! Guys, it was one heck of a ride!"