Kevin Keegan: Mike Ashley's Newcastle regime 'disrespectful'
Last updated on .From the section Newcastle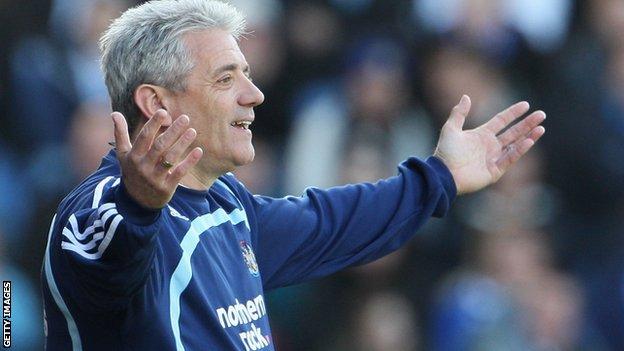 Premier League final day on the BBC
Comprehensive coverage of the last day of the top-flight season across online, radio and TV, including: live texts of all 10 matches on the BBC Sport website; Radio 5 live commentary of Hull City v Man Utd plus updates from across the Premier League's other games
Newcastle owner Mike Ashley runs the club "from another planet", according to former manager Kevin Keegan.
In a critique of the Sports Direct billionaire's tenure since 2007, Keegan said fans of the Premier League club had been treated with "disrespect".
"It is almost as if Mike Ashley has said, 'what is the worst I can do?" the ex-Liverpool striker told Sportsweek.
The Magpies play West Ham on Sunday and must match Hull's result against Manchester United to avoid the drop.
Speaking before the final game of the season - which manager John Carver has called "the biggest in six years" - Keegan said Ashley treats the club as "just a commodity" and there is "all sorts wrong with the club".
In March, the club announced a record annual profit of £18.7m for 2013-14, the fourth consecutive financial year they have made money - although debt remains at £129m, which the club say is an interest-free loan from Ashley.
He said back in September that he "would not sell the club at any price" at least until the end of the 2015-16 season.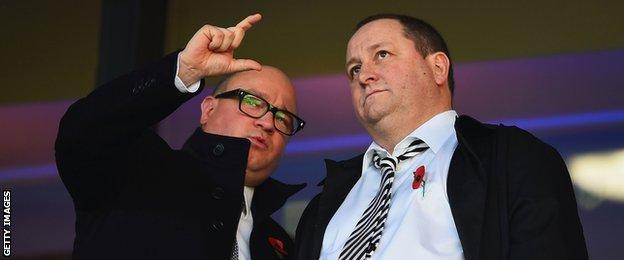 Keegan, 64, adopted an attacking brand of football during his first spell as Newcastle manager from 1992-97, and his side were pipped to the Premier League title by Manchester United in 1996.
He resigned from his second spell in charge of Newcastle shortly after the transfer window closed in September 2008, saying clubs should not "impose" unwanted players on a manager.
"It is not a great time to be a Newcastle fan. I just hope and pray they get the result [against West Ham] and then something good happens to that club, with Mike Ashley selling it or getting out of there because he doesn't understand the club," added Keegan.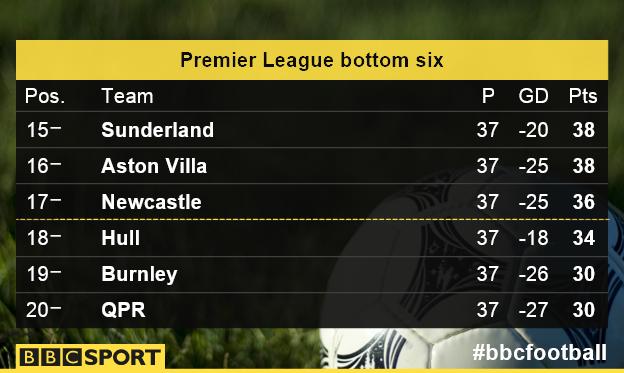 The AshleyOut.com group are planning to occupy St James' Park after the final whistle on Sunday following other protests against the owner in recent weeks, which included a fans boycott of the home game against Tottenham in April.
But Keegan said the club needed to recapture the "emotional attachment" to the fans.
"It is not difficult to work out unless you come from another planet and I think Mike Ashley runs that club from another planet," said Keegan.
"Fans are being treated with such disrespect. Fans don't want to go to games, they want to protest.
Norman Watson, chairman of the Newcastle United Supporters' Trust:
"None of this profit is being reflected on the pitch. The club went nearly 18 months without signing a full-time professional player on a permanent deal.
"Fans want to see money invested in the playing staff - the squad is extremely thin on the ground."
"I don't think the answer is to boycott the game, but to get through the season, hopefully stay up, and then hope and pray someone with lot of money who cares about Newcastle comes along and says, 'that's for me'.
"They need to sit down with sensible people, not some of those people that Mike Ashley put around him in the past - I had the misfortune to work with some of them - and say 'what is this club about and how do we change it for the better?'. It is not a difficult solution.
"It is not just me that would urge him to go, everybody connected with that football club, even some of the people employed there. It is time for a change."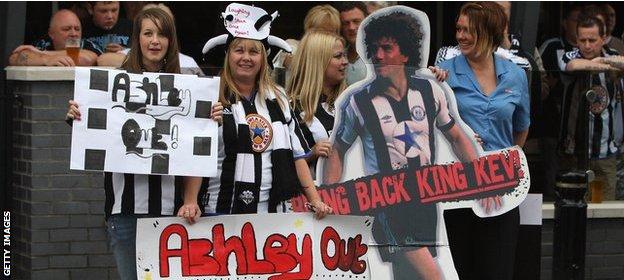 Final day permutations
Third-bottom Hull are two points behind Newcastle but the Tigers have a superior goal difference.
Hull boss Steve Bruce must beat fourth placed Manchester United for the first time in his managerial career and hope that former Toon boss Sam Allardyce can get a result with West Ham at St James' Park.