Garry Monk expects new Swansea contract 'in next few days'
Last updated on .From the section Football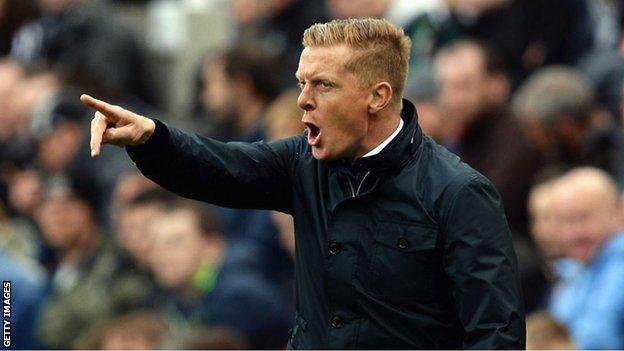 Swansea City manager Garry Monk expects to agree a new contract very soon.
In his first full season in charge, Monk has led Swansea to their highest Premier League finish of eighth place with a club record points total of 56.
Monk, 36, also confirmed that Wales full-back Neil Taylor was "very close" to signing a contract extension.
"With the conversations that have already gone on we'll be able to sort out a contract hopefully in the next few days," Monk said.
"I'm talking to the club now about a new contract and those negotiations are well underway.
"Hopefully myself and the chairman [Huw Jenkins] and the club can have that sorted sooner rather than later.
"Of course negotiations take time and it's been difficult, it's been a very busy week preparing for everything and for pre-season and all that.
"But I'm sure that in the coming days it will all be sorted out.
"I'm very focused on Swansea: the transition of the squad this year I made 12 changes, brought in eight, that transition hasn't finished.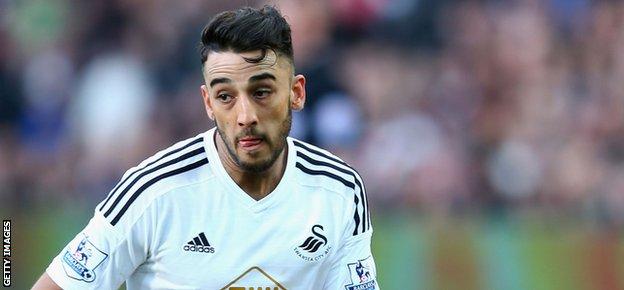 "I'm looking to make it another transition in the summer and then put my real stamp on it for next season."
While Monk expects there to be another summer of player moves, defender Taylor seems certain to remain part of the squad.
The 26-year-old has a year left on his current deal and has attracted interest from West Bromwich Albion, Aston Villa, Real Sociedad and Crystal Palace.
Taylor has made 36 appearances for Swansea this season, as well as five for Wales in their Euro 2016 qualifying campaign.
"Hopefully really close... Neil wants to commit to the club, we're very happy to have him here. He's had a fantastic season," Monk said.
"Obviously he's missed the last couple of years in terms of being a regular and I've given him that opportunity this season to try and progress, and he's done well.
"It's allowed him back onto the international stage as well and going forward we're looking to secure Neil at the club."
Swansea finished their season with a 1-0 loss away at Crystal Palace, but it was still the Welsh club's most successful season in the top flight of English football.