The emoji story of your season: An alternative take on 2014-15
Last updated on .From the section Football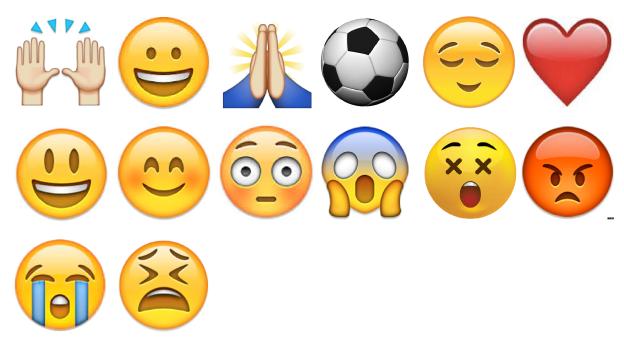 The Premier League is over for another year and all we have left are our memories.
We've said goodbye to iconic figures, managers have come and gone, and now is the time to look back and take stock of the season.
BBC Sport asked you to share an alternative take on your club's campaign - by describing it in a picture made up of 'emojis', those small digital images or icons used in texts, emails and Tweets.
From the brilliant to the baffling, will these records stand the test of time? Perhaps not. But still, they're good for a laugh.
1. CHELSEA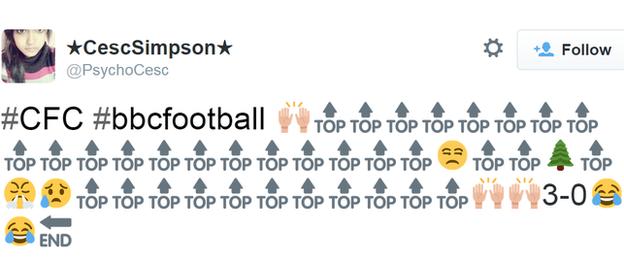 Talk about coasting to the title, Chelsea were top for a record 274 days and lifted the Premier League trophy at Stamford Bridge on Sunday. They were looking a bit nervous around Christmas time though...
2. MANCHESTER CITY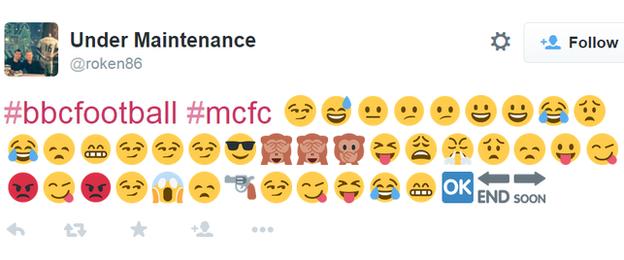 Manuel Pellegrini's side relinquished their Premier League title, and 16:45 BST on 24 May couldn't come quickly enough for this Manchester City fan.
3. ARSENAL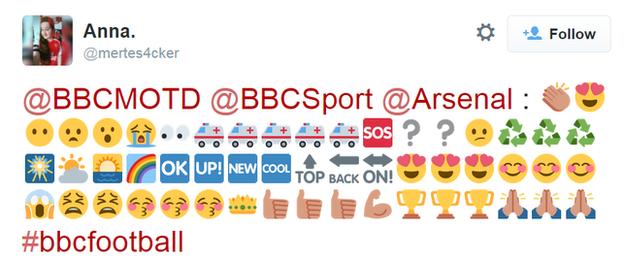 With the FA Cup final against Aston Villa still to come, Arsenal's season isn't quite over yet. They showed a brilliant commitment to recycling by bringing Francis Coquelin back from a loan spell at Charlton in December.
4. MANCHESTER UNITED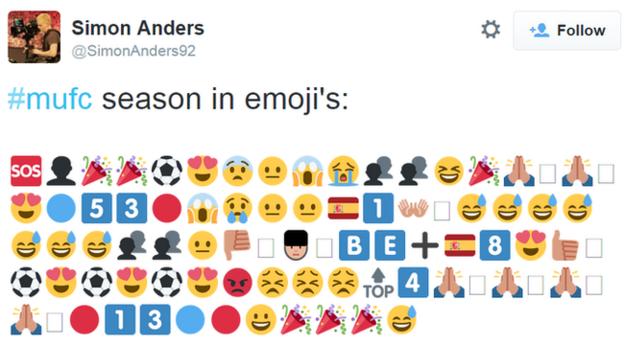 We can only assume the party poppers are referencing manager Louis van Gaal's brilliant speech at the club's end of season awards. And nice to see the 5-3 defeat to Leicester in there too.
5. TOTTENHAM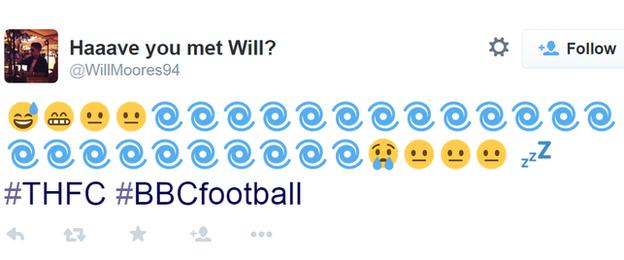 For Will here, Tottenham's season was all about one man - 'Hurricane' Harry Kane. Get it?
6. LIVERPOOL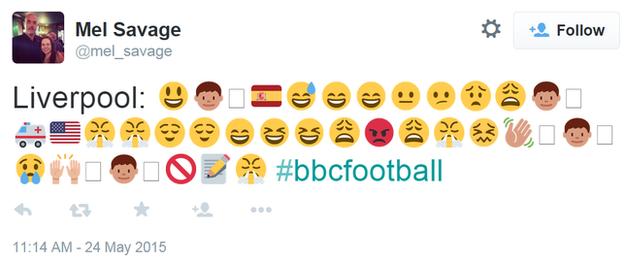 Daniel Sturridge went to the United States for injury treatment, Raheem Sterling turned down a new contract and Liverpool fans said goodbye to Steven Gerrard. What a year it's been at Anfield.
7. SOUTHAMPTON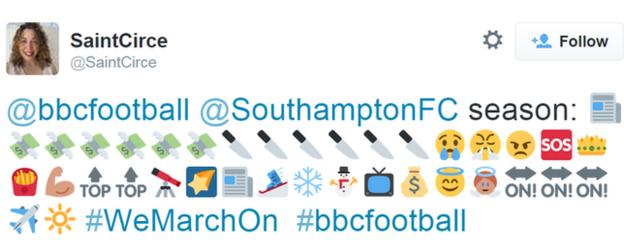 Stabbed in the back? No matter for Southampton, who were reaching for the stars under Dutchman Ronald Koeman. Leave the ketchup at home - we reckon he'd like mayonnaise on those chips.
8. SWANSEA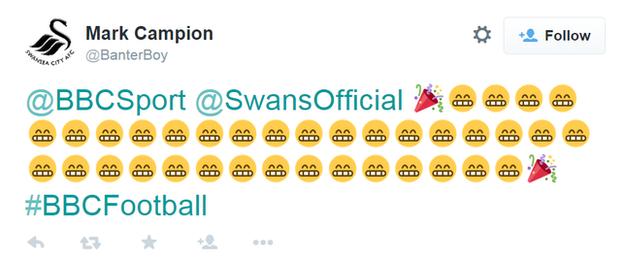 Mark, you must be one happy chappy. Swansea finished with a record points total this year.
9. STOKE
This one may take some explaining... Your guess is as good as ours to be honest. But the Potters were on target on Sunday, sweeping six past a sorry Liverpool side.
10. CRYSTAL PALACE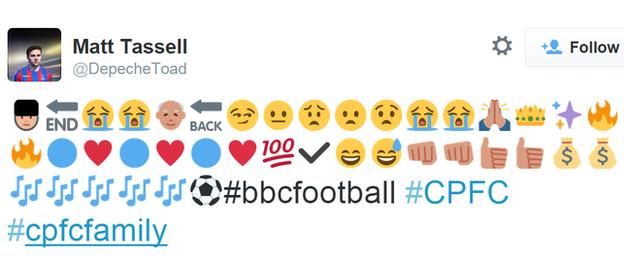 Alan Pardew's return to Selhurst Park as manager features in this tuneful take on Crystal Palace's top ten finish.
11. EVERTON
Anger, frustration, resignation? The blind faith of a football fan...
12. WEST HAM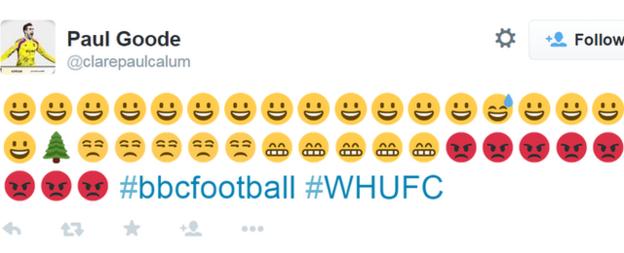 West Ham were third around Christmas time - we think that explains the angry red faces come May...
13. WEST BROM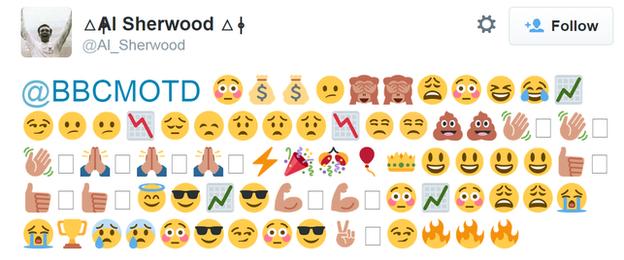 West Brom were beaten by Aston Villa in the FA Cup quarter-finals - hence the tears on Al's final line. Is his support still burning bright?
14. LEICESTER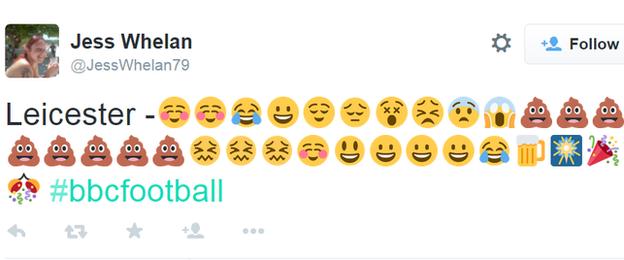 Well, there was only one word to describe Leicester's league position for much of this year, but they pulled themselves around and got the beers in too.
15. NEWCASTLE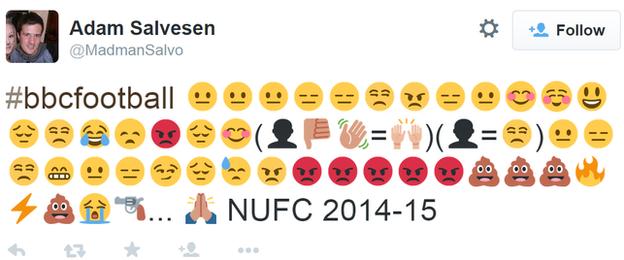 Adam's prayers were answered as Newcastle survived on the last day of the season with a home win over West Ham at St James' Park.
16. SUNDERLAND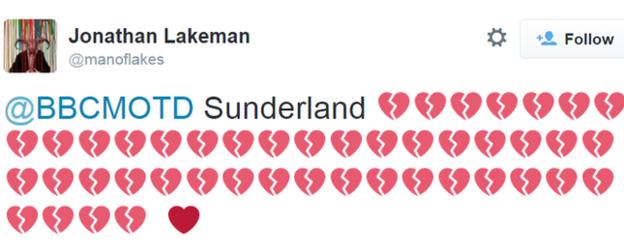 Pretty much every football fan in the country can relate to this one. And what better way of expressing Sunderland's survival?
17. ASTON VILLA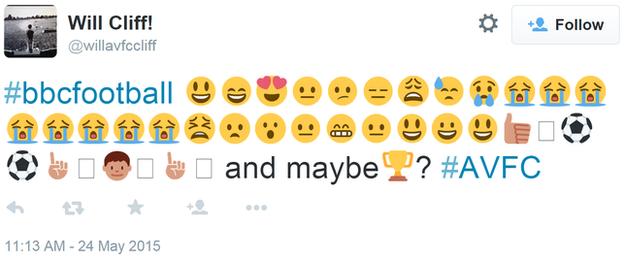 Aston Villa have got the small matter of an FA Cup final coming up. Will there be more tears for fans of Tim Sherwood's side?
18. HULL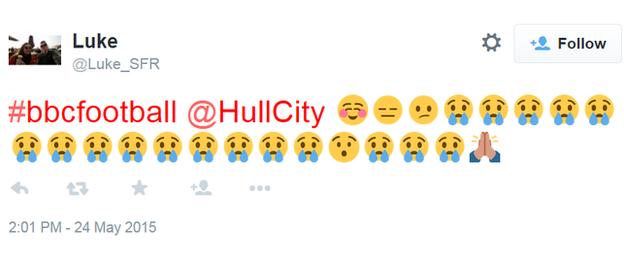 Unfortunately, Steve Bruce's Hull were relegated on the last day of the league campaign - Newcastle's 2-0 win over West Ham sent them down to the Championship.
19. BURNLEY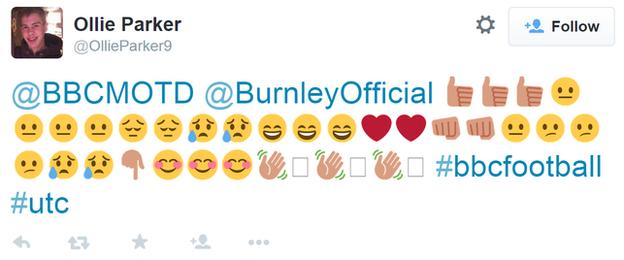 Sean Dyche's Burnley bade the Premier League goodbye on 9 May. But when will the top flight see them next?
20. QUEENS PARK RANGERS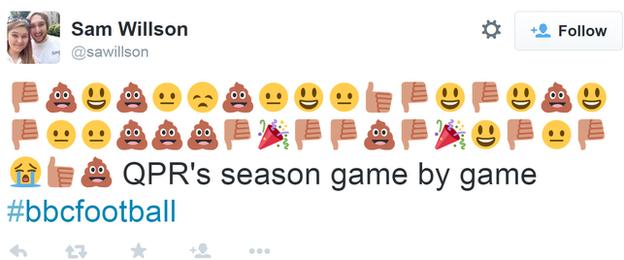 Sam here found time to party this year, although it's fair to say there were tears along the way as QPR dropped down to the Championship.