Mike Ashley's actions will speak louder than words - Alan Shearer
Last updated on .From the section Football

Former Newcastle United captain and BBC pundit Alan Shearer on what the future holds for the Magpies after they avoided relegation at the very end of a season to forget.
Like everybody else, I was surprised to hear from Newcastle United owner Mike Ashley ahead of the club's final game of the season against West Ham on Sunday.
Ashley has hardly spoken to the media or the fans since he bought the Magpies in 2007, so the question I immediately asked myself was: 'Why is he talking now?'
Maybe he thought that, after what has happened in the last few months, gates would drop at St James' Park next season unless he came out and said that things will change.
If so, he is right to have that fear. There is a lot of talk of fans not turning up.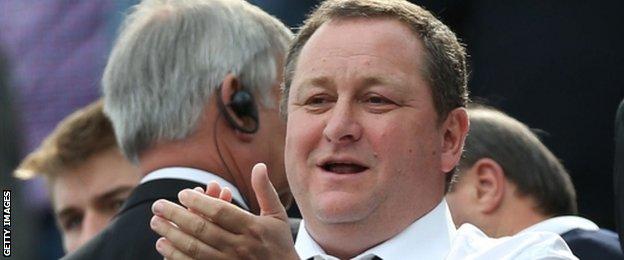 Until Ashley vowed to stay until the club won a trophy, disgruntled Newcastle supporters were hoping for a change of ownership.
Now they will want the change in mentality the owner has promised and something positive to shout about. Whether they get it, or not, remains to be seen.
As I said on Match of the Day, his actions will speak louder than his words in the next few months.
I know the club and I know the city, but, despite his promises, I have not got a clue what Ashley is going to do next.
'Newcastle are miles away from the Champions League'
Ashley says his intention is to "win something", or qualify for the Champions League.
Well, firstly Newcastle are miles away from the Champions League. I don't think anyone at the club should be thinking or talking about that because they will not get there for a long time.
They won't get near it unless they get some significant investment in the team and stop selling their best players.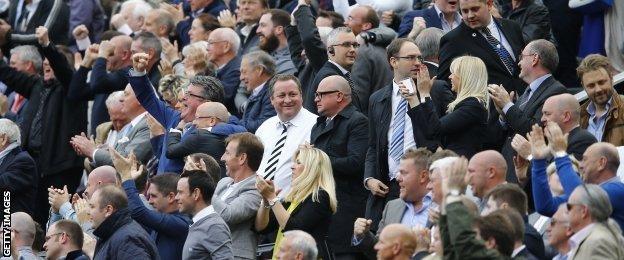 As for winning trophies, forget the Premier League for the same reason.
The only competitions they can win are the FA Cup and the Capital One Cup - and one of the hugely disappointing things about the last few seasons is that they have not taken either seriously.
That was confirmed club policy, not my opinion based on their team selections or because they have always gone out early. This season was the first under Ashley that they reached the quarter-final of either cup.
Newcastle's recent stance is that remaining in the Premier League is the priority, rather than winning a trophy for the first time since 1969. They saw the cups as a distraction and that definitely has to change - the manager needs to be able to play his strongest team in those competitions.
'The fans need a little bit of hope'
If Ashley had made these comments years ago - and backed them up - then he might have a very different relationship with supporters.
The people running the club might not have been bothered about trophies, but the fans always were.
Ask supporters of any team and they will give you the same answer. Aston Villa, for example, finished 17th this season but they are in an FA Cup final.
That run lifted them when they were fighting relegation, which is what the cup competitions can do. They can keep your season going, whatever your circumstances, and they should do the same for a club like Newcastle.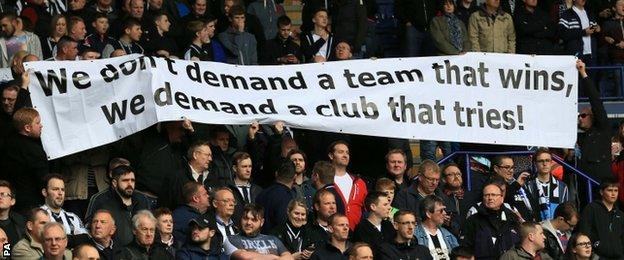 The banner by Magpies fans that says 'we don't demand a team that wins, we demand a club that tries!' sums up exactly what they want, which is a little bit of hope.
If, at best, they are going to get mid-table mediocrity and not even going to have a go in the cups, then I can understand them wondering what is the point of being a Newcastle fan?
This season has ended on a high for them, because the club stayed up on the final day, but there is no cause for celebration.
Since January it has been a long, hard slog for Magpies supporters. The only emotion is relief - that the season has ended and that Newcastle are still in the Premier League.
'The playing squad needs a massive overhaul'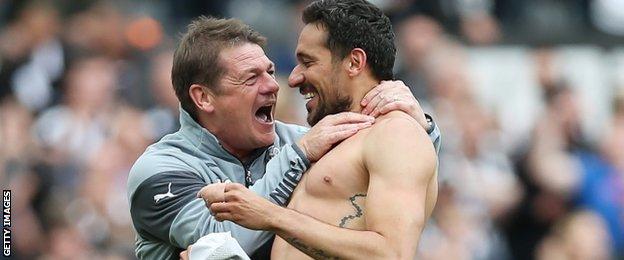 Ashley is staying but clearly a lot needs to be sorted out to make sure they are never in the same situation on the last day again.
The first thing that needs clearing up is the managerial situation. John Carver was appointed until the end of the season and wants to keep the job but I would be surprised if he stayed on.
I know how much he loves the club, how hard he has worked and how much he has been hurting during their recent run. I see him staying on in some capacity but it will be very difficult for him to stay on as manager.
Whoever is in charge, the playing squad needs a massive overhaul. As we have seen, the team is lacking a lot at the moment. Goals, creativity, defensive leadership, a bit of everything really.
Funds need to be made available and, if they are, then the right players have to be brought in who care about the club.
The sooner that happens the better. Until it does, it is hard for me to get that excited about what Ashley has said.
Until things start moving, I don't think many other people will either.
Alan Shearer was talking to BBC Sport's Chris Bevan