Sepp Blatter re-election would tarnish Fifa - Michel Platini
Last updated on .From the section Football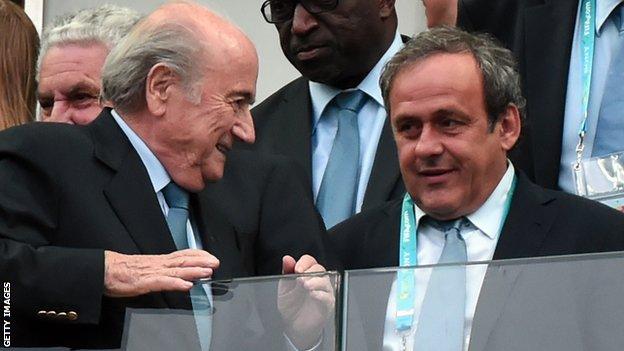 Football will suffer if Sepp Blatter is re-elected as Fifa president on Friday, says Uefa chief Michel Platini.
"While he remains in place, whether he likes it or not, and whether it is fair or not, Fifa will lack credibility and its image will be tarnished, and so it will lack authority," said Platini.
"Moreover, it will be football that suffers."
Platini has pledged his support for Prince Ali Bin Al Hussein of Jordan in the election in Zurich.
"I would never attack (Blatter), but after a while you cannot simply hold on to the throne at any cost," Platini told French newspaper L'Equipe.
The 59-year-old Frenchman said that having Blatter as a figurehead damages Fifa's reputation after alleged abuse of position and power by ex-Fifa executive committee members, though claims of wrongdoing were denied.
Platini also said that Blatter's claims that he needed a further term to complete his vision were not credible.
"No, he is simply afraid of what is next because he has dedicated his life to Fifa," Platini said. "I understand the fear of emptiness that he must have as he is human. But if he really loves Fifa, he should put it before himself."
The English Football Association and Scottish FA also intend to support Prince Ali - the only other presidential candidate in the election in Zurich following the withdrawals of Luis Figo and Michael van Praag.
"I am firmly convinced that Ali, whom I have known on a personal level for years, would make a great Fifa president. He has everything it takes," Platini said.
Blatter is expected to win another term with widespread support in five of Fifa's six continental regions.