Swansea City's class of 2014-15 leave pundits with pie on their face

By Rob Phillips
BBC Wales football correspondent
Last updated on .From the section Football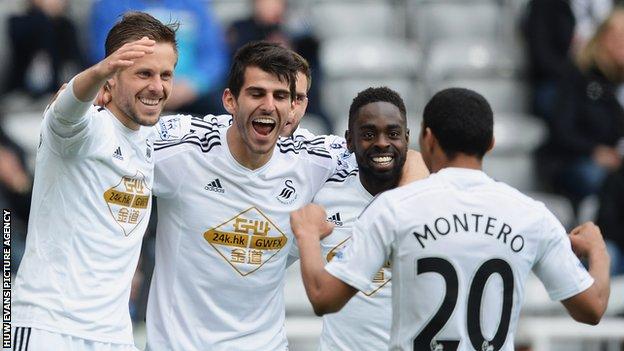 Mark Lawrenson is not the only person who has humble pie on the menu because of Swansea City's impressive season.
The former Liverpool defender pits his wits against different guests each week on the BBC Sport website to predict the outcome of Premier League matches. He expected the Swans to "sink like a stone" this term.
Swansea City, though, have consistently defied expectations, with Lawrenson admitting they had "basically stuck a pie in my face with their form".
A highest Premier League placing of eighth and a record points total of 56 is testament to the form of the Swans, who chalked up notable doubles over Manchester United and Arsenal.
All this under Garry Monk - the youngest manager in the top flight in his first full season at the helm.

ARROWS DENOTE DIFFERENCE TO REAL TABLE

POS

TEAM

P

W

D

L

PTS

DIFF +/-

1.

Man City

38

32

6

0

102

+1

2.

Chelsea

38

31

7

0

100

-1

3.

Arsenal

38

25

10

3

85

0

4.

Man Utd

38

23

10

5

79

0

5.

Liverpool

38

21

13

4

76

+1

6.

Southampton

38

17

11

10

62

+1

7.

Everton

38

15

12

11

57

+4

8.

Tottenham

38

12

13

13

49

-3

9.

Aston Villa

38

13

6

19

45

+8

10.

Hull

38

13

6

19

45

+8

11.

West Ham

38

12

8

18

44

+1

12.

Stoke

38

10

10

18

40

-3

13.

Sunderland

38

9

13

16

40

+3

14.

West Brom

38

9

11

18

38

-1

15.

Newcastle

38

7

16

15

37

0

16.

Crystal Palace

38

9

9

20

36

-6

17.

Leicester

38

9

5

24

32

-3

18.

Burnley

38

9

5

24

32

+1

19.
Swansea
38
6
8
24
26
-11

20.

QPR

38

7

4

27

25

0
Monk, who initially rescued the Swans from the threat of relegation the previous season, has blossomed admirably into one of the hottest managerial prospects in the game.
Quick learner
He showed some inexperience branding Victor Moses ''a cheat'' following the diving controversy in the 2-1 defeat at Stoke City in October, but then clearly learned quickly.
When Queens Park Rangers goalkeeper Robert Green handled outside the box early in the 1-1 draw on New Year's Day, Monk's post-match reaction was more of genuine frustration than anger.
Monk is smart, too. The 1-0 win at Arsenal was a stunning tactical success over Arsene Wenger. The Swans defended for so long, sent Bafetimbi Gomis on late and the Frenchman delivered the victory.
Wenger was not impressed by Monk's tactics, but the three points were a vindication of Swansea's approach and the fact his side know when to be pragmatic.
The former club captain also acted decisively last summer to sort out rifts that had developed in the squad under predecessor Michael Laudrup.

He bought astutely too, recruiting Gomis, Federico Fernandez, Lukasz Fabianski, Gylfi Sigurdsson and Jefferson Montero.
Monk was assured again when coping with the club record £28m sale of striker Wilfried Bony to Manchester City in January.
Jack Cork and Kyle Naughton, who arrived in that window fitted seamlessly in to the Swansea way and look valuable assets for the longer term.
'Jumpy' January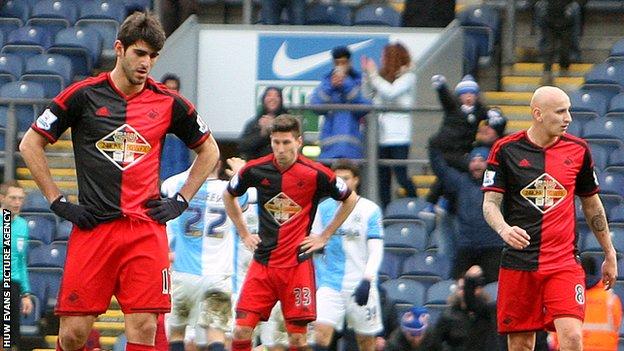 There were choppy waters at the turn of 2015. January was jumpy.
Bony's impending move dominated the agenda as the top scorer departed for the African Cup of Nations.
Gomis made noises of discontent about having to play second fiddle to the Ivory Coast star, suggesting he could leave.
The Swans lost Ki Sung-Yung to the Asian Cup and had Sigurdsson sent off as they went out of the FA Cup in a shock 3-1 fourth round defeat at Blackburn.
Jonjo Shelvey was suspended for a flailing arm in the last game of 2014 at Liverpool. And Chelsea delivered a 5-0 thrashing at the Liberty Stadium.
Underlying all of this was the interest of American investor John Moores in buying a stake in the fan-owned club.
On the pitch, a spectacular goal from the returning Shelvey ensured a 1-0 win at Southampton and seemed to cast away any self-doubt. They rarely looked back from there.
Off the pitch, the Swans announced in February the American investment was "unlikely".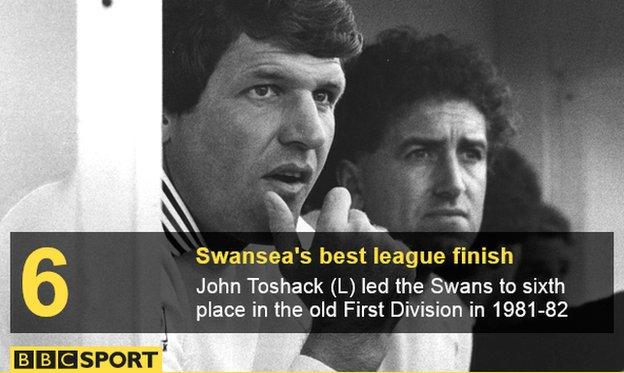 Chairman Jenkins believes interest in the club is inevitable as they occupy such lofty heights in the most famous league in the world.
But he assured Swans fans saying: "The big hurdle any potential investors/owners of the future will have with our club if there is any interest, is the way we work.
"We are all supporters at heart, every one of our board members. To try and satisfy how we would like our football club run now and in the future is going to be very, very difficult, as we naturally make sure things are always right for the football club."
He added: "We cannot forget as a group of people, myself included, we are not going to go on doing this role, this job for ever. Things will change, will develop, whether it is in five, 10 or 20 years.
"We have to make sure our club is strong enough to cope with the change and whoever comes in future, are the right people."
High praise for Monk

Jenkins says Swansea are now well protected from any potential suitors, other than the very biggest clubs, who might be interested in their manager or star players.
He rates Monk the best of his series of successful managers of the club.
Roberto Martinez, Paulo Sousa, Brendan Rodgers, Laudrup and now Monk have all made tweaks to the playing style, while never veering from the overall philosophy initially laid down by the transformative tenure of Martinez.
Jenkins, a lifelong fan, knows the club inside out and so has an acute sense of what is required in a manager.
Now, from within, he has found a man who embodies true Swansea values and who has taken the club forward in a remarkable fashion.
Biggest challenge
Jenkins has said next season is the biggest challenge to the Swans.
His logic is hard to argue with. The reward for ensuring the club is in the Premier League at the start of the 2016-17 season will be huge with the new television deal.
The Swans chairman says the club are looking for three "starters" to add to their squad. That is setting the bar high.
Gomis has stepped wonderfully out of the shadows following the departure of Bony.
By the end of the campaign he had netted 10 goals, to finish one ahead of the tally Bony had delivered when he left.
Yet a back-up or foil for French international Gomis surely has to be a priority.

Wales left-back Neil Taylor is close to signing a new contract, but competition in that position would be healthy.
An experienced centre-back to cover captain Ashley Williams and Fernandez would also be useful.
The prospect of a fully fit Montero is already exciting for next season, but another wide man would not go amiss.
Monk has assembled a clutch of talented midfield players from the dashing Shelvey, silky smooth player-of-the-year Ki, stealthy Sigurdsson and the defensive stability provided by Cork.
With Matt Grimes coming through, that department already looks formidable.
Former Arsenal goalkeeper Fabianski has looked top quality, too. His 13 clean sheets ensured he finished just one behind Joe Hart, who topped the Premier League shut-out table with 14.
But with Gerhard Tremmel set to depart, the Swans need another keeper.
Survival is the target
Whatever their transfer activity the Swans are building from a position of strength with a gifted squad, a developing young manager and a chairman who has overseen a spell-binding rise of a club which is now the model for any outfit promoted to the Premier League.
The Jenkins approach is disarmingly simple. "The first objective is to stay in the Premier League," he said.
"The second is to win every game. In between that, who knows where we will end up.
"That is the simple message I would say and that will never change."