Alex Neil: Norwich boss excited by 'huge' Premier League task
By Paul Fletcher & Phil Shepka
BBC Sport at Wembley
Last updated on .From the section Football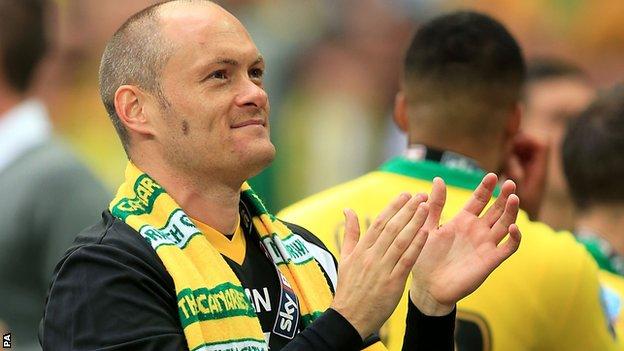 Manager Alex Neil is confident his Norwich team will be competitive in the Premier League after securing promotion with a 2-0 win over Middlesbrough in Monday's Championship play-off final.
"I'm not silly, I know it is going to be a huge task for us," said the 33-year-old Scot. "We will be one of the smallest clubs in the Premier League.
"But there are other clubs of a similar size who have done well.
"There is no reason why we cannot do that."
Neil added: "I am hoping that we will be able to give a good account of ourselves."
Cameron Jerome and Nathan Redmond scored inside the first 15 minutes as the Canaries sealed an instant return to the top flight.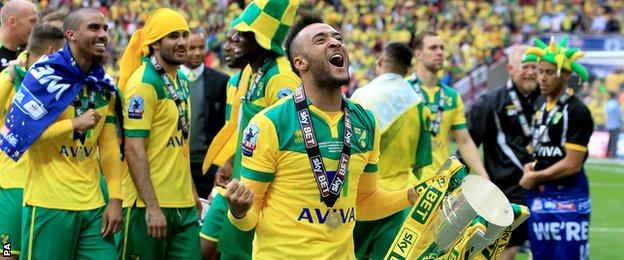 It also ensured promotions in successive seasons for Neil, who led Hamilton to the Scottish Premiership last term before he was appointed by Norwich in January.
"I will need to learn fast, I'm fully aware of that," added Neil. "I think my biggest challenge is going to be managing expectations.
"I have had back-to-back promotions so I think people will expect us to do really well in the Premier League, but that is extremely difficult.
"There will be an incredible amount of hard work to make sure we can compete at that level because the gulf between the Premier League and the Championship is vast. However, teams manage to go up and do well.
"We will need to add a few quality signings but I will stick with the hardcore group of the squad and make sure they get an opportunity."
From Arbroath to the Premier League
Alex Neil started the season managing Hamilton in front of 730 fans in a Scottish League Cup match against Arbroath and ended it winning the richest fixture in football against Boro in front of more than 85,000 people at Wembley.
As the final whistle sounded, he shook the hand of Boro boss Aitor Karanka and strolled across the wide open Wembley spaces towards his players with a casualness totally at odds with the scale of his team's achievement.
But then Neil, who has often been compared with compatriot and former Canaries boss Paul Lambert, is a manager content to let his teams speak for him.
"I'm really thorough on my preparation," said Neil. "The night before the final, I was completely relaxed because I knew that I had done as much as I could."
He has certainly had a sensational start to his managerial career since he was appointed player-manager of Hamilton in 2013.
He took Accies to the top flight through the play-offs last season and then to their first victory at Celtic since 1938. They topped the table in October.
If few had heard of him in England when he was appointed by Norwich in January, they will surely know all about him after Monday's victory, which means that he not only becomes the youngest manager in the Premier League, but also the only Scot currently in charge in the English top flight.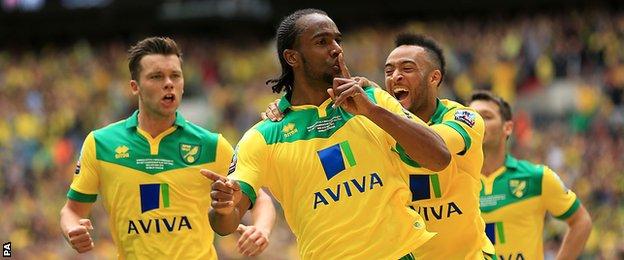 In a few short months he took Norwich from seventh to third in the Championship, before disposing of local rivals Ipswich in what was billed as the biggest East Anglian derby in history when they met in the play-off semi-finals.
Following that, his team comfortably dispatched Middlesbrough - a side with the best defensive record in the division - in Monday's final, thanks to their excellent start at Wembley.
In fact, defender Martin Olsson believes there would have been no need for a play-off campaign if Neil had been in charge all season.
"We've been working well under Alex," said the Swedish full-back. "No disrespect to [previous boss Neil Adams] but if Alex had been in charge from the start of the season I think we would have won promotion automatically. He's a very tough manager but that's what we needed."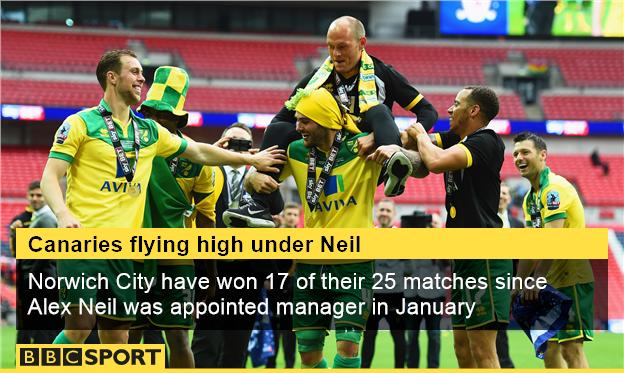 Standing in his club tracksuit at the edge of his technical area throughout, Neil constantly bellowed instructions at his players on Monday, making tactical tweaks and adjustments. When goalscorer Redmond lost the ball close to the Boro penalty box late in the game, Neil threw his drink bottle to the ground in fury.
And Neil says it is a fear of failure that motivates him.
"I'm more pleased for everybody else about winning promotion," he added. "The thing that drives me is letting people down and Norwich showed so much belief in giving me the job so young."
The Premier League can expect a man who knows what he wants and demands high standards from his players.
Cutting it fine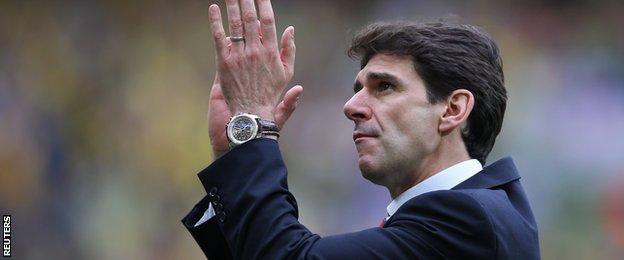 One thing that unites Neil and opposing boss Karanka is a reputation for detailed preparation.
Norwich skipper Russell Martin reckons he and his team-mates have "no excuses" for not performing by the time they walk on to the pitch. Boro's George Friend says Karanka's attention to detail and analysis of opponents is the best he has ever known, with training sessions that are high tempo and incredibly intense.
So it was perhaps surprising that while Norwich were going through their pre-match warm-ups in the Wembley sunshine, most of Boro's players did not emerge until 14:24 BST.
"We were caught in a bit of traffic, we couldn't get out until the police escort came and saved us," said defender Ben Gibson.
The Teessiders conceded both of their goals in the opening 15 minutes of the match, but afterwards Karanka said their late arrival had had no impact on the result and that he did not like his players to spend too long in the dressing room before a game anyway.
"It is not the first time this has happened," said the Spaniard. "We arrived at the same time against Brentford in the recent play-off tie and won that 2-1."
However, Norwich boss Neil reckoned that the late arrival was definitely not planned and was happy with anything that helped his team's prospects.
"I'm delighted with anything that gives us a little advantage," said Neil.
How do you rate the season? '15 out of 10'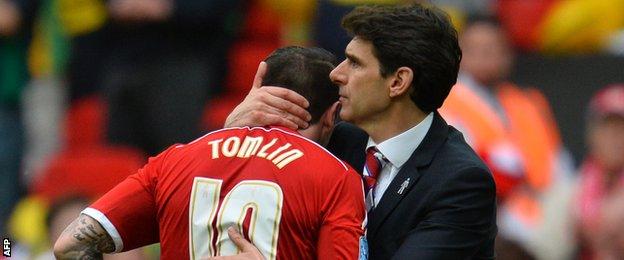 Despite his team's defeat at Wembley, Karanka was keen to accentuate the positives of a successful season for the club.
Finishing fourth and reaching the play-off final is the closest they have come to returning to the top flight since they were relegated in 2009.
"If I have to put one mark on my team for the season, it is 15 out of 10," said Karanka, who has one year left on his contract.
"This season has been amazing. The club has got its togetherness again. I want to say how proud I am of this club. When I arrived 18 months ago, we were two points above the relegation zone with 12,000-14,000 turning up at the Riverside.
"Today we saw a Premier League club and it is my job to put them in the Premier League again."
And defender Gibson was also keen to stress that the season must be judged as a success.
"We started pre-season with six lads out in Marbella, so for that squad to gel in that amount of time, we've done well and that sets us up for next year," said the 22-year-old, who came through Middlesbrough's youth academy.
"I said before the game that this would either be the best day or the worst day of my life. Unfortunately it's the worst day of my life. We will use this as motivation next season."