Torquay United board considering three takeover offers
By Brent Pilnick
BBC Sport
Last updated on .From the section Torquay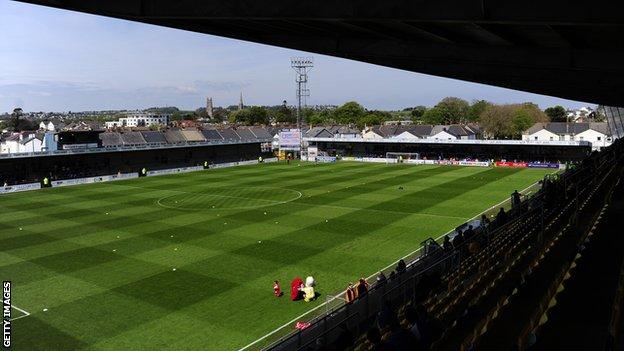 Torquay United's board are now considering three different offers to take over the Conference club, which has been up for sale since January.
A consortium of 10 local businessmen, headed by the club's commercial manager Dean Edwards, is one of the three and has submitted a six-figure bid.
"They've made a bid. We're waiting for the money to arrive in our account," acting chairman Bill Phillips said.
"But at the same time we have at least two other interested parties.
The bidding process began after lottery-winning former owner Thea Bristow sold her 80% stake to the current board last week.
Edwards, 53, played more than 100 games for the Gulls between 1988 and 1991 and twice scored for them at Wembley.
"I saw the scary situation we were in and I felt we had to do something to keep the club alive," he told BBC Sport.

"If some multi-millionaires do step out of the shadows we'll step aside if it's in the best interests of the club and the community.
"But if we're successful we'll try and run the club at a level it's comfortable with to give enough support to bring us back to a position where we should be."
He added: "I've sent an email to Bill Phillips about our intentions and I'm awaiting contact from Bill to see if the board are going to accept."
Torquay United was last taken over in May 2007 when Bristow's late husband Paul bought himself a place on the board.
The club has been up for sale since former Oxford United chairman Kelvin Thomas
Talks to find a new buyer after one prospective new owner