Jermaine Beckford: Preston striker to give shirt to youngster
Last updated on .From the section Football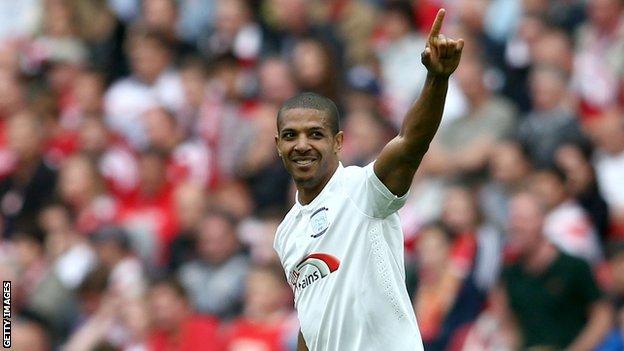 Preston's Jermaine Beckford will present a signed shirt to a youngster who had the striker's top seemingly snatched away during the club's League One play-off final victory.
Television pictures appeared to show a woman taking it from eight-year-old Ted Dockray's grasp.
The images prompted a furious response on social media.
North End will now give the youngster Beckford's spare shirt from the game and a stadium tour of Deepdale.
A club statement read: "The club have been in consultation with the Football League and the parents of the child who is alleged to have had the shirt taken from him as seen on television cameras covering the match.
"We are delighted to say that Jermaine is more than happy to sign and present the child involved with his spare match shirt from the game.
"The club will also provide a stadium tour for the youngster.
"If the shirt that Jermaine wore is returned to us, we will of course present this to the child in question instead."