Trolls, passion & wrong predictions - Savage's season as a pundit
Last updated on .From the section Premier League

In his regular BBC Sport column, Robbie Savage looks back at his season's highlights as a pundit, recalls some of his run-ins over the last few months and revisits some of his predictions too.
My 2014-15 campaign started in August at Old Trafford, where I watched Swansea's surprise opening-day win over Manchester United, and ended with me at Wembley for Arsenal's one-sided FA Cup final victory over Aston Villa.
I went to dozens of games, travelled thousands of miles and made hundreds of predictions. I even got some of them right.
Yes, before the season started, I said I thought Southampton and Swansea would struggle but remember I had Chelsea down to win the Premier League by 10 points. They ended up eight points clear, so I did not do too badly there.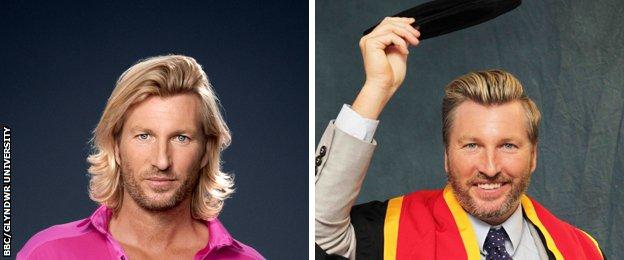 Changing predictions: part of being a pundit
Over the last few months I have been given a lot of stick about what I said about Saints and the Swans, because both teams spent the entire season in the top half of the table.
More recently, I tipped Sunderland to go down at the start of May, saying "there will be no Great Escape this time".
Quite a few Black Cats fans got in touch to remind me about that when they took eight points from their next four games, securing their safety with a point at Arsenal.
I get criticised for chopping and changing my picks for things like who will go down but the bottom line is that, as a pundit, I get asked about that a lot.
I have to talk about the prospects of the teams who are down there at every stage of the season and clearly I have to be able to change my opinion based on developing events and evidence. People don't want to know about that, though.

One team I get stick about no matter what I say about them are Manchester United.
Depending on who you believe, I am either biased in United's favour because I used to play for them, or biased against them because I am still bitter that they released me as a teenager. It is ridiculous - I cannot win!
'Look at his celebration, how much it means to him - he's on the telly!'
My most enjoyable moment of the season was probably when I was co-commentator for Warrington's FA Cup first-round win over Exeter in November.
It was a similar situation to the way I described Tim Cahill's brilliant volley for Australia against the Netherlands in last summer's World Cup, when I wanted to get my passion across.
I was co-commentating on the FA Cup in the early rounds, on BBC One on a Friday night, and I did not think the occasion was about trying to explain any tactical nous.
Instead, nights like that are about your enthusiasm and enjoyment, and I tried to bring that to the viewers - most of whom would not have heard of any of the players involved.
Another highlight was appearing on Match of the Day's 50th anniversary show. From a personal point of view, it was a real honour.
It is a programme I grew up watching, even as a young boy when I was allowed to stay up late, and it was amazing to be involved.
As I said at the time, and some people would probably agree, I could not believe I was on it.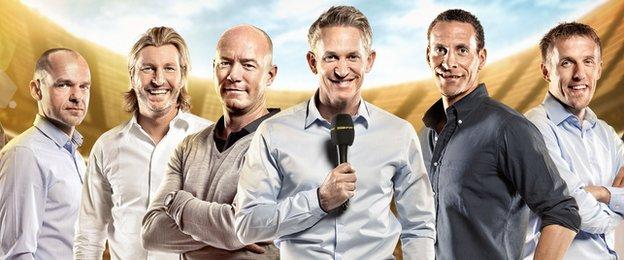 'Trolls have put me off Twitter'
Sadly there have been some low points in the last few months too. I love my life as a pundit, but there is a darker side to it with the treatment I sometimes get from journalists or from the public on social media.
I don't mind people having an opinion, because that is what I've got too. I also don't care about being hammered constructively, because that happened to me for most of my playing career.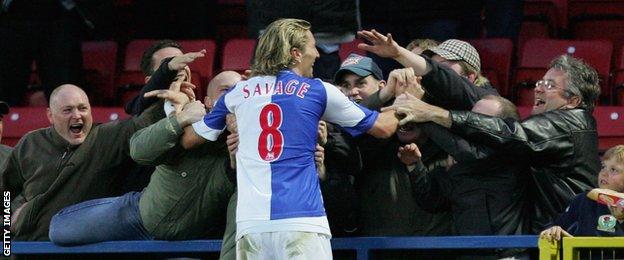 But sometimes the abuse has got personal. One newspaper article about me upset my young children, which is the worst thing that could happen.
That was out of order. I don't mind if people think, say or write I am a rubbish pundit, but I don't agree that they should do the same about me as a person when they have never met me and don't know me.
People abusing me on Twitter is far more common, and I have calmed down a lot when I go on there.
The trolls are a nightmare, and they have put me off, but you also have to remember you are only one tweet away from getting the sack. I am very wary about using it now.
I used to have fun with it, but now I see it as more of a professional tool. I still use it but it is more about me clicking on it first thing in the morning to see what has gone on in the sporting world - what players and journalists are saying.
When I do tweet myself, it is more about where I am going and what I am doing work-wise rather than anything personal anymore.
'Fan interaction still one of the best things about my job'
Funnily enough, I have always found that abuse in person is by far the easiest to deal with. It was the same when I was a player.
Stoke fans sang "Robbie Savage, he looks like a girl" at me when I was co-commentating on another FA Cup tie in January, but it did not bother me one bit.
It was the same when I was perched on a TV gantry above Chester fans at a game against my hometown team Wrexham, who are their big rivals. They spent the whole game letting me know their feelings about me, and it was not particularly polite, but it is part and parcel of football.
In fact, I would still say interaction with fans is one of the best things about my job, whether it is over the phone when I present 606 on BBC Radio 5 live or when I am at grounds for the 'Fletch and Sav Show' on BT Sport.
Speaking to supporters keeps it real for me. You can have a laugh with them and it feels like I am with them through good times and bad.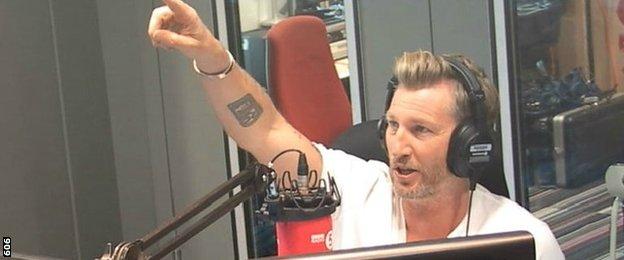 We have a part of the show called 'Designated Driver' on 606 where people can give a shout out to the men or women who have got them to the game, sometimes after a very long journey and often after a few unexpected events.
The other week I had a man on who broke down, but tied his exhaust on with his wife's tights in order to make kick-off.
I do love an argument, and sometimes I might not say what people want to hear, like in September when I suggested Steven Gerrard's time at Anfield might soon be up.
Gerrard did not announce until January that he was going to leave, so I should probably claim that as another prediction I got right - I will hopefully do a bit better with those next season.
Robbie Savage was speaking to BBC Sport's Chris Bevan.