Fifa crisis: Uefa wants presidential election postponed
Last updated on .From the section Football
European football's leaders are to meet on Thursday in a bid to postpone Fifa's presidential election.
"These events show, once again, that corruption is deeply rooted in Fifa's culture," Uefa said.
Prince Ali bin al-Hussein of Jordan is standing against incumbent Sepp Blatter in the election.
Uefa said Friday's meeting of Fifa's members risked turning into "a farce" and said it could even boycott the gathering.
"The Uefa member associations are meeting ahead of the Fifa Congress. At that point, the European associations will decide on what further steps need to be taken to protect the game of football," it added in a statement.
"In the meantime, the members of the Uefa Executive Committee are convinced that there is a strong need for a change to the leadership of this Fifa and strongly believe that the Fifa Congress should be postponed, with new Fifa presidential elections to be organised within the next six months."
Prince Ali has called for a change of Fifa's leadership and said in a statement: "We cannot continue with the crisis in Fifa."
Analysis - BBC sports editor Dan Roan
"The fact Uefa has come out and threatened to boycott the general assembly that begins on Friday unless the election is postponed, tells you everything. The stakes are being raised. Blatter's opponents are seeking to capitalise on the biggest predicament of his career. He has been here before of course and is vastly experienced, one of sport's great survivors. Do not be surprised if he can resist the call for him to step down, postpone the election or a sensational recount."
However, Uefa's stance is not shared by all football administrators. The Asian Football Confederation opposes a postponed election - and will vote for Blatter.
In addition to a United States-led criminal investigation, Swiss officials are looking into the 2018 and 2022 World Cup bids.
Fifa has welcomed the investigations into alleged corruption by some of its most powerful figures and said there is no question of re-running the 2018 and 2022 bids.
It has also insisted the election will go ahead as planned.
Fifa's Independent Ethics Committee has also banned 11 officials named by investigators from football activities. "Such misconduct has no place in football and we will ensure that those who engage in it are put out of the game," Blatter said.
'They'll have no option but to rethink and revote'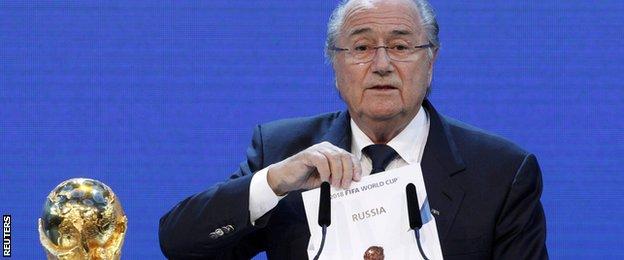 Lennart Johansson, former president of European football's governing body Uefa, says the decision to award the World Cup to Russia and Qatar should now be reviewed.
The 85-year-old Swede told newspaper Sportbladet: "I expect they will reconsider the decisions. Blatter himself has said that the decision to go east wasn't proper. I am sure the initiative will now be taken to make a new decision."
He also suggested England should be given the finals in 2018: "They haven't had it since 1966, and it's considered 'the motherland of football', whatever we might think. They are worthy of the attention," Johansson said.
Former England captain and BBC Match of the Day presenter Gary Lineker agreed that the bidding process should be reviewed: "There are now major investigations not just concerning Fifa and corruption but also the two bids - World Cups 2018 and 2022 - so a lot will depend on how rotten it was and how corrupt the voting process was.
"If it's substantial enough then I think they'll have no option but to rethink and revote. It's a mess, it's a huge mess."
Former Football Association (FA) chief executive Mark Palios believes Fifa's resolve in not re-running a bid could be "tested". He told the BBC: "In the past they've said if there is proven corruption of the process they would make changes and this is first time that will actually be tested."
However, Alexey Sorokin, Russia 2018's organising committee head said he was "not afraid" of any criminal investigation or concerned about a revote.
"We repeatedly said the process was transparent," he told Sky Sports. "Our government, our country, has done so much already for the preparation of an excellent World Cup, I don't even want to discuss it with anyone."
In a statement on Thursday, the organising committee added that it would "cooperate fully" with the investigation.
Can Friday's election go ahead?
Prince Ali is the only challenger to Swiss Blatter after former Portugal international Luis Figo and Dutch Football Federation boss Michael van Praag withdrew so as not to split the anti-Blatter vote.
Blatter, who has been in power since 1998, is expected to win a fifth term as president as he is understood to have the backing of the majority of Fifa's 209 member associations - despite the opposition from Uefa, which has 53 member associations.
And FA chairman Greg Dyke told BBC Radio 5 live: "This is a very serious day for Fifa and the leadership of Fifa and we would vote for Prince Ali.
"We were one of the people who nominated him to stand against Sepp Blatter and we would certainly vote for him if the election goes ahead but I'm not sure that it will go ahead in these circumstances."
Dyke added: "There is no way of rebuilding trust in Fifa while Sepp Blatter is still there. Blatter has to go. He either has to go through a resignation, or he has to be out-voted or we have to find a third way."
David Mellor, chairman of the government's Football Task Force between 1997 and 1999, said: "To say this election can go on Friday takes absurdity to unrivalled lengths."
Former FA chairman David Bernstein told the BBC voters need more time to assess the ramifications of Wednesday's news and that the election should be postponed.
"There's too much uncertainty and a lot of evidence and stuff to come onto the table that you would've thought people would want to know about," he said.
However, former Fifa advisor Michael Hershman told the BBC: "I reckon they will go ahead. I think Blatter has enough confidence to win, which is really unfortunate. Whilst not getting arrested himself he must take responsibility for creating a climate within Fifa which has led to various scandals and essentially to these arrests."
Fifa under Blatter 'lacks credibility'
Prince Ali, the man hoping to oust Blatter added a change of leadership was needed to restore confidence in Fifa.
He said Fifa needed leadership that:
Governs guides and protects our national associations

Accepts responsibility for its actions and does not pass blame

Restores confidence in the hundreds of millions of football fans around the world
BBC Newsnight chief correspondent Laura Kuenssberg said Blatter may be quizzed following Wednesday's developments.
A spokesman for the Swiss attorney general, Andre Marty, told Kuenssberg that "theoretically, every person involved in the allocation of the World Cups might be questioned".
Earlier this week, Uefa chief Michel Platini said Fifa will continue to "lack credibility" as long as Blatter remains in place.
Lineker also believes Blatter must go: "There can't be a more corrupt, deplorable organisation on Earth than Fifa. The house of cards is falling. Time for change!"
Britain's Minister for Sport Tracey Crouch said she "fully backed" calls for change, claiming "reform is urgently needed at the top of Fifa".
Labour too has called for Blatter to "step aside" and urged sponsors to withdraw support unless Fifa initiates "fundamental and immediate reform".
How the drama unfolded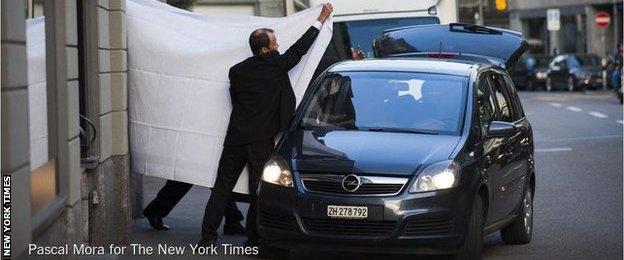 Dawn raids were carried out at the Baur au Lac hotel in Zurich, where Fifa officials are staying.
The raids were connected to a US Department of Justice 47-count indictment charging 14 defendants with racketeering, wire fraud and money laundering conspiracies in a 24-year scheme.
Seven Fifa officials were arrested on charges they received more than $150m (£100m) in bribes.
Among those arrested is Fifa vice-president Jeffrey Webb.
The Federal Bureau of Investigation (FBI), a US law enforcement organisation, also raided the headquarters of the Confederation of North, Central America and Caribbean Association Football (Concacaf) in Miami.
Six of the seven arrested in Switzerland are challenging their extradition to the US, Swiss officials later revealed.
'Impact could be seismic'
BBC Radio 5 live sports news correspondent Richard Conway says the double corruption probe could influence the result of Friday's presidential election. "The arrests could have a significant impact on voters," he said.
In a separate development only hours after the arrests, Swiss authorities also opened criminal proceedings over the way hosting rights were awarded for the 2018 and 2022 World Cups in Russia and Qatar respectively.
Electronic data was seized from Fifa's headquarters in Zurich as part of a investigation into "criminal mismanagement" and "money laundering".
Swiss police intend to question 10 Fifa executive committee members who took part in the voting process in December 2010.
What is Fifa's official line?
Fifa spokesman Walter De Gregorio said Friday's election - and the 2018 and 2022 World Cups - would go ahead as planned and said Blatter was not involved in the allegations.
In a hastily arranged news conference, De Gregorio also said Fifa "welcomed" the investigations, which they had instigated.
Last year, Fifa filed a criminal complaint to Swiss federal prosecutors following an investigative report by its then ethics committee chairman Michael Garcia.
"It is a hard time for us. But this is good for Fifa. It confirms that we are on the right track," added De Gregorio.
However, on Blatter's reaction to this "welcome" news, he added: "He is not dancing in his office. He is not kind of a happy man today saying, 'that's really cool what happened'."
Later, Blatter issued a statement condemning corrupt practices, revealing 11 Fifa members had been suspended from all football activity while the investigation is ongoing. "We will work vigorously within Fifa in order to root out any misconduct, to regain your trust and ensure that football worldwide is free from wrongdoing," he said.
'Shocking and harmful to football'
German Football Association president Wolfgang Niersbach said the twin corruption probe was "shocking and harmful for the world of football".
He added: "It would be terrible if the severe accusations against members of Fifa prove to be correct."
Part of the US-led investigation is centred on Brazil's 1996 sponsorship deal with a major US sportswear company - only referred to as 'Company A' in court documents - and Dilma Rousseff, Brazilian president, said: "I don't think it will be damaging to Brazil, and Brazilian football can only benefit from it.
"If they have to investigate Brazil's bid for the World Cup, they should investigate all the bids."
Nike signed a $100m (£65m) deal with the Brazilian Football Confederation in 1996 and has issued a statement saying it is "concerned by the very serious allegations". It added: "We have been co-operating, and will continue to co-operate, with the authorities."
Legendary former Argentina World Cup winner Diego Maradona told an Argentine radio station he would "kick the ass" of any Fifa officials found guilty of corruption.
But ex-Brazil striker and current State senator Romario, speaking in the Brazilian Senate, said: "I believe that things will change after this. And I hope we can have decent people ahead of football."
Concern among Fifa's backers
Fifa's corporate partners include some of the globe's biggest brands - and they are all monitoring the situation carefully.
Some have expressed concern, with others already moving to distance themselves from Wednesday's events.
The toughest talkers were financial services giants Visa.
Visa said its "disappointment and concern" was "profound" and called on Fifa to take "swift and immediate steps" to rebuild its culture.
"Should Fifa fail to do so, we have informed them that we will reassess our sponsorship," Visa added.
Global soft drink company Coca Cola said: "This lengthy controversy has tarnished the mission and ideals of the Fifa World Cup and we have repeatedly expressed our concerns about these serious allegations.
"We expect Fifa to continue to address these issues thoroughly."
Sportswear brand Adidas said it was "fully committed to creating a culture that promotes the highest standards of ethics and compliance, and we expect the same from our partners.
"Following today's news, we can therefore only encourage Fifa to continue to establish and follow transparent compliance standards in everything they do."
Fast food company McDonald's also spoke of its "concern".
"McDonald's takes matters of ethics and corruption very seriously and the news from the US Department of Justice is extremely concerning. We are in contact with Fifa on this matter. We will continue to monitor the situation very closely," the organisation said.
Beer brand Budweiser also issued a statement in response: "We expect all of our partners to maintain strong ethical standards and operate with transparency.
"We continue to closely monitor the situation through our ongoing communications with Fifa."