Malky Mackay open to return to management in Scotland
Last updated on .From the section Football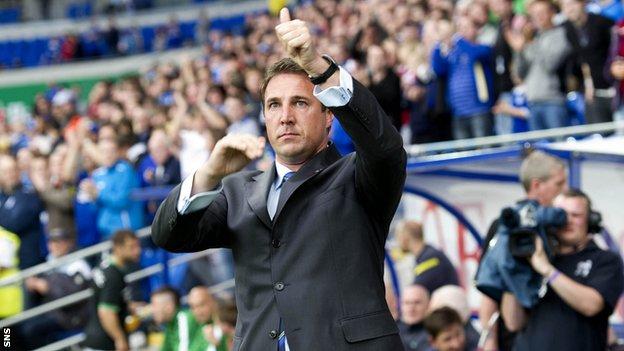 Former Watford, Cardiff City and Wigan boss Malky Mackay would consider a job in Scottish football as he looks to get back into club management.
"For a manager, one of the attractions is to build your own team, maybe not on a huge budget," commented Mackay.
"As a football manager, it's about what you do with the budget you're given."
Asked if he would take a management job in Scotland, Mackay replied: "Yes."
He said he had been offered such a position "in the last couple of years".
"I really enjoy football management and I think it's something I think I'm cut out for," he told listeners.
Malky Mackay factfile
Born in Bellshill in Scotland on 19 February 1972.
Played for Queen's Park, Celtic, Norwich, West Ham and Watford during a professional career spanning 16 years.
Earned five caps for Scotland, the first of which came at the age of 32.
Took over at Watford in 2009 following the departure of Brendan Rodgers.
Left for Cardiff in June 2011 and led club to the League Cup final in 2012 and promotion to the Premier League a year later.
Sacked by the Bluebirds in December 2013 with the side only one point above the relegation zone.
In August 2014, it was reported Mackay sent texts of a racist, sexist and homophobic nature during his time at Cardiff.
Appointed Wigan manager in November 2014, sacked after 138 days in charge.
"I'm passionate about it. I really enjoyed my time at the clubs I've been at and I think I've helped to build the clubs I've been at.
"To be a football manager, you've got to have mental strength and have that toughness in terms of being able to take criticism and have belief in what you're doing on the pitch.
"The TV money is not there in Scottish football right now. If and when Rangers get back to the Premier League, they might be a more attractive prospect."
Of particular interest to Mackay would be to one day take charge of Celtic, a team he makes a point of coming home to see once a year.
"The Celtic job, I don't think there is anyone that would look at it and say that they wouldn't want it," he said.
"Obviously you are very respectful to who is in a job, but it's a huge, worldwide job.
"I've been there inside the fabric of that football club during a very colourful period in its history.
"It's an institution. You only need to look at the fan base worldwide and the potential, in terms of what a couple of the managers recently have done in Europe, to see how good a job that is."
Mackay is awaiting the findings of an FA investigation into claims that he sent texts of a racist, sexist and homophobic nature while the Cardiff manager.
"I have made mistakes, I said that at the time," said the former Scotland defender, who welcomes the investigation.
"But I would ask people to judge me on the person they know and what I have been in the last 20 years in football."