Aaron Ramsey: Arsenal and Wales star cool on Barcelona rumours
Last updated on .From the section Football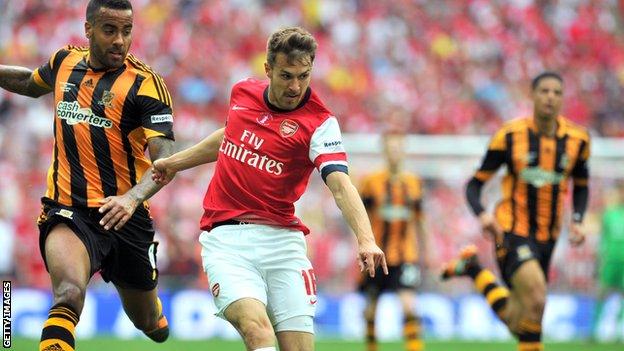 Aaron Ramsey has dismissed rumours linking him with a £50m move from Arsenal to Spanish giants Barcelona.
Barcelona have reportedly scouted the 24-year-old Wales midfielder several times this season, even though they are under a transfer ban until 2016.
But Ramsey, who has four years left on his Arsenal contract, was cool when asked if a move would appeal to him.
"No, not at this time. I'm focusing on the FA Cup so that's what appeals to me at this moment in time," Ramsey said.
"That's just something that's been written in the papers. I'm focused on Arsenal and winning the FA Cup.
"That sort of news doesn't affect me or even enter my mind."
Instead Ramsey is concentrating on helping Arsenal defend their FA Cup title when they play Aston Villa in the final at Wembley on Saturday.
The Gunners fought back from 2-0 down against Hull last year to force extra time, before Ramsey scored the decider to take the trophy back to the Emirates.
"It's another opportunity to win the FA Cup. To score the winner last year, that was just a dream come true and hopefully I can relive that again," Ramsey said.
"I think I've grown up even more. I've learnt some more things this year and hopefully I'm always improving throughout my career."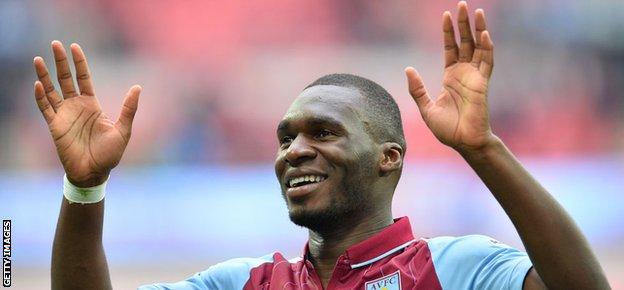 Saturday's clash against Villa is the first of two games in quick succession in which Ramsey will line up opposite Christian Benteke.
After turning out for his club, the striker is then likely to start for Belgium against Wales on 12 June in their Euro 2016 qualifier in Cardiff.
"He's been in great form of late. It's been a difficult season for Aston Villa but they did manage to stay up in the end. They showed some good form towards the back end of this season," Ramsey said.
"He was in amongst all the goals really and he's going to be a big threat for them on the day."
Belgium are top of Group B with 11 points from five games, one place ahead of Wales on goal difference only.
"It's a massive game for us. We are in a great position at the moment and if we can get a good result we are in a very strong position then in the group," Ramsey said.
"It will be at a sell-out crowd at Cardiff so it will be a game that we are all looking forward to playing in and showing what we can do.
"We progressed so much over the last four years, or whatever it is now, and to finally be competing against these sort of teams is where we wanted and now we are here we want to make it count and finally qualify for a championship.
"With what's riding on it and the position we are in at the moment, it's definitely probably the biggest Wales game that I've played in."