Blackpool: Karl Oyston turns down takeover approach
Last updated on .From the section Football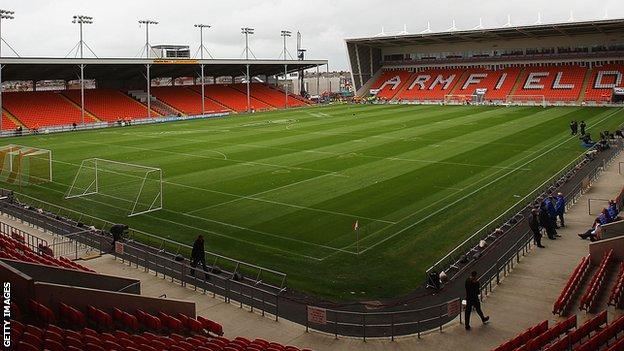 Blackpool have rejected a takeover approach for the club which last season was relegated from the Championship.
In a statement chairman Karl Oyston said on 14 May they received a proposal to buy the football assets and secure the stadium on a long-term lease.
But Oyston, 47, said that president and shareholder Valeri Belokon, 55, rejected an invite to a board meeting to discuss the matter.
Without the support of all directors the offer was rejected.
"Mr Belokon has not attended a board meeting for over two years, last attending in March 2013," said the statement.
"This makes it exceptionally difficult for the board to engage in any collective decision making, as demonstrated by the inability of the board to progress this third party offer.
"It is vital that the club, having now refused this offer, quickly concentrates on the recruitment of coaching and playing staff in readiness for the forthcoming season."
Blackpool supporters have been involved in demonstrations, match boycotts and social media campaigns over the way Oyston family run the club.
The Seasiders' last game of the season was abandoned because of a pitch invasion by protesting Blackpool fans.