FA Cup final 2015: Lawro's lowdown on Arsenal v Aston Villa
Last updated on .From the section FA Cup

I see Saturday's FA Cup final as being an open game because Aston Villa will realise their best chance of winning is if they go at Arsenal.
They could not buy a goal under previous boss Paul Lambert but, under Tim Sherwood, attacking has become Villa's strength.
Surely they will not want to just sit deep and wait for the Gunners to come at them, because I don't think they will hold out for long if they do.
The more men they commit forward, the more dangerous Villa look.
It is the same for Arsenal - we know Arsene Wenger loves to play expansive attacking football and hopefully both teams will go for it to give us an entertaining final.
Gunners should go with Giroud up front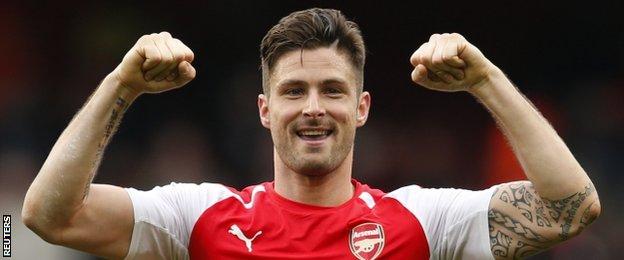 Attack-wise, Arsenal look very strong. They also have a lot of competition for places, which is something you cannot have enough of.
Theo Walcott was played up front and down the middle in the Gunners' final Premier League game of the season against West Brom and scored a hat-trick.
But I would still stick with Olivier Giroud up front against Villa. He gives Arsenal a presence up front that none of their other players can offer and holds the ball up much better than Walcott could ever do.
Arsenal - FA Cup final facts
This will be Arsenal's 19th FA Cup final, a record for any team. They already share the record of 11 with Manchester United for most final wins.
Saturday will be Arsenal's 40th appearance at Wembley (old and new stadium combined), again more than any other team
Wenger has reached the FA Cup semi-final 10 times and this is his seventh final. He has won five of his six previous finals - putting him level with former United boss Sir Alex Ferguson
Olivier Giroud has scored seven and assisted four goals in his 13 FA Cup appearances and has scored in each of his last three games against Villa.
I can see Walcott as playing as a central striker and sometimes on his own, but he is more suitable for that role in away league games, when Arsenal are seeing less of the ball.
They should have more possession than Villa on Saturday and, if Wenger goes with Giroud, he can pay different people off him - including Walcott.
I know Giroud gets criticised for missing chances but all strikers do that. People also say he is not an Arsenal-type of player but I don't think that is right.
He is exactly the sort of player they need, because he gives them something different.
People say Villa striker Christian Benteke is such a threat because he is so good in the air and can also score with his feet.
But the same can be said for Giroud. He might have missed a few chances in the Champions League against Monaco but, in the Premier League, he has scored more goals in fewer starts than Benteke.
Villa need to find a way to feed Benteke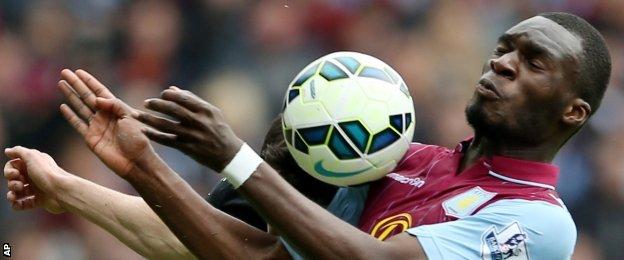 The big Belgian striker is in good form and can obviously hurt any team. Arsenal are right to fear him.
But he will need service on Saturday - without it, he cannot hurt the Gunners.
Villa need to find some width and whip some crosses in for him but my worry is whether they will get enough possession in those areas to do that sort of damage.
Aston Villa - FA Cup final facts
Only George Ramsay (six with Aston Villa between 1887 and 1920) has won the FA Cup as a manager more times than Arsene Wenger.
Villa have played in the FA Cup final 10 times, winning seven, making them the fourth-most successful side in the competition (Tottenham have won eight finals).
Villa's last appearance in a final was in 2000 when they lost 1-0 to Chelsea. Villa last won the FA Cup in 1957.
Christian Benteke has scored three goals in his last three appearances against Arsenal.
They have threats from elsewhere, though. One of the biggest compliments I can pay Sherwood for the difference he has made since taking over is that stopping Villa is no longer just a case of stopping Benteke.
Tom Cleverley, Jack Grealish and Fabian Delph all look to get forward from midfield, and Gabriel Agbonlahor's fitness is also a big boost for them.
Including Benteke, Villa have five players who are good enough to win lots of games for them.
Whether they are good enough to beat Arsenal in the FA Cup final will depend on how much of the ball they have.
What would FA Cup defence mean for Arsenal?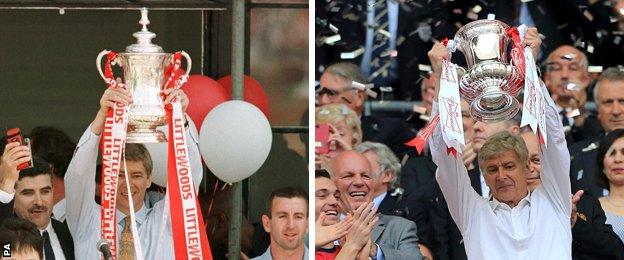 Retaining the FA Cup would mean more than just winning another trophy for Arsenal and their manager Arsene Wenger.
It is a competition that Wenger has always valued - he won the 1998 FA Cup to complete the Double in his first full season in English football.
Victory on Saturday would make him the first post-war manager to win the FA Cup six times but it would also give his side a real platform for more success to come.
The Gunners only finished third in the Premier League this season but they are getting better - they have improved since last year and Wenger has become more and more adventurous with his signings over the last 18 months or so.
If he is as ambitious again with the players he brings in this summer, then they will be a lot closer to the title next season.
Will FA Cup win be icing on the cake for Villa?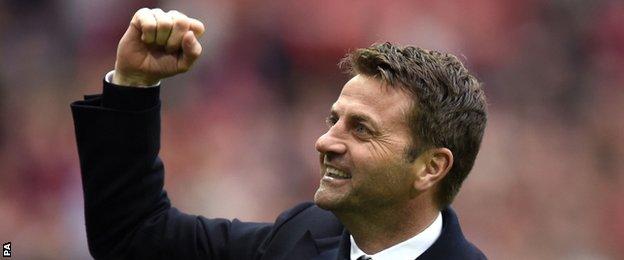 Whatever happens at Wembley, Villa's fans can also look forward with plenty of optimism.
Their run to the final is an example of how taking the FA Cup seriously can benefit your season.
There was lots of doom and gloom at Villa Park when they played their first tie, against Blackpool in round three in January. Under Paul Lambert, the team was not scoring goals and the fans were unhappy.
Tim Sherwood replaced Lambert in February and has got rid of the fear factor that was holding Villa back.
He has done the job he was brought in to do and kept Villa up, but it was their progress in the Cup that helped lift the tension around the team.
Some people call the competition a distraction for struggling sides but it has taken Villa only five ties to get to this stage.
That's about 11% of the total matches they have played this season. That is nothing really, but it has made an amazing difference to their players' confidence and the way the whole team plays.
Who will win?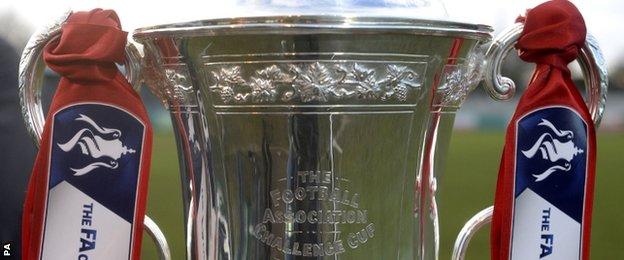 I am backing Arsenal to win on Saturday but I am a little bit reticent because the Gunners do forget to turn up at Wembley on occasions, especially when they are favourites.
I remember them putting in a poor performance when they lost the 2011 League Cup final against Birmingham and they did not really get going in this year's FA Cup semi-final against Reading.
In last season's final they got off to a terrible start against Hull before fighting back from 2-0 to win and I don't think they will find it easy against Aston Villa either.
PREDICTION: ARSENAL TO WIN 2-0