Champions League final: Steffen Freund - How I resisted the Stasi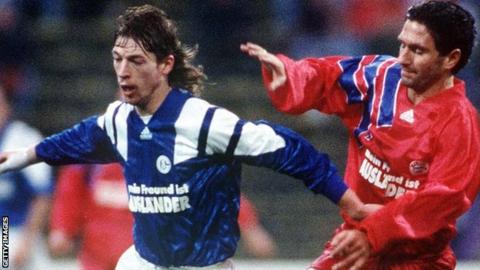 Berlin, venue for Saturday's Champions League final between Barcelona and Juventus, was a very different city 27 years ago. Then, with the Berlin Wall still standing, East Germany's secret police, the Stasi, would often target sports people as potential informants.
It's 1988 in the German Democratic Republic, known to most as East Germany, still over a year before the fall of the Berlin Wall.
A future German international and Champions League winner is thrown into a dark room in Brandenburg (an area which surrounds the German capital) before two men sit him in a chair, click on their torches and shine them directly into his eyes.
"You will work for the Stasi and tell us about your team-mates," the men say. "If you don't, your family will be in trouble."
Steffen Freund, then playing for Stahl Brandenburg, looks back at the agents of East Germany's fearsome secret police and says no. He is 17 years old.
Linked to Russia's infamous KGB security agency, the Stasi were regarded as one of the most effective intelligence agencies of the Cold War. They conducted surveillance on their own people and engaged in a process called Zersetsung - or "decomposition" - designed to mentally harass potential informants or those that might cause trouble for them.
But Freund, now 45, did not fall apart. "The power of the Stasi was massive," he recalls. "You can't imagine the pressure.
"They tried to build networks in football teams and they had all the information. If you went to Austria to play a friendly, they would find out which player was maybe thinking about not coming home and they would be stopped from travelling."
As a young and talented footballer, Freund was one of very few people in the country who could travel beyond the Wall, let alone to another country.
That made him an obvious target for a state security service whose primary goal was to control society.
"At that age, to say no was hard," the former Borussia Dortmund, Tottenham Hotspur and Germany midfielder says. "Would you say no or yes?"
It is a dilemma the modern-day footballer can thankfully only imagine and making the decision was all the harder because the Stasi were not starting from scratch. They were building on a bedrock of propaganda years in the making.
"We were taught at school not to leave East Germany," Freund says. "'Don't go to West Germany' they would say, 'the people over there have no jobs'.
"We understood that the Soviet Union was our big brother and we were told, 'you don't need to go anywhere'."
With that ideology being hammered down at every turn, Freund admits to becoming suspicious of his team-mates, knowing they too would have been approached.
One club, Dynamo Dresden, was rumoured to have 18 players working with the secret police.
"It was scary, but that was how it worked," Freund says. "The East Germans lived in fear. They'd be in contact with your friends, they knew everything about you. That's why a lot of people went to jail for nothing, maybe just for being in contact with West Germans.
"I still feel for those people," he says. "Disappointed isn't the right word, it's deeper than that."
Even now, we don't know everything there is to know about the Stasi. We know sportsmen like East German footballer Falko Gotz felt he was under such heavy surveillance that he fled, successfully, to the West in 1983. He received a one-year ban from Fifa, but continued his career with Bayer Leverkusen.
But shredded Stasi files still reside in the German capital, where the debate about whether or not they should be restored was revived last year as the nation marked 25 years since the fall of the Berlin wall.
Freund was fortunate. His brave decision to say no did not come at a cost.
"In the end they couldn't put me under enough pressure because my family was clean," he remembers. "I said to the men, 'I like East Germany but I can't look at my team-mates and tell you who would want to escape. I'd never do it because I have team spirit.'"
Only eight men played for both East Germany and the unified German national team.
He also has a Champions League winners medal from 1997 as part of the Borussia Dortmund squad - alongside German internationals such as Matthias Sammer, Jurgen Kohler, Andreas Moller and Karl-Heinz Riedle, plus Scot Paul Lambert - that became the first (and last) German side to win the cup on home soil.
With that history in mind, he is already one of the region's favourite sons. But he is keen to stress he holds no bad feeling toward his former home.
"We had enough food," he says. "There was no luxury but we were never hungry and we enjoyed living there."
That too makes him lucky, but he'll never forget the day that could have stopped in its tracks a career on its way to the top.
"I'm still surprised I said no," Freund says and shakes his head. "I still remember their last words. 'If you tell your family, you are in trouble and maybe your parents will go to jail.'.
"Then they switched off their torches and I went home."
You can listen to the full interview with Steffen Freund on the Sportsworld programme on BBC World Service on Saturday, 6 June.