Stoke City release Sorensen, Palacios and Wilkinson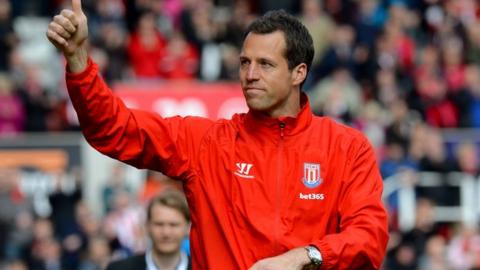 Stoke have released keeper Thomas Sorensen, midfielder Wilson Palacios and defender Andy Wilkinson.
Palacios, 30, Sorensen, 38, and Wilkinson, 30, will leave the club when their contracts expire on 30 June.
Nine of the Premier League club's Under-21 squad will also leave, with their contracts not being renewed.
A Stoke statement read: "The club would like to thank those departing for their efforts and wish them all the best for the future."
Tomi Adeloye, James Alabi, Sam Coulson, Alex Grant, Robbie Parry, Nathan Ricketts-Hopkinson, Adam Thomas, Charlie Ward and Elliot Wheeler are the development players who are set to depart.
Palacios was signed from Tottenham for £6m in 2011 but started just 14 league games as he was hampered by injuries.
Wilkinson made 194 appearances for his boyhood club, having made his debut in October 2001, while Sorensen played 129 times for Stoke in a seven-year spell.