World Cup boycott possible, says SFA chief Stewart Regan
Last updated on .From the section Football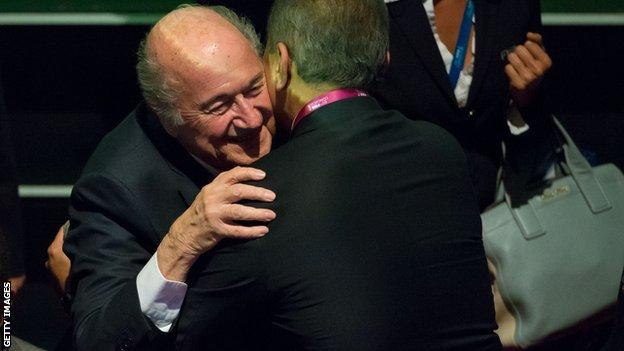 European football associations could boycott future World Cups if Sepp Blatter is returned as Fifa president, according to the Scottish FA.
SFA chief executive Stewart Regan says it is one of the options being considered by Uefa, Europe's governing body should Blatter win Friday's vote.
"There could, of course, be a rival body," Regan told BBC Scotland.
"There could be threats of not participating in competitions. There are a number of options."
Regan said another option was to call an extraordinary congress where it would only require a simple majority rather than a 75% majority to vote for changes.
He was speaking ahead of a presidential election in Zurich where the SFA will vote for Blatter's rival, 39-year-old Jordanian Prince Ali bin al-Hussein.
It comes days after Fifa was left reeling from a series of damaging corruption allegations after which the 79-year-old Blatter resisted calls to resign.
"For a number of years now, we've been challenging the leadership of Fifa and making points about the need for change," said Regan.
"In 2011, we stood alongside the FA and said that we felt the election in 2011 should be delayed. That didn't happen.

"Uefa president Michel Platini asked associations at the time to give him one more term on the basis that it was going to be last.
"He then decided to stand again for another term and, in light of the events of the last 24 hours, all of the 54 associations gathered within the Uefa meeting were of the mind that enough was enough.
"There has to be change. There has to be change now."
Blatter remains favourite to win the vote, but Regan said the SFA would vote for a rival who was "the only credible candidate standing in the election".
"The mood over the last 24 hours has certainly changed," he said.
"In the event that president Blatter is re-elected, we will be meeting again with the Uefa associations in Berlin in a couple of weeks time."
Asked if a boycott of future World Cups were realistic, Regan added: "Clearly there's a lot of finance at stake and there are challenges with that, not least the fans around the world who look forward to the World Cup.
"But these are strange times we are in and we need to think carefully about what plans we put in palce and consider the needs of all the stake holders."