Champions League final: Reborn Juventus put disgrace behind them
By Andy Brassell
European football expert
Last updated on .From the section European Football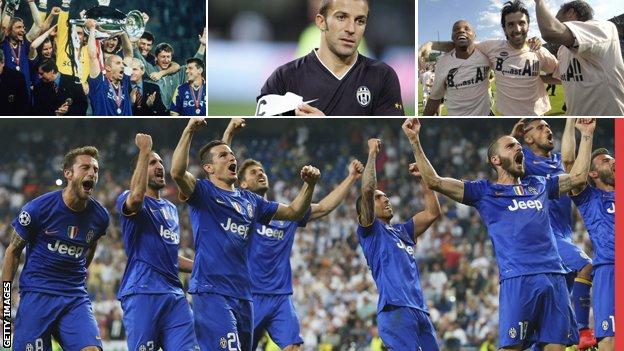 As Juventus seek to crown their revival as a European giant with a Champions League triumph, it is fitting it is Barcelona who stand in their way.
Barca are among a limited number of Juve's peers who can identify with their feelings of frustration over the competition, having themselves been forced to wait until 1992 to lift the trophy for the first time - and another 14 years for their second title.
When it comes to Juve and the Champions League, there has always been a feeling of unfinished business. It was etched on Gianluigi Buffon's face as the experienced keeper celebrated at the final whistle of the semi-final second leg at Real Madrid's Bernabeu Stadium last month. This is a first final for La Vecchia Signora (the Old Lady) since 2003. Yet the itch goes back further than that.
It needs emphasising that Italy's most domestically decorated club have only won the right to be called European champions twice, in 1985 and 1996. The first of those, of course, was completely overshadowed by the tragic events that unfolded in the Heysel Stadium before kick-off.
Their most glorious period in the competition was Marcello Lippi's first spell in charge in the mid- to late-'90s, when they reached three successive finals between 1996 and 1998, though they won only one of them. It was Lippi again who led them to the 2003 final against AC Milan at Old Trafford, where they eventually lost on a penalty shootout to Carlo Ancelotti's side.
Antonio Conte led Juve's Serie A resurgence, as he managed them to the first of four successive Scudettos in 2012, but his team were unable to match their stellar progress in domestic competitions on the continental stage. They reached the quarter-finals of the Champions League in 2013, losing to Bayern Munich, and lost in the Europa League semi-finals to Benfica last year.
Massimiliano Allegri, who oversaw the most recent of those Serie A triumphs this season, is now charged with completing the club's recent revival.
From success to disgrace and back again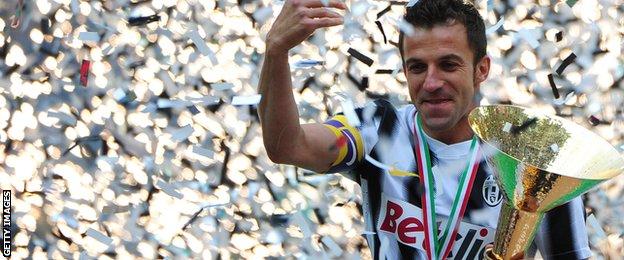 That long, painful absence from the sharp end of the Champions League has its origins in the Calciopoli scandal of 2006. It was an intense, and thoroughly confusing, time for Italian football. Just five days after Italy's glorious World Cup win against France in Berlin, Juve were the most celebrated of three clubs relegated after being implicated in a match-fixing scandal. Lazio and Fiorentina were also demoted, but their sentences were reduced to points deductions on appeal.
It had originally looked as if the Turin giants were set for an extended stay in Serie B, as the initial verdict condemned them to start the campaign with a 30-point deduction (as well as stripping them of the 2005 and 2006 titles). This was reduced to nine points, but their task was not made easier when key players including Patrick Vieira, Zlatan Ibrahimovic, Fabio Cannavaro and Lilian Thuram left.
However, they were led to the Serie B title by current France manager Didier Deschamps, a midfield mainstay of the Juventus side that lifted the 1996 Champions League and an oft-overlooked hero of their rise from the ashes.
Juventus since 1994
Had great success under the management of Marcello Lippi between 1994 and 2003 (won Italian league titles in 1994-95, 1996-97, 1997-98, 2001-02 and 2002-03). Lippi left in 2003 to become Italy manager.
Hit rock bottom after being accused of rigging games by selecting favourable referees in Serie A. (AC Milan, Fiorentina, Lazio, and Reggina were also implicated and punished).
Stripped of 2005 and 2006 titles, given a 30-point deduction (reduced to nine) for the following season and relegated to Serie B. Lost a number of high-profile players including Fabio Cannavaro, Lilian Thuram, Patrick Vieira and Zlatan Ibrahimovic
Alessandro Del Piero, Gianluigi Buffon, Pavel Nedved, David Trezeguet and Mauro Camoranesi chose to remain to help secure promotion to Serie A after one season
Had mixed success in the league in the following seasons, finishing third (2007-08), second (2008-09), and seventh twice (2009-10 & 2010-11)
Won Serie A in 2011-12, 2012-13, 2013-14, 2014-15
Beat Real Madrid in Champions League semi-final, 3-2 on aggregate
Face Barcelona in Champions League final in Berlin
The players who stayed - Buffon, Alessandro Del Piero, Pavel Nedved, David Trezeguet and World Cup winner Mauro Camoranesi - cemented their legendary status among the supporters as the club returned to Serie A at the first attempt. Twenty of Del Piero's 208 league goals for the club were scored in that promotion season.
Reestablishing Juve as a consistent power was a gradual process under Deschamps' successors Claudio Ranieri, Ciro Ferrara and Luigi Delneri - even if Ranieri returned the club to the Champions League at the first time of asking in 2007-08.
It was only after Conte's appointment in May 2011 that the Juve juggernaut really began to gather momentum. Like Deschamps, Conte was a stalwart of the glorious mid-'90s era as a player. As their coach, he won the club's first Scudetto for nine years at the first attempt, and followed it up with the next two before abruptly quitting his post days into pre-season training in July last year.
New stadium, new Juve
Conte's spell at the helm was also notable in that it coincided with the club moving into the Juventus Stadium, a 41,000-capacity arena built on the site of the old Stadio Delle Alpi. It is notable for being built (at a cost of £88m) with the club's own money. While rivals such as Milan, Inter, Roma and Lazio play in municipally owned facilities, Juve are full owners and commercial beneficiaries of their home.
If it is clear that the new stadium transformed Juve's fortunes off the pitch as much as Conte's tactics and motivation revolutionised the team on it, its role has been greater than that. The Delle Alpi was hugely unpopular with fans, who were stationed far away from the pitch because of a running track, and sightlines were almost universally poor. It was rarely filled.
In their last Champions League campaign at the old stadium (2005-06), the Delle Alpi had an average attendance of just 12,285 in the group stage. Even the visit of Bayern Munich attracted only 16,076. The only way was to rip it up and start again.
While the Juventus Stadium's capacity is significantly reduced from its predecessor (41,254, compared to 69,000 in the Delle Alpi), it's almost always full, and its atmosphere is incomparably improved. Today, it's a blur of energy and noise, with the stands placed just 7.5 metres away from the pitch. Since moving in, Juve have lost just two Serie A home games in four seasons.
The current team
This is, to a large extent, still the squad that Conte used to propel Juve back to the top of the tree in Italy. Things are, however, discernibly different under Conte's successor Allegri, a fact that has become clearer as the season has gone on.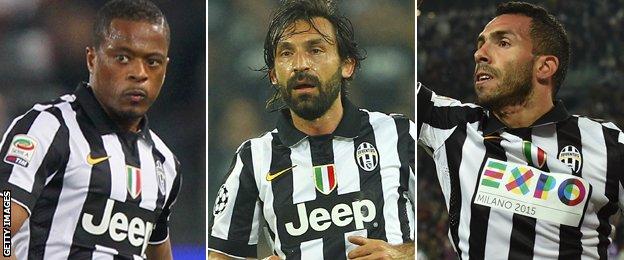 Having been fired by Milan in January 2014, Allegri was a largely unpopular choice to succeed Conte. Yet just as the Rossoneri's subsequent struggles under Clarence Seedorf and Filippo Inzaghi have provided a more objective view of what Allegri was working with, fans and critics have been increasingly impressed by the 47-year-old's work.
Assessments of Conte's reign have been coloured by the breakdown of his relationship with the Juve board since his exit, but success in the Champions League under Allegri has seen closer focus on the differences between the two men's methods. This is especially so given the manner in which Juve expertly defended narrow leads in knockout away legs at Monaco and Real Madrid.
Allegri is certainly a less intense character than Conte, and the players' ability to pace their efforts in Europe appears testament to this. He has used the versatility in the squad to change things around and keep his players fresh, something that has been especially notable in his use of his two Spanish strikers, young Alvaro Morata (who scored in both legs of the semi-final) and the experienced Fernando Llorente.
One of Allegri's bravest choices was moving from three at the back to a four-man defence - with considerably more success than Rafael Benitez did at Napoli, for example. Allegri still reverts to a three from time to time (Andrea Barzagli is usually drafted in when this is the plan), but it would be a major surprise if the Bianconeri took the field with anything other than a back four in Berlin.
Saturday's showpiece is expected to be the last occasion on which the irrepressible Andrea Pirlo pulls on a Juve shirt. With his contract set to expire, he has been increasingly linked with a move to Major League Soccer in the United States.
Many anticipated an awkward campaign for the 36-year-old when Allegri - the coach at Milan when Pirlo was deemed surplus to requirements in 2011 - arrived, but he has continued to contribute. One notable moment was his trademark free-kick goal against Olympiakos which helped to secure a crucial group-stage win.
The view in Italy
Press reaction to Juve's run to the final - and particularly the semi-final win over Real Madrid - has been ecstatic.
Corriere dello Sport proclaimed Juve's "Eroici!" (heroics) on the day after their draw at the Bernabeu clinched their place in the final. It also went on to equate Juve's date with destiny in Berlin with the "dream" of nine years before, when the Azzurri lifted the World Cup in the same arena, the Olympiastadion.
Allegri's influence has been widely hailed too. An editorial by Andrea Monti in La Gazzetta dello Sport on the morning after the triumph in Madrid proclaimed that "only heaven is the limit" for the coach. This week, Wednesday's edition of the Turin-based daily Tuttosport referred to Allegri as "The Wizard of Berlin".
There has not been such solidarity among supporters, even if Juve's success in the Champions League will gain Italy vital Uefa co-efficient points as they seek to rebuild their status - and gain more European places for their teams. Serie A lost its fourth Champions League spot to Germany's Bundesliga in 2011, and hopes to take one from the Premier League - although the gap between England and Italy remains significant.