Cosafa Cup set for new winners
By Mark Gleeson
BBC Sport, Moruleng
Last updated on .From the section Football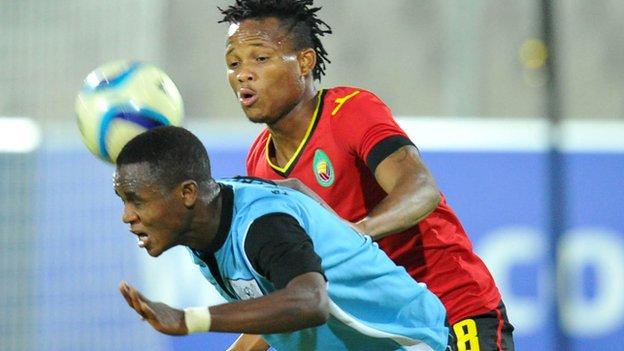 Namibia and Mozambique are both aiming to lift the Cosafa Cup for the first time ever when they meet in Saturday's final in South Africa.
Both countries are past runners-up in the southern African Championship, Namibia in 1997 and 1999 and Mozambique in 2008.
In Thursday's semi-finals Namibia snatched a 3-2 win over Madagascar, despite poor defending and finishing.
While the Mozambicans scored late to beat Botswana 2-1 in the last four.
Namibia's victory came thanks to a Peter Shalulile goal six minutes from the end of the first game with a rocket like effort off his left foot.
The goal came not long after the youthful striker had missed an easy chance in front of goal - one of several glaring misses by the Brave Warriors, who dominated the game.
The two teams, playing their fifth match in just over week, provided four goals in the first half but looked understandably tired after the interval.
Namibia scored first through Benson Shilongo in the 17th minute, although he almost made a hash of a close-range tap-in.
Dean Hotto set up Shilongo for a 32nd minute equaliser and a 2-2 half-time score.
Mozambique broke the deadlock against Botswana through nippy striker Isac, who despite his lack of height climbed above the defence to glance home a header from a corner in the 65th minute.
But Botswana's Omaatla Kebatho equalised in the 78th minute to look to send the game to extra time.
But as the match went into the last minute, substitute Parkim headed home as Botswana were caught ball watching.
Botswana will meet Madagascar in the third place play-off before Saturday's final. Both matches will be played at the Moruleng Stadium.
On Friday, at the Royal Bafokeng Sports Palace, neighbours Malawi meet Zambia in the final of the plate competition for the sides knocked out in the last eight.